Willow Creek: Church leaders quit over sexual misconduct scandal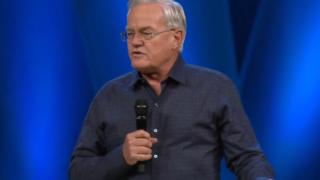 The leaders at one of the biggest megachurches in the US have quit over a sexual misconduct scandal that has already claimed its founder.
A statement from elders at the Willow Creek church said a "new start" was needed, and that they should have handled the allegations better.
Bill Hybels stepped down earlier this year after accusations of inappropriate conduct emerged.
He has denied the allegations but said he had become a distraction.
With more than 25,000 members and locations in Chicago, Willow Creek is thought to be the fifth largest megachurch in the US. Megachurches are defined as congregations with regular weekly attendance of at least 2,000 persons.
What's Hybels accused of?
Several women have come forward with accusations against Mr Hybels dating back to the 1990s.
Earlier this year, the Chicago Tribune and Christianity Today both detailed allegations that he had made unwanted advances and suggestive comments to church members.
Church leaders were reportedly told four years ago that Mr Hybels was having an affair with one woman and was accused of harassment by others.
An internal investigation cleared him of wrongdoing.
But in April, after the allegations went public, Mr Hybels said he would step down, months ahead of his planned retirement date in October this year. His announcement brought gasps from his congregation.
New allegations emerged over the weekend, with a former assistant alleging he groped her repeatedly.
The latest claims prompted the resignation of one of Mr Hybels' successors Steve Carter, who quit over the church's handling of the misconduct allegations. It appears the rest of the church leaders also felt compelled to act.
What do the leaders say?
In their statement, church elders said investigations had been "flawed" and that their trust in Willow Creek's founder had "clouded our judgement".
"We, as a board, know Willow needs and deserves a fresh start, and the entire board will step down to create room for a new board," it said.
The church's lead pastor, Heather Larson. who also stepped down, said trust had been broken and there was an urgency to "move in a better direction".
Where does this leave Willow Creek?
The announcement comes as it is due to host a summit of hundreds of churches, but scores have dropped out.
Willow Creek has appointed Steve Gillen as a new lead pastor and has promised an independent review of its governance.
Leaving the church after learning the news, churchgoer Lisa Dudley told the New York Times: "I never had a personal relationship with any of those pastors, but I have a personal relationship with God."