Killer whale still carrying dead baby after 16 days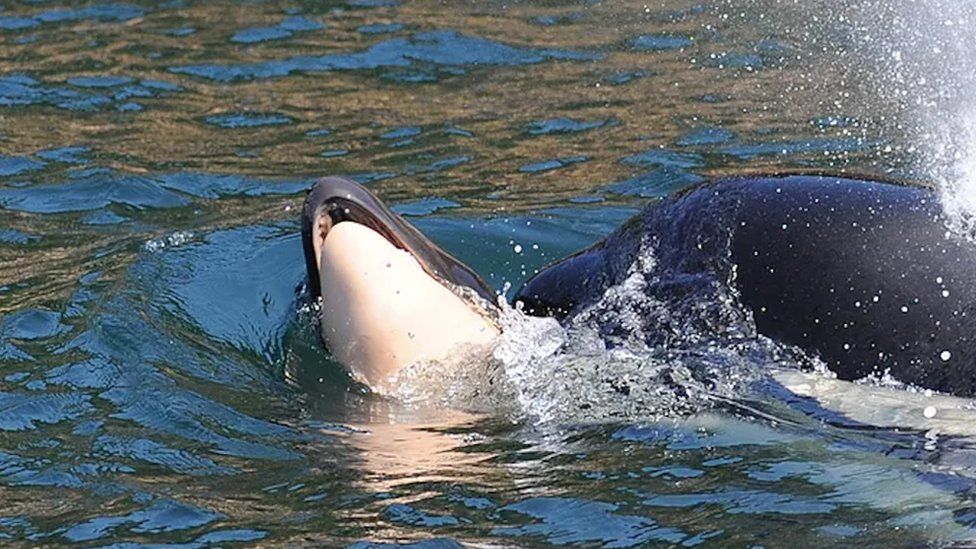 A killer whale has captured the world's attention by carrying her dead calf on her back for 16 days.
The mother whale was first spotted carrying her dead calf on 24 July, off the shore of Vancouver Island.
Researchers studying the Southern Resident killer say she is still carrying her baby, as of Wednesday.
Killer whales have been known to carry dead calves for as long as a week, but scientists believe this mother "sets a record".
"Maybe this is just her own way of just getting past the loss of another baby. She's probably lost two more in the past decade. It's got to be tragic for these animals to lose these babies, and it's happening at a record pace," said senior scientist Ken Balcomb, who works at the Centre for Whale Research, which studies the Southern Resident whale population.
The calf is believed to have died on 24 July, but Mr Balcomb said researchers do not have a cause of death.
Both Canada and the US list the Southern Resident killer whale as endangered. The whales depend on Chinook salmon - which have been in dramatic decline in recent years - for food.
The community of three pods, made up of some 75 whales, including the mother who is called J35, is frequently encountered off the southern end of Vancouver Island in Canada and in inland marine waters of Washington state in the US.
Only about a third of the Southern Resident killer whales that have been born in the last 20 years survive. No pregnancies in the last three years have successfully produced viable offspring, the centre says.
Another young whale in her pod, J50, is very emaciated and scientists are working out a rescue plan for the animal.
Mr Balcomb said the mother's extended display of grief is unusual.
"We've seen mother whales carry dead babies briefly, for parts of a day. We saw one a few years back for a couple days. But this sets a record," he said.
He said for now all they can do is observe, as the mother appears to be healthy and eating.