Laura Ingraham: Demographic changes 'national emergency'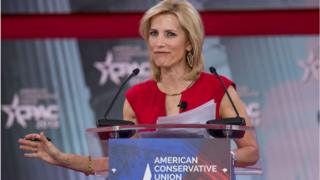 Fox News host Laura Ingraham has denied claims that her remarks about "massive demographic changes" in the US being a "national emergency" were racist.
On Thursday, Ms Ingraham said she does not support white nationalists at all, calling them "antithetical" to her beliefs.
Former Ku Klux Klan leader David Duke had reportedly tweeted support of Ms Ingraham's Wednesday show.
Her comments drew sharp criticism from Democrats and some conservatives.
Ms Ingraham's controversial statements come days before a white nationalist rally in Washington DC.
It falls on the anniversary of the first Charlottesville white supremacist rally, which eventually led to the death of one counter-protester.
What did Laura Ingraham say?
Then:
On Wednesday, Ms Ingraham began her programme by saying: "In some parts of the country, it does seem like the America that we know and love doesn't exist anymore.
"Massive demographic changes have been foisted upon the American people and they're changes that none of us ever voted for and most of us don't like.
"From Virginia to California, we see stark examples of how radically in some ways the country has changed. Now, much of this is related to both illegal and in some cases, legal immigration that, of course, progressives love."
She was discussing congressional candidate Alexandria Ocasio-Cortez, a Democratic socialist, who recently said that the "upper middle-class doesn't exist anymore".
Ms Ingraham went on to say that immigrants would "remake and reshape America" the way "socialists" want.
"This is exactly what socialists like Ocasio-Cortez want: eventually diluting and overwhelming your vote with the votes of others who aren't, let's face it, too big on Adam Smith and the federalist papers," Ms Ingraham said.
Now:
After uproar on social media accusing her of immigrant-blaming, Ms Ingraham clarified the monologue on her Thursday show.
She said the purpose had been to discuss border security and people were "distorting" her views.
"Despite what some may be contending, I made explicitly clear that my commentary had nothing to do with race or ethnicity but rather, a shared goal of keeping America safe and her citizens safe and prosperous."
Ms Ingraham praised merit-based immigration as doing "wonders for a country's economy" - though she had pointed out legal immigration as being an unwanted change in her programme the night before.
She also appeared to call out David Duke's Twitter support.
"All white nationalists, and especially one racist freak whose name I will not even mention, you do not have my support, you don't represent my views, and you are antithetical to the beliefs I hold dear."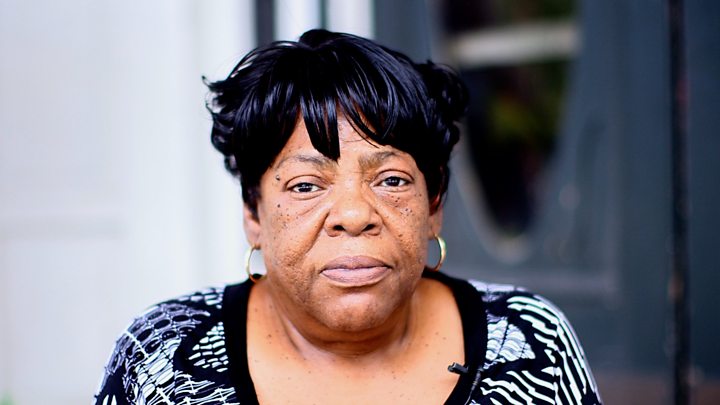 What's the reaction?
White supremacist David Duke tweeted that Ms Ingraham's Wednesday show was "one of the most important (truthful) monologues" in history, according to the Daily Beast, but he has since deleted the post.
Conservative television host SE Cupp told Ms Ingraham on Twitter to "speak for yourself".
Democratic congressman Ted Lieu, a US Air Force veteran, said he served to defend Ms Ingraham's right "to make racist statements".
Neera Tanden, president of the Center for American Progress, tweeted simply - "Let me shorten this for you Laura: you're a racist."
Is America really changing?
America's demographics are changing.
In 2018, almost half of young people in the US are from ethnic minority groups.
Generation Z - loosely defined as those born after the year 2000 - is set to be the most racially diverse generation in US history, a figure powered by immigration and biracial relationships.
According to the Pew Research Center, non-whites are now the clear majority in urban counties, but white Americans still retain majorities in suburban and rural areas of the country.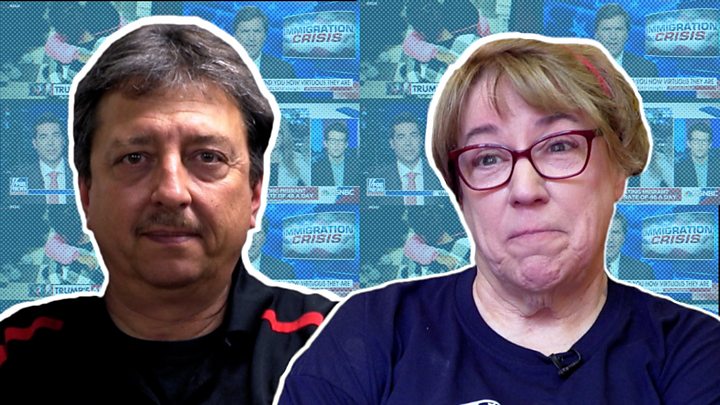 These changes may be fuelling anti-immigrant sentiment among white voters in the US, but the further diversification of a diverse country is an unstoppable trajectory.
This week's programme is not the first time Ms Ingraham and her fellow hosts have played on fears of immigrants coming to outnumber white Americans.
She likened the migrant children detention centres to "summer camps", and praised Mr Trump for "doing what we should have been doing all along, prosecuting all border crashers".
In June, host Tucker Carlson said illegal Central Americans were coming "to change [America] forever".
President Donald Trump has also repeatedly spoken out against immigration, most recently by calling for cuts to legal immigration processes and pathways to citizenship.
His presidential campaign, too, evoked a sense of nostalgia for traditional American values. The Trump mantra of Make America Great Again hearkens to an unspecified era of America that was somehow better for the country.
But the majority of Americans, 58%, believe increasing diversity makes the country a better place.
Pew states only 9% of Americans polled in 2018 think it makes the country worse.
What's causing diversity to increase?
Part of the rising diversity figures are due to foreign-born mothers.
Pew data shows annual births have been decreasing among US-born women since the 1970s. Though only 14% of the population was foreign-born in 2014, about 25% of babies born that year had foreign-born mothers.
These immigrant moms have boosted US fertility rates nationally and across 48 states.
Pew data also shows that the number of immigrants who became US citizens is on the rise, with immigrants from Ecuador and India seeing the largest increases.
The number of refugee arrivals, however, has been declining in the US since 2016. The number of Muslim refugees has also declined since 2016, while the number of Christian refugees has risen, a Pew analysis of US State Department data found.
The changes to America's demographics may be making rural and urban divides more prominent - Pew studies found residents feel misunderstood by those who live in different types of communities.