Monsanto ordered to pay $289m damages in Roundup cancer trial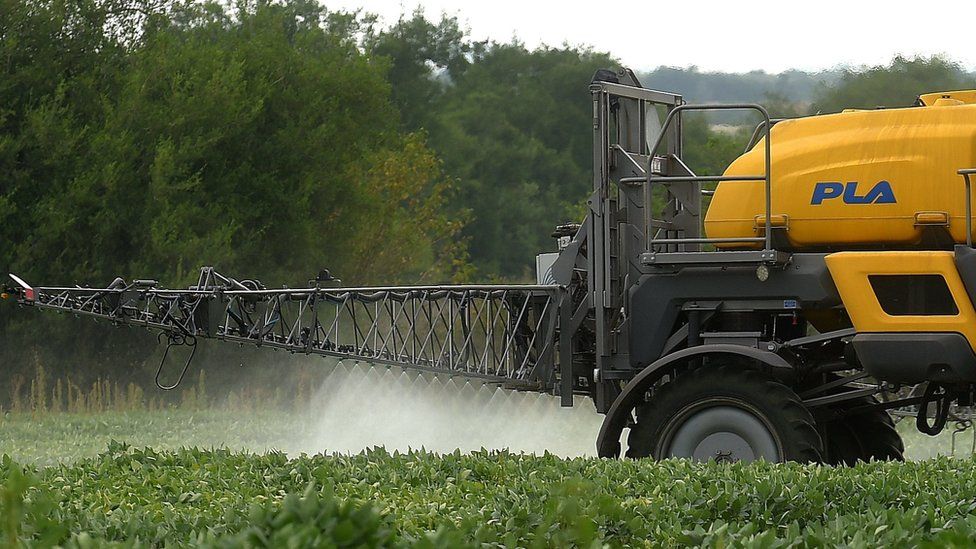 Chemical giant Monsanto has been ordered to pay $289m (£226m) damages to a man who claimed herbicides containing glyphosate had caused his cancer.
In a landmark case, a Californian jury found that Monsanto knew its Roundup and RangerPro weedkillers were dangerous and failed to warn consumers.
It's the first lawsuit to go to trial alleging a glyphosate link to cancer.
Monsanto denies that glyphosate causes cancer and says it intends to appeal against the ruling.
"The jury got it wrong," vice-president Scott Partridge said outside the courthouse in San Francisco.
The claimant in the case, groundskeeper Dewayne Johnson, is among more than 5,000 similar plaintiffs across the US.
Correspondents say the California ruling is likely to lead to hundreds of other claims against Monsanto, which was recently bought by the German conglomerate Bayer AG.
Mr Johnson was diagnosed with non-Hodgkin's lymphoma in 2014. His lawyers said he regularly used a form of RangerPro while working at a school in Benicia, California.
Glyphosate controversy far from settled
Analysis by James Cook, BBC North America Correspondent
The implications of this verdict will be felt far beyond Monsanto's headquarters in Missouri.
Glyphosate is the world's most common weedkiller and the science about its safety is still far from settled.
Campaigners question how the EPA assessment was reached, citing evidence of what they say was inappropriate industry involvement in the decision.
Jurors found on Friday that the company had acted with "malice" and that its weedkillers contributed "substantially" to Mr Johnson's terminal illness.
Following an eight-week trial, the jury ordered the agricultural multi-national to pay $250m in punitive damages together with other costs that brought the total figure to almost $290m.
Mr Johnson's lawyer, Brent Wisner, said the jury's verdict showed that the evidence against the product was "overwhelming".
"When you are right, it is really easy to win," he said, adding that the ruling was just "the tip of the spear" of future legal cases.
In a statement after the ruling, Monsanto said it was "sympathetic to Mr Johnson and his family" but it would "continue to vigorously defend this product, which has a 40-year history of safe use".
"Today's decision does not change the fact that more than 800 scientific studies and reviews - and conclusions by the US Environmental Protection Agency, the US National Institutes of Health and regulatory authorities around the world - support the fact that glyphosate does not cause cancer, and did not cause Mr Johnson's cancer," it added.