The dos and don'ts of the Situation Room
By Tara McKelvey
BBC White House reporter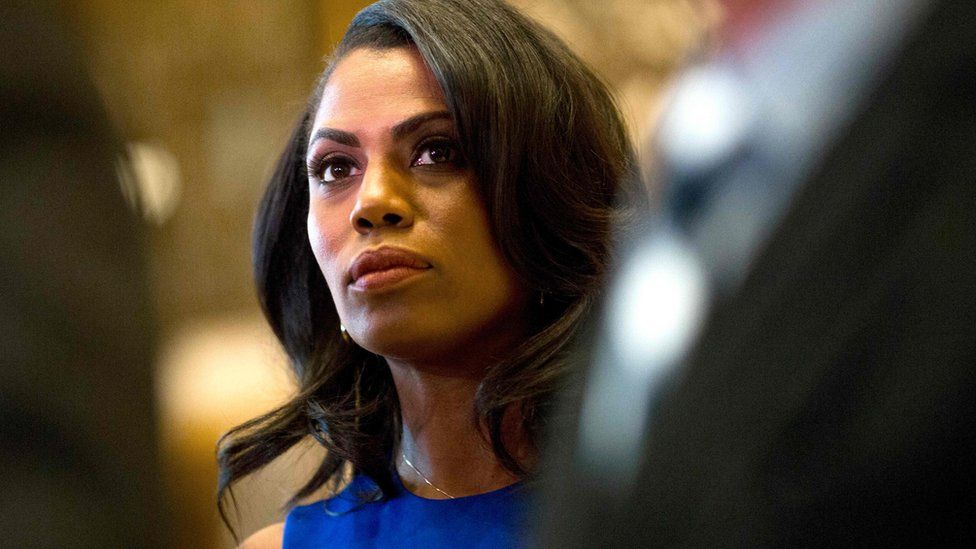 Former adviser Omarosa Manigault Newman surreptitiously recorded a conversation that she says took place in the Situation Room. Here's an insider's guide to the inner sanctum of the White House - and why this incident amounts to a violation of security protocol.
In December Chief of Staff John Kelly met Ms Manigault Newman in the Situation Room and told her that her job had come to an end. She secretly recorded their conversation and later allowed the audio to be played on national television.
It's not clear why he brought her into the Situation Room, an area that's reserved for high-level national-security meetings, for their discussion. He had reportedly asked others to speak to him there about possible security breaches, according to Axios. That might have played a role but it's still unusual.
Speaking on NBC's Today show, she defended her decision to disclose details about their conversation. She said she didn't trust the president or his aides to present an accurate portrayal of her departure from the White House, and so she wanted to provide evidence for what she says happened.
Her decision to record her conversation with Mr Kelly in the Situation Room without his knowledge and to release the tape to the public raises important issues, however.
According to former White House officials and intelligence analysts, these matters concern security, trust and integrity within the Trump White House as well as the security practices in the Situation Room itself.
The Situation Room, which was originally established in 1961, is the place where the nation's most carefully guarded secrets are discussed on a regular basis. According to Steven Aftergood of the Federation of American Scientists, who specialises in government secrecy, it is "the most sensitive single location in the US government".
He adds: "It is the place where US forces, including nuclear forces, can be controlled, and it is where intelligence operations can be monitored."
President Barack Obama oversaw the raid on Osama bin Laden's compound in Pakistan in 2011 from a chair within the Situation Room, for example, a moment in history that was captured in an iconic photograph.
Aside from providing a secure location for the president to monitor high-risk intelligence operations, the Situation Room has a processing facility for sensitive communications.
On an hour-by-hour, day-by-day basis, a rotating group of officers, members of so-called "watch teams", keep an eye on international events, according to a CIA report, so they can inform the president of terrorist attacks, civil war or other significant developments.
Given the importance of the activities that take place within the Situation Room, it's easy to imagine it as "some kind of super-secret vault," says David Priess, a former CIA analyst and the author of a book entitled The President's Book of Secrets.
In fact, the Situation Room, which is actually a collection of several rooms, looks a little drab and workmanlike, according to Mr Priess and others who've attended meetings there.
The Situation Room is housed in the basement of the West Wing, and it's located right next to the White House Mess, a dining hall. It has a conference area that can hold a couple of dozen people, and at times the place can get a bit warm.
Only those with top-level security clearances are allowed into the area. These individuals have been vetted by the US secret service. They've also been provided with instructions on how to conduct themselves in the Situation Room and in other secure areas of the White House.
No-one's allowed to bring their mobile phones or personal electronic devices into the Situation Room: you leave your phone outside in a small box or locker, says a former Obama administration official, Brett Bruen, explaining that you get a "little locker key" that you take with you into meetings.
The rules governing the use of mobile phones and other aspects of the Situation Room are spelled out in manuals. Still, relatively few mechanised safeguards or alarms are installed in the basement hallway, and the entrance to the Situation Room looks more casual than those that are set up for airports.
"There's not a physical gate," says Mr Priess. You don't go through a metal-detector booth, either. "There's no-one checking - you don't get wanded," says Mr Bruen, using a colloquial term for the hand-held metal detectors that are used by security officials.
Instead the rules are enforced in an informal manner by the individuals who go in and out of the room and know the protocols. Says Mr Priess: "You rely on the culture of integrity around you."
Ms Manigault Newman's clandestine recording of her Situation Room conversation and the way she released the audio came as a surprise to many people in Washington.
She didn't reveal any classified information and may not have broken any laws. Yet she violated a basic tenet of the Situation Room: she talked about what happened inside its walls.
Still the president was elected in part because he promised to shake things up, and he hired people who had similar ambitions. For this reason, Ms Manigault Newman's transgression was not a complete shock. As Mr Priess explains: "The norms and institutions that you just take for granted have just been blown up by this administration."
Her disclosures are only the latest example, he says, of a disorderly White House.