Golden State Killer suspect charged with 13th murder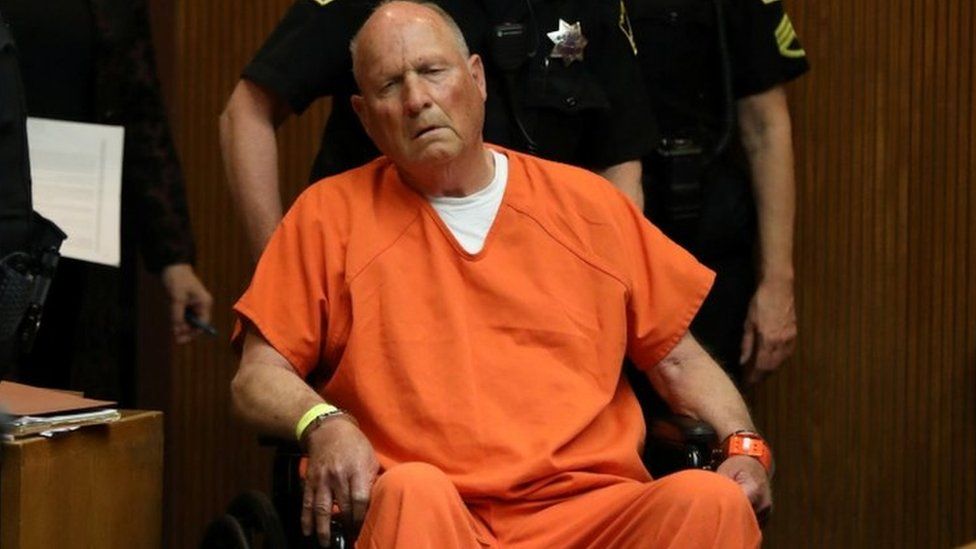 A man accused of a string of murders, rapes and burglaries in California as the so-called Golden State Killer has been charged with another murder.
Joseph James DeAngelo, 72, has now been charged with 13 murders after his DNA was allegedly linked to the crimes.
Investigators accused the suspect of killing a 16-year-old girl's father after he tried to intervene in a 1975 attempted kidnapping.
The Golden State Killer terrorised California in the 1970s and 1980s.
Mr DeAngelo, a former police officer, is accused of murdering Claude Snelling, 45, in the backyard of his home in Visalia, California.
Mr Snelling was shot and killed while trying to save his 16-year-old daughter, Elizabeth Hupp, from a man attempting to abduct her.
She said that she remembered being woken up by a man in a ski mask, and that her father had seen from a window in the kitchen that she was being led out of the home by a man.
"He couldn't believe what he was seeing and he just charged out the back door and the man pushed me down," Ms Hupp said.
"And he shot my dad twice and then took off running."
Mr Snelling was a journalism professor at the College of the Sequoias.
The murder was originally attributed to a man that police had nicknamed the Visalia Ransacker, who had been linked to more than 85 burglaries in Tulare County, California.
But with DNA evidence, investigators now believe the crimes were committed by the same suspect that had been called "the Golden State Killer" in other parts of the state.
"With this filing, we have officially linked the Visalia Ransacker to an individual known as the East Area Rapist and, tragically, the Golden State Killer," said Tim Ward, Tulare County district attorney.
Mr DeAngelo is in a Sacramento County jail and is accused of several other rapes and murders throughout the state in the 1970s and 80s.
The former police officer, Vietnam War veteran and auto mechanic was arrested in April after police tracked him down by matching his DNA with a genealogy website.
He had been accused of killing 12 and raping 45 people between 1975 and 1986 before suddenly ending his crime spree.
Each of the first degree murder counts carries a maximum sentence of life in prison or the death penalty.