Áurea Vázquez Rijos: Beauty queen on trial for husband's murder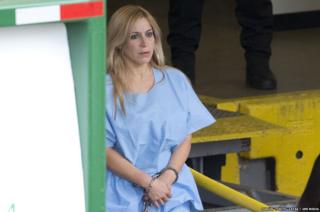 When a onetime beauty queen walks into a courtroom in Puerto Rico this week, it will bring to an end a long wait endured by relatives of her wealthy former husband, who was stabbed to death in the street.
Áurea Vázquez Rijos and Adam Joel Anhang's romance was short-lived and ill-starred.
Now, almost 13 years after Anhang's murder, a US federal court will finally decide whether the former beauty queen from Puerto Rico had her Canadian online gaming tycoon husband killed after just six months of marriage.
The trial, due to start on 21 August, only takes place after an extraordinary legal battle as Ms Vázquez fought extradition from both Italy and Spain.
It was the father of her late husband who used private detectives to track Ms Vázquez down in Italy after an innocent man had been jailed for the murder and later released.
"It took us five years and a lot of effort and energy to track her, since no sooner did we locate her, she got wind of it and moved on," Abe Anhang told the BBC from his home in Winnipeg, Canada.
Anhang, a 32-year-old real estate and gaming software multimillionaire, was brutally beaten and stabbed to death one September evening in 2005 on a street in the historical quarter of the Puerto Rican capital, San Juan.
At first glance, the attack appeared to be a robbery gone wrong in which Ms Vázquez Rijos was also injured by the male assailant.
But, according to prosecutors, Anhang was duped into believing that he was meeting his wife in a San Juan restaurant that evening to discuss the terms of their divorce, when in fact he was being lured into a fatal trap.
Ms Vázquez Rijos, the accusation holds, knew that divorce would deprive her of access to much of her husband's estate, estimated to be worth $24m (£19m), due to a pre-nuptial agreement the pair had signed.
Two years later, Jonathan Román Rivera, a kitchen worker from a nearby restaurant, was convicted of murdering Anhang in an opportunistic robbery.
That conviction was later overturned when a witness came forward, telling a US federal grand jury how she saw the killer hit Anhang with a street cobble stone and knife him several times.
He then spoke with Ms Vázquez briefly before striking her with moderate force, the witness added.
In 2008, a federal grand jury indicted Ms Vázquez on two murder-for-hire related counts after the man suspected of being the street assailant confessed to the killing.
In a statement read out before a court in San Juan, Alex "El Loco" Pabón Colón said that Ms Vázquez had agreed to pay him $3m when they discussed her husband's killing at Vázquez's Pink Skirt nightclub and restaurant, a business bought for her as a wedding present by Anhang.
"Áurea communicated with Alex to tell him to park his car in the San Justo street lot. Alex would do what he had to do," the signed confession reads.
But Ms Vázquez was no longer in US jurisdiction, having abandoned Puerto Rico some time in 2006, according to the prosecutors. She chose to settle in Italy, a country whose laws have sometimes been used by fugitives to make their extradition difficult.
Ms Vázquez met a Florence taxi driver and they had twin daughters together before he read about her being wanted in Puerto Rico in the newspaper Corriere della Sera. The couple separated and the Italian, eventually, gained custody of the two girls.
In the meantime, according to information supplied to Abe Anhang by private detectives he hired in Italy, Ms Vázquez had approached the Florentine Jewish community. "She was embraced by the Jewish community as a widow with two children."
Mr Anhang Sr explains that the prenuptial agreement his son and Ms Vázquez signed included a pledge by her to study and take up the Jewish faith within two years.
According to US prosecutors, Ms Vázquez was helped by her brother, Charbel Vázquez Rijos, her sister, Marcia and her mother, who provided false paperwork to successfully dupe the Firenzebraica Jewish organisation in Florence into certifying in June 2012 that Áurea and her daughters were of Jewish descent, enabling her to move to Israel.
But, according to Mr Anhang Sr, Ms Vázquez did move around Europe, using "false names and several ID cards". His team of private detectives said they had traced her movements in Gibraltar, Spain, France and England.
According to prosecutors, in August 2012, Charbel Vázquez Rijos incorporated Glatt Kosher Traveller's Inc. in the Puerto Rico State Department, the plan apparently being to give his sister a means of earning money in Italy. But the travel company aimed at Jewish tourists was to prove Ms Vázquez's downfall.
The FBI and Spanish authorities set up a sting operation, inviting Ms Vázquez to Madrid to work as a guide to a fictitious tour group. She took the bait.
Arrested at Madrid's airport and imprisoned, Ms Vázquez began a new fight against extradition in Spain's courts.
Ms Vázquez became pregnant behind bars and had a baby. Spanish police sources have told the BBC that the father of the child was a small-time Italian crook, serving time in Spain for a drugs offence.
She was allowed to marry the father in jail, asking a Madrid judge not to extradite her as the mother of a Spanish citizen.
Finally, she was flown across the Atlantic in a private FBI jet in 2015, her month-old baby taken from her arms and sent into care after she landed in her native Puerto Rico.
Further legal delays and then Hurricane Maria led to several postponements of the trial, in which Ms Vázquez's brother, sister and the latter's partner will also face charges in the US federal court in San Juan.
Prosecutors have signed a sworn affidavit to Spanish authorities that they will not ask for the death sentence in the case, a condition of the final extradition agreement.
Mr Anhang Sr is optimistic that justice will finally be done for his son, but finds it ironic that his daughter-in-law's refusal to face trial may end up counting in her favour.
"Áurea is likely to get the lightest sentence of all the accused because she fled and waited to be extradited from a country which placed conditions on her transfer back to the United States to face justice.
"In essence, she will be getting rewarded with the same sentence as if she were caught and sentenced in Spain. At the same time her co-accused will get longer sentences, despite having much less involvement in the crime."
The BBC contacted Ms Vázquez's lawyer, Lydia Lizarribar, but she declined the invitation to comment on her client's defence strategy ahead of the trial.