Dozens overdose in Connecticut park near Yale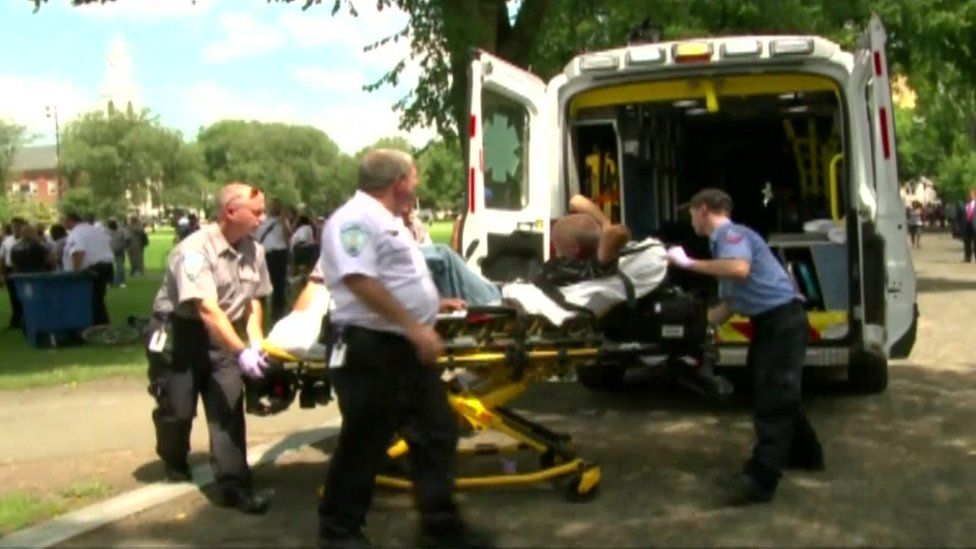 Police have made three arrests after more than 70 people overdosed in a Connecticut city.
Some 52 of the 71 overdoses happened on New Haven's downtown green, next to Yale University's campus, said Fire Chief John Alston.
The first three overdoses were reported on Tuesday night and the tally steadily rose throughout Wednesday, officials said.
New Haven officials said the substance was K2, a synthetic cannabinoid.
The incident comes in the wake of a new report that found a record 72,000 Americans died of overdoses in 2017.
Dr Kathryn Hawk, an Emergency Department physician at Yale New Haven Hospital, said the K2 may have been laced with fentanyl, a potent painkiller, but police have yet to confirm this.
No one has died, but two individuals were in a critical condition.
On Tuesday night, emergency crews responded to three overdoses in New Haven Green park.
Eighteen people collapsed on Wednesday morning within a span of three-and-a-half hours, officials said.
Some of the people were unconscious - others were vomiting, hallucinating or experiencing high blood pressure and shallow breathing.
Naloxone, a drug used to treat narcotic overdoses in emergencies, was administered to relieve the symptoms.
The slew of overdoses comes as the Centers for Disease Control (CDC) published a preliminary report on Wednesday on the record number of American drug deaths.
According to the estimates, drugs - particularly fentanyl - are now deadlier in the US than HIV, car crashes and guns.
Synthetic opiates like fentanyl, which is 30-50 times more potent than heroin, are extremely dangerous.
Just 2mg of fentanyl - the equivalent of a few grains of table salt - is a lethal dosage for most people, and even exposure can cause a fatal reaction, according to the Drug Enforcement Administration (DEA).
Fentanyl is approved as an anaesthetic and for pain relief, but its high profit margin for traffickers has made it a key drug in the US opioid crisis.
The CDC reported that between 2015 and 2016, the rate of drug overdose deaths in the US involving synthetic opioids such as fentanyl had doubled.
In New Haven, Fire Chief John Alston Jr told reporters the opiate problem is a far-reaching one.
"People are self-medicating for several different reasons and every agency - police, fire, medical, hospitals - all are strained at this time," Chief Alston said.
"This is a problem that's not going away."