Woman's finger amputated after ring catches on a waterslide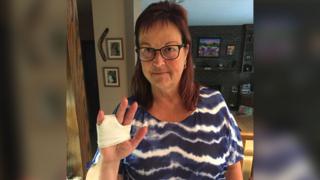 A 59-year-old Canadian woman lost her finger after getting her ring caught on a slide at a water park in Edmonton, Alberta.
Claire Clark was at the West Edmonton Mall World Waterpark on 5 August when her ring caught on the edge of the ride as she pushed herself off the slide.
As the ring caught, part of the bone and much of the skin were stripped from her finger.
Mrs Clark says she wants patrons to be clearly warned to remove jewellery.
The grandmother from the neighbouring province of Saskatchewan was at the water park in one of the largest malls in North America with nine family members, all gathered to celebrate her granddaughter's third birthday.
She decided to take a spin on a ride dubbed the "Corkscrew", an enclosed twisting slide that ends in a splash pool. She grabbed the top of the tube to push herself in.
"My ring caught as I was down and it took my finger with it," she told the BBC from her home in Saskatoon. "I knew as soon as it happened that it had ripped off my finger."
She cradled her hand and tried to hold it away from the water as she descended.
She showed her husband the damage when she landed in the pool and he immediately took her to get first aid.
Her 28-year-old daughter, believing in the confusion that her mother had just lost her ring, borrowed a pair of goggles from a young girl to search for the jewellery.
She was horrified to spot both the finger and the ring in the water, which were then retrieved by a lifeguard and placed on ice.
A plastic surgeon at the hospital told her that doctors would not be able to reattach her finger or graft the skin to the exposed bone because all the underlying tissues had been torn away.
In a statement, the West Edmonton Mall said it could not comment on the incident at this time because it is under investigation.
Though she remains shaken, she says her hand is healing well and is not painful.
Mrs Clark says she is especially upset because of what her daughter went through, and because her young grandsons were left distraught by the incident.