Trump's 'dirty war' on media draws editorials in 300 US outlets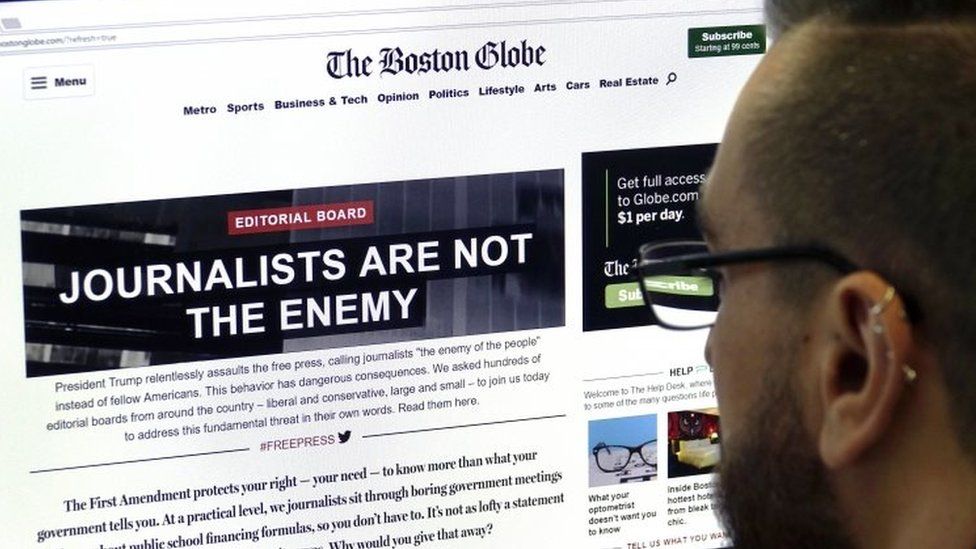 More than 300 news outlets have launched a campaign to counter US President Donald Trump's attacks and promote a free press.
The Boston Globe made the call last week for a nationwide denouncement of the president's "dirty war" against the media, using the hashtag #EnemyOfNone.
Mr Trump has derided media reports as "fake news" and attacked journalists as "enemies of the people".
"It is very bad for our great country... But we are winning!"
THE FAKE NEWS MEDIA IS THE OPPOSITION PARTY. It is very bad for our Great Country....BUT WE ARE WINNING!

— Donald J. Trump (@realDonaldTrump) August 16, 2018
UN experts have warned that Mr Trump's comments about the media raise the risk of violence against journalists.
The Boston Globe had pledged to write an editorial "on the dangers of the administration's assault on the press" on 16 August, and asked others to do the same.
The initial positive response from 100 news organisations has grown closer to 350 with major US national newspapers and smaller local outlets answering the call, along with international publications like the UK newspaper The Guardian.
What have the papers said?
Starting with the Boston Globe itself, the editorial there, headlined Journalists Are Not The Enemy, argued that a free press had been a core American principle for more than 200 years
The New York Times chose the headline A Free Press Needs You, calling Mr Trump's attacks "dangerous to the lifeblood of democracy". It published excerpts from dozens more publications beneath
The New York Post - a pro-Trump tabloid - answered the Globe's call by saying "Who are we to disagree?" adding: "It may be frustrating to argue that just because we print inconvenient truths doesn't mean that we're fake news, but being a journalist isn't a popularity contest. All we can do is to keep reporting." But it also said: "Will this make a difference? Not one whit"
The Topeka Capital-Journal was another paper to join the campaign. It said of Mr Trump's attack on the media: "It's sinister. It's destructive. And it must end now." The paper was one of the few to endorse Mr Trump in 2016.
The fact that Mr Trump won without such media endorsements may cast doubt on whether the Globe's campaign would actually dent his support.
There have been some dissenting voices to the Globe's campaign:
At the conservative website Townhall.com, Tom Tradup panned the Globe's "pathetic bid to pretend it is still relevant", writing: "I would not presume to tell anyone else what to think or what to do. But as for me - and I suspect many others - I won't be putting any coins in any newspaper box August 16th."
The Wall Street Journal declined to take part. An earlier piece by James Freeman argued Mr Trump was entitled to free speech, and the Globe's drive ran counter to the very independence it was seeking.
By BBC's White House reporter Tara McKelvey
Trust in the media has dipped to an all-time low, and Mr Trump has tapped into this well of discontent, prompting journalistic outcry.
In fact "the media" - in popular parlance - means an amorphous blob of TV networks. Even people in flyover country, a region where voters supported Mr Trump, see individual reporters in a more nuanced way, as I've discovered.
Recently I was interviewing someone in a Kansas liquor store (it's a long story) and a big, burly construction worker burst in the door and shouted: "The media!"
I looked up uneasily, and he smiled and said I was doing important work.
When Mr Trump attacks "the media", crowds roar. In general terms, people condemn "the media".
Privately, though, Mr Trump is chummy with us - and often asks how we're doing.
And ordinary people across the US are also gracious towards journalists, showing a real appreciation for their work .
What does the American public think?
A poll released on Tuesday by Quinnipiac University suggested that 51% of Republican voters now believed the media to be "the enemy of the people rather than an important part of democracy" and 52% of the Republican supporters polled were not concerned that Mr Trump's criticism would lead to violence against journalists.
Among all voters, 65% believe the news media to be an important part of democracy, the poll suggests.
An Ipsos poll, also this month, gave similar figures. In addition it found that 23% of Republicans, and about one in eight Americans overall, believed Mr Trump should close down mainstream news outlets like CNN, the Washington Post and the New York Times.
Have journalists been under physical attack?
Mr Trump has certainly ramped up the pressure on mainstream media with numerous tweets.
When he brings up the matter at his rallies, some journalists have felt uneasy about their safety and have even avoided using designated reporter zones.
At a presidential rally in Florida in July, CNN filmed Mr Trump's supporters yelling insults and swearing at reporters covering the event. CNN presenter Jim Acosta tweeted a clip, which contained strong language.
Just a sample of the sad scene we faced at the Trump rally in Tampa. I'm very worried that the hostility whipped up by Trump and some in conservative media will result in somebody getting hurt. We should not treat our fellow Americans this way. The press is not the enemy. pic.twitter.com/IhSRw5Ui3R

— Jim Acosta (@Acosta) August 1, 2018
A man was also arrested in January for making threats to CNN employees via telephone calls that referred to "fake news".
The publisher of the New York Times, AG Sulzberger, told Mr Trump in a personal meeting in July that the president's language was "contributing to a rise in threats against journalists and will lead to violence".
But most of the Globe's campaign is about maintaining a free press and its own editorial does not even touch on violence.
This, and an incident in which two journalists were killed live on air in Virginia in 2015, well before Mr Trump was elected, are used to highlight the dangers of the profession, although both were allegedly carried out by people with personal grievances.