Aretha Franklin: The sound of the civil rights movement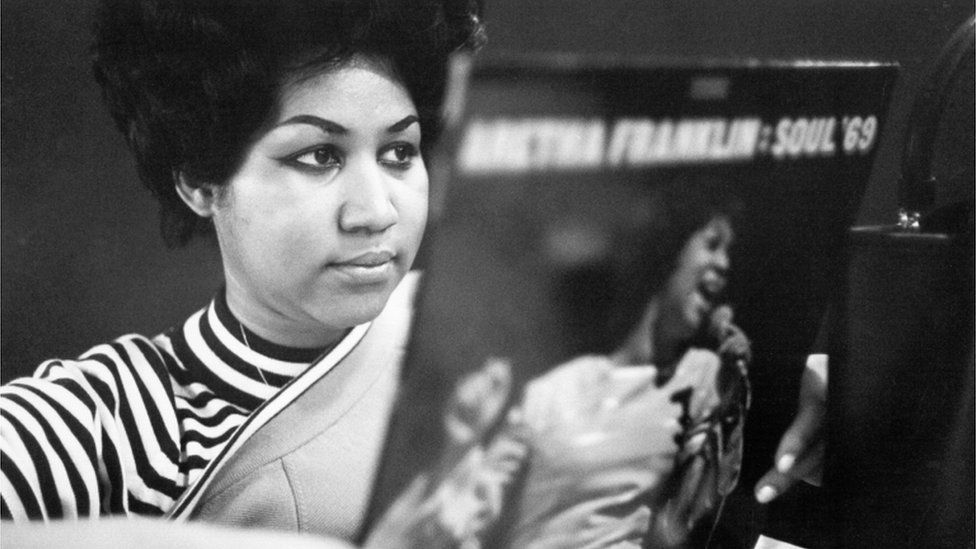 Aretha Franklin grew up in 1950s Detroit, surrounded from childhood by the now-famous faces of the civil rights movement. Her songs would become their anthems.
Her Baptist minister father was the organiser behind the 1963 Detroit Walk to Freedom - the largest-ever demonstration for civil rights in the US until the March on Washington later that year, when the Reverend Martin Luther King Jr made his "I have a dream" speech.
King was a frequent guest in her father's home.
At 16 years of age, Franklin went on tour with him, just after recording her first album.
She would sing at King's funeral a decade later.
King's daughter, Dr Bernice King, called Franklin a "shining example" of how to use the arts to support social change.
"As a daughter of the movement, she not only used her voice to entertain but to uplift and inspire generations through songs that have become anthems."
1967's Respect became the anthem of the civil rights campaign and the feminist movement. Franklin told Elle magazine in 2016 she was "stunned" by its success.
"It was the right song at the right time," she said.
As she rose in popularity, Franklin did not abandon her sense of activism. She told Elle her contract in the 1960s included the clause that she would never perform for a segregated audience.
Civil rights activist Reverend Jesse Jackson - who was Franklin's friend for over 60 years - told USA Today she helped pay for many civil rights tours and campaigns while King was alive.
She held free concerts, housed activists and helped them fundraise. Jackson called her "an inspiration, not just an entertainer".
"She has shared her points of view from the stage for challenged people, to register to vote, to stand up for decency," he said.
The Queen of Soul remained a prominent face - and voice - for African American civil rights throughout her life.
In 2015, President Barack Obama said: "American history wells up when Aretha sings."
"Nobody embodies more fully the connection between the African-American spiritual, the blues, R&B, rock and roll - the way that hardship and sorrow were transformed into something full of beauty and vitality and hope."
Aretha helped define the American experience. In her voice, we could feel our history, all of it and in every shade—our power and our pain, our darkness and our light, our quest for redemption and our hard-won respect. May the Queen of Soul rest in eternal peace. pic.twitter.com/bfASqKlLc5

— Barack Obama (@BarackObama) August 16, 2018
Following news of her passing, tributes to her work with the civil rights movement have been widely shared on social media.
Fellow activist Reverend Al Sharpton called her a "civil rights and humanitarian icon".
Most people knew Aretha for her chart-topping hits that cut to the core of the human experience – no matter your background. But I knew Aretha for the civil rights and humanitarian icon that many forget: the Aretha that uplifted her community and the civil rights movement. pic.twitter.com/eOhD6gKAzO

— Reverend Al Sharpton (@TheRevAl) August 16, 2018
The National Association for the Advancement of Colored People (NAACP) said her music would inspire people for generations.
.@NAACP presented the Vanguard Award to the iconic @ArethaFranklin back in 2008 for her role in advancing awareness of racial and social issues. Her music will continue to inspire us for generations and our thoughts and prayers are with her and her family. pic.twitter.com/JtIrnw016S

— NAACP (@NAACP) August 16, 2018
Aretha Franklin. The Queen of Soul. The Icon. The ultimate singers' singer. The greatest singer and musician of my lifetime. The power of your voice in music and in civil rights blew open the door for me and so many others. You were my inspiration, my mentor and my friend. pic.twitter.com/QD9pxvGLLh

— Mariah Carey (@MariahCarey) August 16, 2018
Civil rights leader and Congressman John Lewis said what made Franklin so great was "her capacity to live what she sang".
"Her music was deepened by her connection to the struggles and the triumphs of the African American experience," he said in a statement.
"She had a lifelong, unwavering commitment to civil rights and was one of the strongest supporters of the movement.
"She was our sister and our friend."