Man returns to bank he robbed 60 years ago for champagne lunch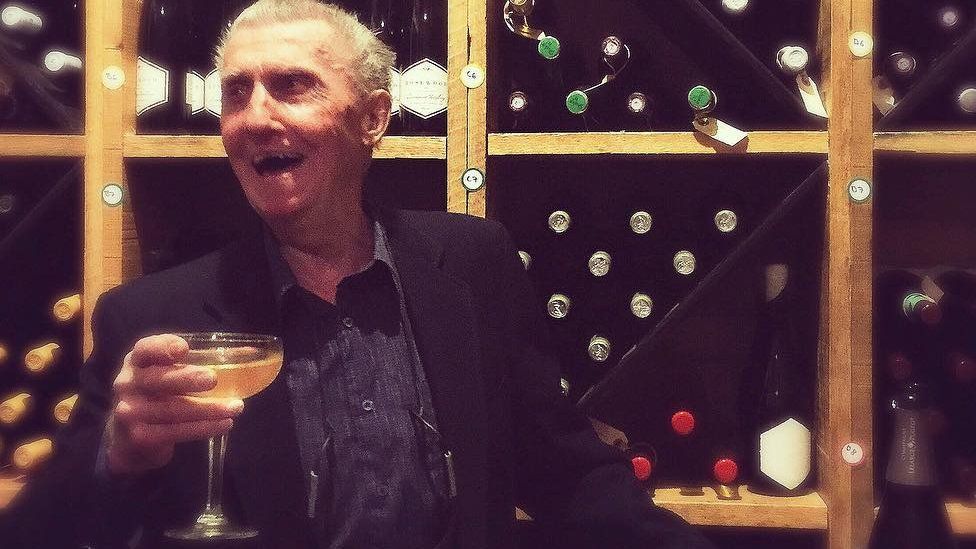 In October 1958, a young Canadian bank teller walked away with C$260,958 from his employer's safe.
Boyne Lester Johnston, 27, was on the run for 17 days before he was caught and sentenced to four years in prison.
Sixty years later, he walked back into the bank in Ottawa, Canada, which has since been converted into a fancy restaurant.
The reformed thief recalled the 1958 heist over a champagne lunch with staff.
He walked away with about $2.2m in current Canadian dollars ($1.7m; £1.3m), triggering a North America-wide manhunt.
A $10,000 reward was offered for information leading to his arrest.
Mr Johnston was caught by police in Denver, Colorado, as he sipped champagne at a nightclub bar, living up to the description on the wanted poster released at the time by Ottawa police.
It read: "Neat dresser, nightclub habitue, a champagne drinker, enjoys female companionship."
Alex McMahon, wine director at Ottawa's Riviera restaurant, told the BBC that staff at the eatery knew about the old heist.
So when an online reservation came in noting the guest would be "bringing my friend back to the bank that he robbed", he said they all had a hunch who it might be.
Mr Johnston and his friend enjoyed a meal last week over champagne cocktails.
He told Mr McMahon that his time in jail had taught him to value his freedom.
At Mr McMahon's request, Mr Johnston signed the wall of the wine cellar, which is located where the emptied bank vault once was. The one-time thief added his four-digit prisoner number next to his name.
The former bank teller had stolen the money on a Friday, taking cash out of the vault and hiding it around the premises. He returned after hours to collect his stash.
That Sunday, about 36 hours after the theft - and before the bank opened on Monday revealing an empty vault - he told his wife he was going hunting.
He never returned, instead fleeing to the US and travelling to Detroit, Los Angeles, Salt Lake City, Utah and eventually, Denver.
According to one newspaper report following his capture, he told the arresting officers that he stolen the money "because I had always wanted to know what it would be like to have all that money".
He said he knew he would be caught and was glad the whole affair was over. The bulk of the stolen funds were recovered, minus expenses and some $4,000 he had spent on a Corvette. His father repaid the missing balance.
The waitress who spotted him at the Chez Paree nightclub collected the full reward following his arrest.
Mr Johnston told the Ottawa Citizen in 2013 that his wife waited for him until he was released from prison in 1960, and he eventually resumed a quiet - and crime-free - professional career.
Riviera is printing and framing a copy of the wanted poster to hang on the restaurant wall.