Manafort judge refuses to name jurors over safety fears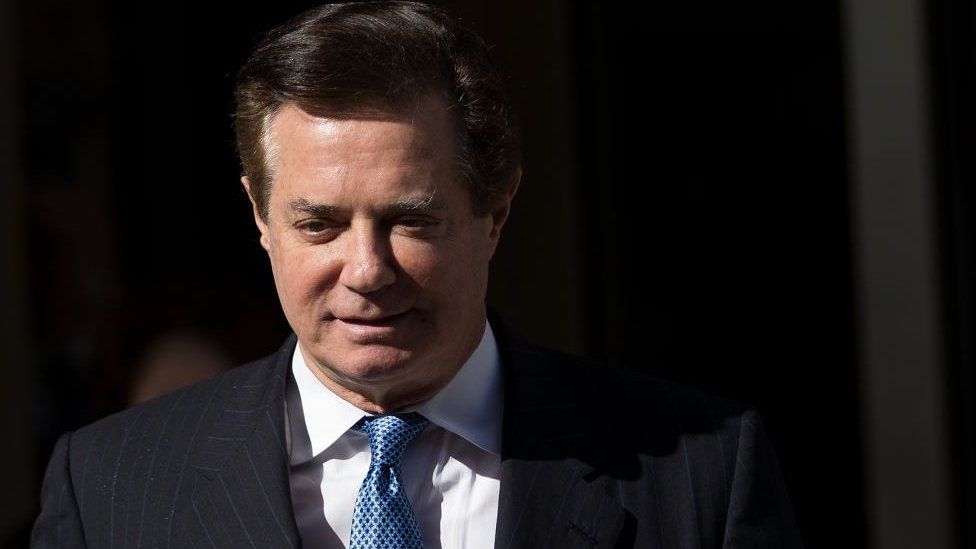 The judge in the trial of ex-Trump campaign chairman Paul Manafort says he will not release the names of jurors because of fears for their safety.
Judge TS Ellis also said he had received threats himself over the case.
Mr Manafort denies charges of bank and tax fraud, in the first trial stemming from the inquiry into alleged Russian meddling into the 2016 US elections.
The court in Alexandria, Virginia, has heard closing arguments and the jury has retired to consider a verdict.
Prosecutors say the 69-year-old dodged taxes on millions of dollars he made lobbying for Ukrainian politicians.
On Friday, US President Donald Trump said Mr Manafort was a "very good person", describing the trial as "very sad".
How did the judge explain his decision?
Speaking in court while jurors deliberated for a second day, Judge Ellis said: "I had no idea this case would excite these emotions... I don't feel right if I release their names,
"I've received criticism and threats. I imagine they would, too."
The judge added that he was being protected by US marshals.
A number of media outlets had earlier requested the names of jurors. Jury lists are considered to be public unless a judge bans any access to them.
The judge later allowed the jurors - six men and six women - to finish their work for the day because one of them had a social engagement.
If found guilty on the fraud charges, Mr Manafort could spend the rest of his life in jail.
Mr Manafort managed Mr Trump's campaign for several months in 2016 - and he was in charge when Mr Trump won the Republican party's nomination.
Last October, he was charged by special counsel Robert Mueller as a part of the investigation into alleged Russian meddling in the 2016 election.
The allegations against him, however, are not linked to Mr Trump and instead centre on his consultancy work with pro-Russian politicians in Ukraine.
The Ukrainian government found ledgers pledging more than $12m (£9.2m) in cash to Mr Manafort for his advisory work with former President Viktor Yanukovych while he was in office, the New York Times reported.
It has also been alleged that he secretly worked for a Russian billionaire to assist President Putin's political goals in other parts of the former USSR. Mr Manafort denied the allegation.