US-Turkey row: Pastor a 'pawn in personal feud'
By Tara McKelvey
BBC White House reporter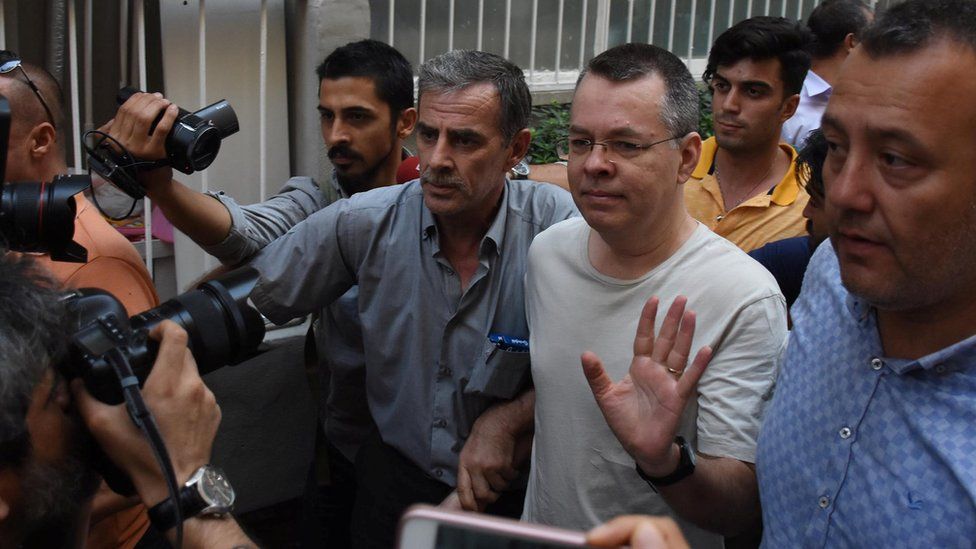 The US is increasing pressure on Turkey to try to secure the freedom of American pastor Andrew Brunson. While the leaders of the two Nato allies clash with each other, Mr Brunson's fate hangs in the balance.
US President Donald Trump tweeted earlier this week that Mr Brunson was being held "hostage" in Turkey. Mr Brunson should be released, he said.
Mr Brunson has been held for almost two years because of his alleged links to political groups that are outlawed in Turkey and he is now under house arrest. Members of the Protestant evangelical church in the US - part of the president's base of support - have rallied on his behalf, demanding his freedom.
Mr Trump and his aides have amplified their demands and criticised the actions of President Recep Tayyip Erdogan. A senior US official has wondered aloud whether Turkey could even be considered a true Nato ally, given how Turkish officials have treated Mr Brunson.
"A real Nato ally wouldn't have arrested Brunson in the first place," the official said.
Mr Trump and Mr Erdogan, says the Center for Strategic and International Studies' Jon Alterman, are in a personal feud - with Mr Brunson as a "pawn".
Mr Brunson, 50, is originally from Black Mountain, North Carolina, and he runs a small evangelical church in Izmir, Turkey. He has denied any wrongdoing.
US officials have imposed financial sanctions against Turkey and called for Mr Brunson's release. Turkish officials say they won't cave in to threats from the US.
Officials from the US and Turkey have imposed tariffs on one another's goods. The conflict between the two countries has aggravated Turkey's economic crisis - the lira has lost about a third of its value against the dollar since January.
And now US officials are threatening to retaliate against Turkey even more.
Senior US officials are discussing additional sanctions that could be imposed. US Treasury Secretary Steven Mnuchin said that they had more in mind - and could be put into effect if Mr Brunson was not freed.
US officials have also said that further negotiations over a contentious issue in US-Turkish relations - a Turkish state bank, Halkbank, which allegedly helped Iran to evade US sanctions - will have to wait until Mr Brunson is released.
US treasury department officials have subpoenaed the bank, according to a US official, and received material from them. But at this point the US officials are unsatisfied with the material that Halkbank has provided.
In addition, according to a US official, the US justice department is pursuing an investigation into Halkbank and the case, the US official warned, could turn into a criminal one.
Turkey has taken advantage of the United States for many years. They are now holding our wonderful Christian Pastor, who I must now ask to represent our Country as a great patriot hostage. We will pay nothing for the release of an innocent man, but we are cutting back on Turkey!

— Donald J. Trump (@realDonaldTrump) August 16, 2018
Turkish officials have said the bank did nothing illegal and shouldn't be penalised.
Meanwhile the feud continues. Mr Trump wants Mr Erdogan to release Mr Brunson for humanitarian reasons. If Mr Brunson is found guilty, he could face up to 35 years in prison.
But there are other reasons too, says Joshua Landis, a professor of Middle East studies at the University of Oklahoma in Norman. He says that if Mr Trump wins Mr Brunson's freedom, then the president can claim that his "strong-arm tactics" are effective in the realm of foreign policy.
Besides that, says Mr Landis, securing the release of Mr Brunson would be welcomed by "the religious right".
"That's his bread and butter," says Mr Landis. "He's doing this for them."