ICE detains man driving wife to hospital to deliver baby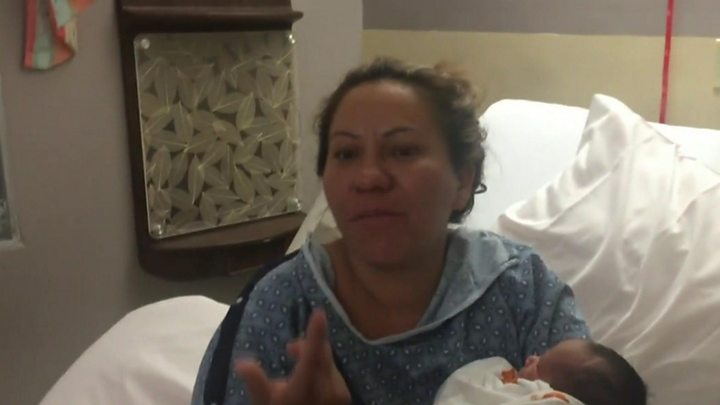 An undocumented immigrant who was driving his pregnant wife to hospital to give birth has been detained by US immigration agents.
Joel Arrona-Lara and his wife, Maria del Carmen Venegas, were on their way to deliver her fifth child last week when they were stopped.
CCTV footage showed the mother crying and on her mobile phone at a petrol station as her husband was taken away.
Agents say the man is wanted for murder in Mexico, a claim his lawyers dispute.
'They left me stranded'
Mr Aronna-Lara, 36, was driving his wife, who was nine-months-pregnant, to hospital in San Bernardino, California, for a pre-scheduled Caesarean section procedure on Wednesday.
The couple stopped at a petrol station on the way, where surveillance footage shows US Immigration and Customs Enforcement (ICE) agents who had been following them in two SUVs approach and ask for identification.
Ms Venegas, 32, told CBS News she showed her driving licence, but Mr Aronna-Lara told the agents he did not have his papers because he had left the house in a hurry.
"I never thought that they would take him like that, handcuff him, and that they would leave me stranded at the gas station," Ms Venegas told CNN.
Security footage from inside the petrol station's shop shows a visibly upset Ms Venegas trying to sort out how to get herself to hospital.
She ultimately drove herself there - about two miles (3.2km) away - where she delivered a healthy baby boy.
"My husband needs to be here. He had to wait for his son for so long, and someone just took him away," she told CBS Los Angeles, in Spanish.
Mr Aronna-Lara is being held at a facility in Orange County, where he is awaiting deportation.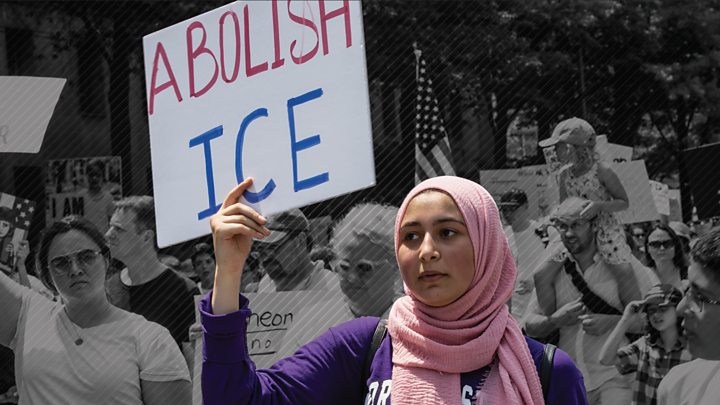 'Murder charge'
In a statement on Saturday, an ICE spokeswoman defended the arrest, saying that he "was brought to ICE's attention due to an outstanding warrant issued for his arrest in Mexico on homicide charges".
However, a statement on Friday made no mention of a murder charge, instead saying he was arrested for "illegally residing in the United States".
Mr Aronna-Lara's lawyers say they can find no record in Mexico of a warrant for his arrest, adding that he may have been mistaken for his brother, who has served jail time in Mexico.
Ms Venegas has confirmed that neither she nor her husband have a US work visa, and that they have resided in the US for 12 years.
Mr Arrona-Lara's legal representative, Emilio Amaya Garcia, said that his client's detention paperwork indicate that he is being held for entering the US illegally.
In an interview with the Washington Post, he questioned why his client was scheduled for deportation but not extradition if he was wanted on such serious criminal charges in Mexico.
In cases of extradition, a suspect is formally handed over to authorities in the country where the person is charged with a crime.
"For us, the issue is not so much the arrest, but the fact that ICE acted in total disregard for health and the well-being of the mother," Mr Garcia said.
Ms Venegas has not yet been able to contact her husband to let him know that she and the child are healthy, she told CBS.
"The last thing he knew was that I was here in the hospital," she said. "I'm sure he's worried."
An online fundraiser to help pay for the family's legal fees has already surpassed its goal of $5,000 (£3,900).
ICE praised and pilloried
President Donald Trump has directed ICE to take a more proactive role in removing undocumented immigrants from the US under his "zero tolerance" policy.
As a result, the agency has faced harsh criticism from Democrats, and praise from Republicans who are supportive of Mr Trump's immigration crackdown.
At the White House on Monday, ICE employees and other immigration agents were honoured at an event called the "Salute to the Heroes".
Mr Trump told the audience that ICE and affiliated agencies were loved by the majority of Americans.
Mr Trump said "extremists" who criticise ICE "like to portray themselves as champions of social justice".
"They are not."