Congressman Duncan Hunter and wife charged with campaign finance violations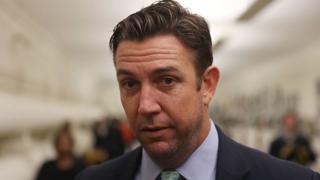 Republican Congressman Duncan Hunter, 41, and his wife have been charged with stealing money from his campaign to spend lavishly on personal expenses.
According to prosecutors, the couple routinely used campaign funds to pay for bills both large and small.
They allegedly used the funds to pay for luxury holidays, family dentist bills, video games and school lunches.
His spokesman said the congressman "believes this action is purely politically motivated".
In a 48-page indictment unsealed on Tuesday federal prosecutors allege that the congressman and his wife Margaret spent over $250,000 (£194,000) with their campaign credit card after draining their own personal banking accounts.
They have been charged with wire fraud, falsifying records, campaign finance violations and conspiracy.
The couple allegedly spent about $15,000 for a family holiday to Italy, where Mr Hunter tried unsuccessfully to tour a US naval base there in order to justify the trip.
When he was told that the request was denied, the Marine Corps veteran reportedly used profanity about the navy.
Prosecutors claim that he purchased Hawaiian shorts at a country club so it "could be falsely reported to the treasurer as 'balls for the wounded warriors'", in a reference to a charity for US veterans.
"The Hunters knew that many of their desired purchases could be paid by using campaign funds," the indictment reads, also claiming that they spent $11,000 at Costco on groceries, cosmetics, and video games.
The congressman is said to have spent $1,000 on a "personal ski trip" to Lake Tahoe with another unnamed person.
The charges are the culmination of a Department of Justice investigation that spanned more than a year, and revealed other dubious expenses claimed by the congressman.
Within the indictment is the claim that the family used campaign funds to pay $600 to fly the family's pet rabbit with them as they went on holiday.
The congressman's aide said at the time that the "cabin rabbit transport fees" were a simple error.
Republican Speaker of the House of Representatives Paul Ryan announced after the charges were filed that he was stripping the congressman of his committee assignments.
"The charges against [Congressman] Hunter are deeply serious," Mr Ryan said in a statement.
Mr Hunter - who represents part of San Diego County in California - was one of President Donald Trump's earliest supporters in Congress.
According to CNN, he was a founding member of the "Trump Caucus" in the House of Representatives.
He and Congressman Chris Collins, who was indicted earlier this month on charges of insider trading, were the first two members of Congress to endorse Mr Trump's candidacy.
In a scathing editorial, his hometown newspaper, the San Diego Union Tribune, called on him to quit immediately, saying: "He has disgraced himself more thoroughly than his critics ever could."
In November he will face Democratic challenger Ammar Campa-Najjar, who worked as a Department of Labor spokesman during the Obama administration.
The congressional district has been considered a safe seat for Republicans. Mr Trump won there by 15% in 2016.
Mr Duncan - who served in Iraq and Afghanistan - has already reimbursed his campaign about $65,000 since the Federal Election Commission first began asking questions about his spending.
His top aide previously acknowledged the congressman's teenage son accidentally used a campaign credit card to make purchases on the video game platform, Steam.
"There aren't enough lawns in Southern California for his son to mow to make up for this," said Chief of Staff Joe Kasper in April 2016.