Cohen, Manafort and a dramatic day in Trumpland dissected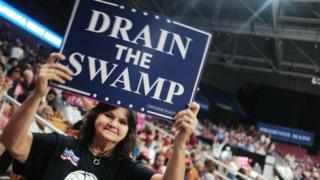 Two dramatic moments in court, only minutes apart.
Since Donald Trump became US president 19 months ago, there has been no shortage of spectacle. But there have been few days as eventful or potentially impactful as 21 August, 2018.
This is how that day unfolded.
The build-up
Since May 2017, a special investigation headed by former FBI chief Robert Mueller has been looking into allegations of Russian interference in the 2016 US presidential election, and whether Donald Trump's victorious campaign team colluded with Russia.
Among the first of the 32 people and three companies charged as part of the investigation was Paul Manafort, Mr Trump's former campaign chief.
Meanwhile, another investigation stemming from the special counsel has been bubbling under the surface for a few months: New York prosecutors have been examining the dealings of Mr Trump's former personal lawyer, Michael Cohen.
What happened next?
21 August - 09:30 eastern time (14:30 BST)
In Alexandria, Virginia, a jury is starting its fourth day of deliberations in Mr Manafort's trial - he faces 18 allegations of falsifying his tax returns, committing bank fraud, and failing to file reports of foreign bank accounts.
The two-week trial is the first to emerge from the special counsel investigation. Among the witnesses for the prosecution was Rick Gates, Mr Manafort's former right-hand man.
In accusing Mr Manafort of not declaring all his income, the prosecution had detailed his extravagant purchases - including a $15,000 (£11,640) ostrich jacket.
11:36
There are signs the jury in Virginia may be close to returning a verdict - news agencies reveal that jurors have asked the judge what they should do if they cannot reach a unanimous conclusion.
11:59
In breaking news, MSNBC report that Mr Cohen is in talks about a possible plea deal. Over the next 90 minutes, the news is confirmed by a number of other US media outlets.
12:04
An urgent line by the Reuters news agency drops: Judge in Manafort trial instructs jury to continue deliberations
13:30
At a court in Washington DC, another former Trump official charged under the Mueller investigation - former national security adviser Michael Flynn - is due to be sentenced.
However, in a note to the court, Mr Mueller's team says it is not yet ready to sentence him.
The BBC's Anthony Zurcher says this is a sign that Flynn, who has admitted to lying to the FBI about his contacts with Russian officials during the presidential transition, is still co-operating with Mr Mueller and that his usefulness to the investigation is ongoing.
14:42
The Associated Press reveal that a plea deal has been reached in the Cohen case. Media report that he will appear before a federal court in Manhattan at 16:00.
16:05
Mr Cohen arrives at court.
16:25
An urgent line by Reuters flashes in newsrooms: Jury reaches verdict in bank and tax fraud trial of former Trump campaign chairman Manafort
Over the next 10 minutes, the full verdict is read out: Manafort is found guilty on eight charges of tax fraud, bank fraud and failing to disclose foreign bank accounts.
But the jury fails to reach a verdict on 10 other charges and the judge declares a mistrial on those.
Manafort could face up to 80 years in jail.
16:31
The judge in the Cohen case reveals that the former Trump lawyer is to plead guilty to at least five counts of tax fraud and one count of making false statements to a financial institution.
16:35
Once the full verdict in the Manafort trial becomes clear, reporters sprint out of the Alexandria courthouse in droves to break the news to their outlets.
About 90 seconds after the first group of runners, NBC intern Cassie Semyon bursts out and goes on to find viral fame.
16:50
Cohen pleads guilty to eight charges, including the violation of campaign finance laws, after paying off women who alleged they had had affairs with Mr Trump.
Cohen directly implicates the president by stating that he followed the orders of a "candidate for federal office" by making the payments, for the "principal purpose of influencing [the] election".
It is not yet clear, despite his plea deal, whether Cohen is co-operating with the special counsel investigation.
The deal does mean he could face a reduced jail sentence, of up to five years and three months.
17:19
Robert Khuzami, the prosecutor in the Cohen case, hold a press conference outside the federal court in Manhattan.
"These are very serious charges and reflect a pattern of lies and dishonesty over an extended period of time," he says.
17:38
President Trump emerges from Air Force One in Charleston, West Virginia, where he will be taking part in a rally later that night.
Reporters shout, asking whether he has any reaction to the Manafort and Cohen cases as he walks down the steps. He doesn't immediately reply but later walks over to the gathered journalists.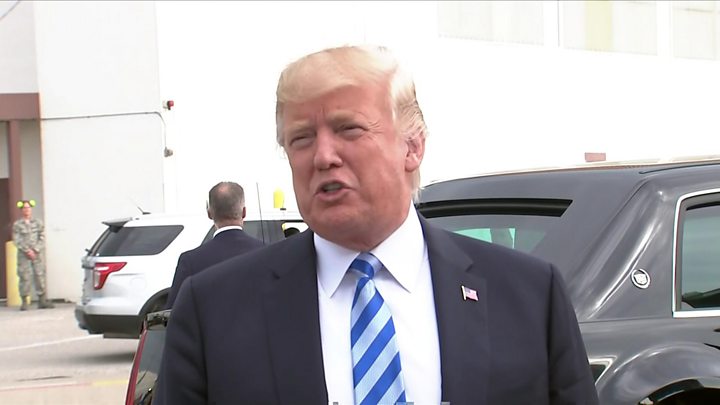 "Paul Manafort is a good man," he says. "He was with Ronald Reagan, he was with a lot of different people over the years and I feel very sad about that. It doesn't involve me, very sad thing that happened, nothing to do with Russian collusion, absolutely nothing to do with - it's a witch hunt and a disgrace."
He doesn't address the Michael Cohen plea deal.
21:32
In an interview with MSNBC's Rachel Maddow, Cohen's lawyer Lanny Davis says his client is happy to co-operate with the Russia investigation.
"Mr Cohen has knowledge on certain subjects that should be of interest in the special counsel and is more than happy to tell the special counsel all that he knows," he says.