Michael Cohen: Trump ex-lawyer 'happy' to aid Russia probe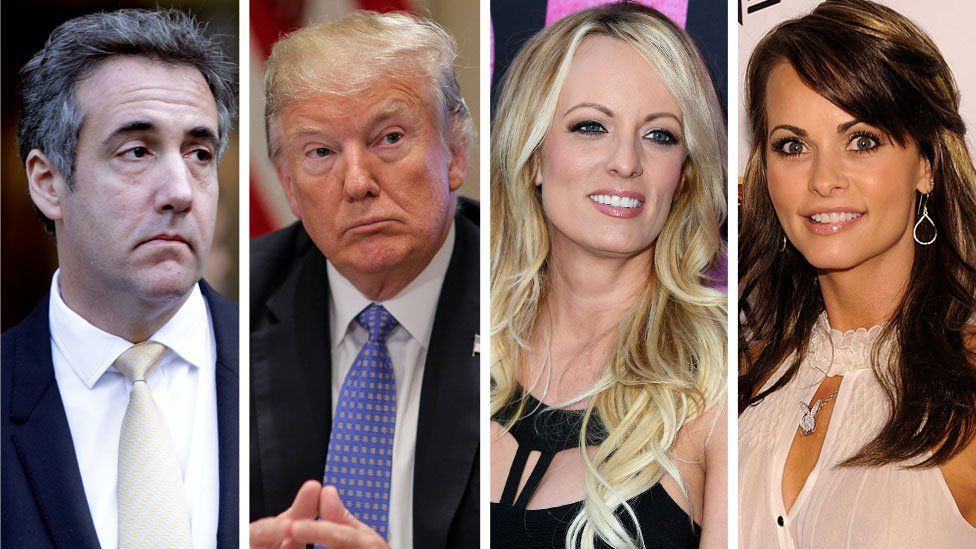 US President Donald Trump's ex-lawyer, Michael Cohen, is said to be "more than happy" to speak to the inquiry into alleged collusion with Russia.
Cohen pleaded guilty on Tuesday to violating finance laws during the 2016 presidential election by handling hush money for Mr Trump's alleged lovers.
Cohen is ready to "tell everything about Donald Trump that he knows", his personal lawyer, Lanny Davis, said.
Mr Trump has argued that Cohen had made up stories in order to get a deal.
The president denies there was any collusion with Russia to get him elected.
In an interview with Fox & Friends, the president said he had found out about the payments "later on", and that they did not come out of the campaign.
Cohen, who has been Mr Trump's personal lawyer for more than a decade, has pleaded guilty to eight criminal charges, including tax evasion, bank fraud and campaign finance violations.
He said he had paid hush money to two women who alleged they had affairs with Mr Trump, at the direction of "the candidate" - a clear reference to Mr Trump.
Cohen said the payment was made for the "principal purpose of influencing [the 2016] election".
Cohen has reached a plea deal with prosecutors, which may see his prison sentence reduced from 65 years to five years and three months.
Investigators have also demanded Cohen appear in court as part of a separate probe into the Trump Foundation, US media report.
It was the first criminal trial arising from the justice department probe, led by former FBI chief Robert Mueller.
Mr Mueller has been investigating allegations of Russian interference in the 2016 US presidential election, and whether the Trump campaign conspired with Russia to swing the election in his favour.
Russia has denied claims it interfered in the elections.
How has Mr Trump responded?
Mr Trump has responded to both the Cohen and Manafort cases with a series of tweets criticising Cohen and praising Manafort.
Skip twitter post by Donald J. Trump
Allow Twitter content?
This article contains content provided by Twitter. We ask for your permission before anything is loaded, as they may be using cookies and other technologies. You may want to read Twitter's cookie policy, external and privacy policy, external before accepting. To view this content choose 'accept and continue'.
The BBC is not responsible for the content of external sites.
End of twitter post by Donald J. Trump
He also tweeted that Cohen had pleaded "guilty to two counts of campaign finance violations that are not a crime", adding: "President Obama had a big campaign finance violation and it was easily settled!"
He was referring to how Barack Obama's 2008 campaign was fined $375,000 for failing to report some campaign donations within 48 hours - although experts at the time said the violations were relatively minor given the size of the campaign.
In his interview with Fox, the president denied the hush money constituted a campaign violation, saying the payments "didn't come out of the campaign, they came from me, and I tweeted about it".
Meanwhile, White House Press Secretary Sarah Sanders said Mr Trump "did nothing wrong, there are no charges against him".
Why did Cohen pay hush money, and is it illegal?
Both prosecutors and Cohen agree that Cohen violated campaign finance laws.
Cohen has admitted to handling payments to two women - thought to be porn star Stormy Daniels and former Playboy model Karen McDougal - who said they had affairs with Mr Trump.
Undisclosed payments to bury embarrassing stories about a political candidate can be treated as a violation of US campaign finance laws.
Cohen's lawyer Lanny Davis has asked why the US president should not be prosecuted for the crimes Cohen had confessed to committing on his behalf.
What does Cohen know, and will he talk to Mueller?
There is no confirmation that Cohen will speak to Mr Mueller's Russia inquiry.
However, Mr Davis says his client is "more than happy" to talk, and has knowledge of whether Donald Trump knew in advance about the computer hacking which undermined his opponent, Hillary Clinton.
In summer 2016, embarrassing emails hacked from the Democratic National Committee (DNC) server were made public.
Russian intelligence officers have since been charged in absentia for the hack.
Cohen also has knowledge, Mr Davis said, of a meeting at Trump Tower in New York in June 2016 between Trump campaign aides and a Russian delegation which was promising political "dirt".
Mr Trump's son, Donald Trump Jr, went into the meeting in the belief that he would be offered "official documents and information that would incriminate" Mrs Clinton.
Under US campaign law, it is illegal for a US citizen to solicit foreigners for campaign donations or contributions - although legal experts are divided on whether the offer of information counts as such.
President Trump has denied knowing in advance about the meeting.
A tense mood in Washington
By Tara McKelvey, BBC White House reporter
People in Washington are talking about impeachment - while in the West Wing staffers show a steely resolve.
In an area known as Lower Press, located on the ground level of the West Wing, many people seemed on edge - as if they were waiting for something to happen.
In a hallway in an area of the West Wing known as Upper Press, I ran into Bill Shine, the president's communications chief, followed by a small group of men - all in a hurry.
He shook my hand and gave me a tight smile. For him, the day was only beginning, and it looked like it was going to be a long one.
Mr Trump has admitted reimbursing Cohen for paying one of the women, having earlier denied any knowledge of it.
But Rudy Giuliani, a lawyer for Mr Trump, told reporters there had been "no allegation of any wrongdoing against the president" in the charges against Cohen.
In any case, Mr Trump is unlikely to face criminal charges as long as he remains president, legal experts say.
He could potentially be sacked by Congress under the US constitution's provision for impeaching a president over "high crimes and misdemeanours".
But for that to happen, Mr Trump's opponents in the Democratic Party would have to win control of both houses.
Even if they did well in the mid-term elections in November, they would almost certainly need to persuade members of Mr Trump's Republicans to change sides over the issue.
No US president has ever been removed from office on the basis of impeachment.