Manafort trial: Who is the woman in the blue dress?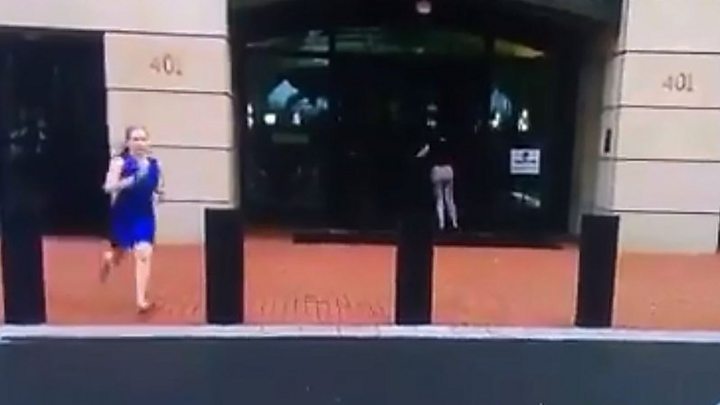 When major news breaks, journalists find out using their phones and the internet. Right? It is the 21st century after all.
Wrong. As news broke on Wednesday about US President Donald Trump's former lawyer Michael Cohen pleading guilty to violating campaign finance laws, as well as a jury convicting the president's ex-campaign chairman Paul Manafort of tax and bank fraud, it fell to fit, young journalists to run from the court with details.
Phones were not permitted in the courtroom, which meant that reporters had to rely on "fleet feet" to deliver information.
One woman's sprint from the Manafort trial brought her viral fame, her skilled dash catching the attention of a world absorbing the dramatic political developments.
"Yes, it is me, the journalist in the blue dress," Cassandra Semyon, an intern for NBC News, wrote early on Wednesday morning in a tweet that has been liked 13,000 times.
Footage of Ms Semyon racing from the court in Alexandria, Virginia wearing a blue dress and flat sandals was captured live by reporter Melissa Block in a tweet, where it has been viewed more than half a million times.
Although she was not the first one out, Ms Semyon's neat and speedy sprint caught many people's eyes.
"We are all her," one person on Twitter suggested, while another wrote, "Blue Dress is my new superhero!".
"I'm going as "journalist in blue dress after Manafort trial" for Halloween. And no, it isn't just so I don't have to wear heels," commented Twitter user Annette Storckmann.
"You should get a Nike deal," tweeted Stephanie Tran.
"I feel like the smartest news outlets assigned their most athletic reporters to the Manafort verdict today," wrote @AmandaClinton.
"Bringing home the Manafort story to waiting colleagues and bringing home the gold in the intern DC Olympics. Run, Casssie, Run," commented Twitter user Paul Gluck.
Ms Semyon's alma-mater Klein College weighed in as well.
The same restrictions on mobile phones apply in the US Supreme Court, where high-profile rulings are also accompanied by similar pictures of eager young journalist interns racing with pieces of paper.
"The Running of the Interns" frequently features athletic and sometimes not-so-athletic snaps.
And the key to executing a Semyon-style high-speed dash?
"Flat sandals, easy to run in! Holding a notebook. Running form credit: my high school cross country days!," the journalist shared on Twitter.
By Georgina Rannard, BBC UGC & Social News