Trump Organization financial chief Weisselberg 'given immunity'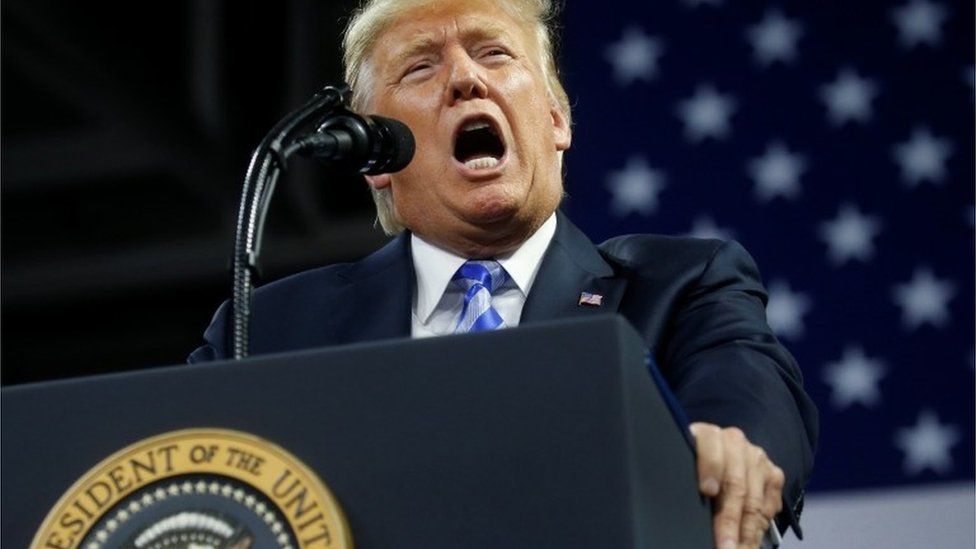 The Trump Organization's finance boss, Allen Weisselberg, has reportedly been granted legal immunity in the probe into Michael Cohen.
He was summoned to testify earlier this year in the investigation into Cohen, Donald Trump's longtime former lawyer, US media report.
Cohen pleaded guilty on Tuesday to handling hush money for Mr Trump in violation of campaign finance laws.
Mr Weisselberg, Chief Financial Officer, is the latest to get immunity.
On Thursday, it emerged that David Pecker, head of the company that publishes the National Enquirer tabloid, was also given immunity.
Mr Weisselberg is reportedly mentioned on a tape secretly recorded by Cohen in 2016 in which a hush money payment to an alleged lover of Mr Trump is discussed.
It is not yet clear what Mr Weisselberg has agreed to in return for getting legal immunity.
The Trump Organization has not commented on the reports, which first emerged in the Wall Street Journal.
At Trump Org, Weisselberg would bring Trump checks to sign on a daily basis. Trump would routinely ask questions about the checks and what they were for, at times asking Weisselberg to hold off on specific payments. "He would say, 'That's too much.'" https://t.co/sOEjM8G62n

— Rebecca Ballhaus (@rebeccaballhaus) August 24, 2018
This is the latest twist in a saga continuing to dog the Trump administration.
In a serious blow, Cohen, Mr Trump's personal lawyer for more than a decade, pleaded guilty on Tuesday to eight criminal charges, including tax evasion, bank fraud and campaign finance violations.
He said he had paid hush money to two women who alleged they had affairs with Mr Trump, at the direction of "the candidate" - a clear reference to Mr Trump.
Cohen said the payment was made for the "principal purpose of influencing [the 2016] election".
His plea deal with prosecutors could see his prison sentence reduced from 65 years to five years and three months.
Mr Weisselberg was one of those called to give evidence before a federal grand jury for the Cohen investigation earlier this year, the Wall Street Journal reports.
Separately, the Manhattan district attorney has launched a preliminary investigation into whether the Trump Organization falsified business records relating to payments made to Cohen, a source confirmed to CBS news.
The dominoes continue to fall
By Anthony Zurcher, Senior North America Reporter
Donald Trump's former personal lawyer has told a federal judge that the president knew about his illegal payments to women claiming illicit affairs with the then-candidate. The publisher of the National Enquirer tabloid, formerly a close ally of Mr Trump's, has reportedly received immunity to discuss his role in the payments.
Now multiple US media outlets are reporting that Allen Weisselberg, chief financial officer of the Trump Organization and the only non-relative trusted by the president to run his business empire during his presidency, is co-operating with federal investigators.
While much of the political world has been focused on Special Counsel Robert Mueller, the situation in New York for the president is increasingly threatening.
Mr Weisselberg reportedly oversaw the reimbursements Mr Cohen received from the Trump Organization for paying adult film star Stormy Daniels. Depending on how the financial transfer was accounted for, it could run afoul of a number of campaign finance and accounting laws.
What's more, Mr Weisselberg has been at the beating heart of the Trump Organization since the 1970s. He handles the president's private trust, is the treasurer of the family's charitable foundation - currently under investigation by the state of New York - and has, at times, reviewed the Trump presidential campaign's accounting books.
He's the man who knows things - and now he's talking.
What's the origin of all this?
It is the latest fallout from the wider inquiry launched by Special Counsel Robert Mueller in May 2017 into suspected collusion between the Trump election campaign and Russia.
As part of that probe, Cohen's offices were raided and investigators looked into his finances. What they found was passed on to New York judicial authorities.
Cohen's lawyer has said his client is "more than happy" to help the collusion inquiry.
Mr Trump has repeatedly denied collusion with Russia, and Russia denies involvement in the 2016 election.