John McCain: The angry politics of late senator's death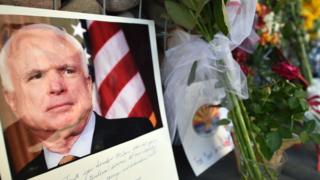 On Saturday night prominent figures across the political spectrum offered messages honouring the life and legacy of John McCain. They noted his heroism, his sense of duty and patriotism, his friendships with those of differing viewpoints and his willingness on occasion to reach across the political aisle to find common cause with ideological rivals.
In the hours since, the gloss of unity is being methodically stripped away, exposing the raw flesh of the current American political condition.
The drama, as it often has in the past year and a half, begins at the top. Shortly after McCain's death Donald Trump sent a short tweet offering his condolences to the late senator's family. He also ordered the flags on the White House flown at half-staff.
Critics have said that's not nearly enough.
"President Trump," tweeted former NBC News anchor and journalistic elder statesman Tom Brokaw, "you are commander in chief by law, duty bound to honour Senator McCain. Ignoring his death is a disgrace."
While the president has frequently issued proclamations memorialising the lives and achievements of prominent Americans following their passing, no such document has been forthcoming from the White House. In fact, media outlets have reported that Mr Trump rejected early plans to offer a more comprehensive statement praising the late senator.
As if to emphasise the point, on Monday morning the flags at the White House were back at full staff - in keeping with guidelines on how back-bench members of Congress are honoured in Washington, but jarring given that McCain is being remembered by many as more than just a long-serving senator from Arizona. By that afternoon, the White House had reversed itself, re-lowering the flags for the duration of the week.
Mr Trump and McCain's tumultuous relationship is well-documented by now. Although it most prominently erupted in 2015, when the senator dismissed Trump supporters as "crazies" and then-candidate Trump suggested McCain was only considered a hero because he was a prisoner of war, their worldviews have long been on a collision course.
McCain represented the internationalist, free-trade, pro-immigration wing of the Republican Party - or, at least, what's left of it. Mr Trump's politics focused on border security, immigration limits, protective tariffs and willingness to rankle allies to advance his foreign policy goals.
Even as far back as 1999 Mr Trump had publicly questioned McCain's war record.
Already Mr Trump's political opponents are using McCain's death as a means to offer oblique - and some not-so-subtle - criticism of what they see as Mr Trump's character shortcomings compared to McCain.
"It would be a fitting posthumous contribution of John McCain if the celebrations this week of his life inspire in others the moral clarity and political courage to say No to Trump and Trumpism," tweeted conservative commentator and frequent Trump critic Bill Kristol, for example.
This will likely come to a head on Saturday - in the Arizona senator's final parting shot at Mr Trump - when two former presidents, Barack Obama and George W Bush, eulogise the late senator while the current occupant of the Oval Office is notably absent.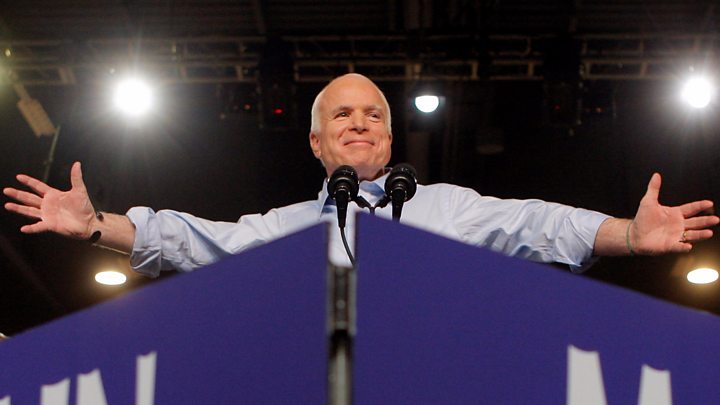 It may prove difficult for the president to hold his tongue as a week of McCain memorials rolls along, but other McCain critics - on the left and the right - are already chiming in.
Some liberals have been quick to note that McCain's voting record, aside from his occasional bipartisan efforts, has been reliably conservative. They object to his full-throated support for the Iraq War and repeated calls for military solutions to US foreign policy challenges.
In a tweet praising Mr McCain by New York congressional nominee Alexandria Ocasio-Cortez, a rising star in progressive politics, her supporters in the comments were quick to criticise the late senator as a liar, a monster and war criminal.
McCain, because of his frequent criticism of Mr Trump and his past partisan apostasy - including a vote last year against the Republican-backed Obamacare repeal and advocacy of comprehensive immigration reform - also has attracted the ire of the grass-roots conservatives.
That's been on full display in McCain's home state of Arizona, where Kelli Ward - who challenged McCain in a Senate primary in 2016 and is now running to replace outgoing Senator Jeff Flake - has frequently labelled the former Republican presidential nominee a Rino (Republican in name only).
On Friday afternoon, as word spread that McCain was ending his cancer treatment efforts, Ward questioned the timing of the announcement, just a few days before Tuesday's Arizona primary, and said that the senator, as a politician, had "let down Arizona again and again and again."
"I'm sorry that he's sick," she said the day before McCain died. "But that doesn't mean that his politics suddenly became good. They didn't."
If the politics surrounding McCain's death don't come to a head on Saturday, at McCain's Washington funeral, they'll probably reach a fevered pitch as soon as Arizona Republican Governor Doug Ducey names the late senator's successor.
According to state law, the governor will appoint a replacement who will serve in the US Senate for the next two years, until a special election is held to serve out the final two years of McCain's six-year term.
In an upper chamber where Republicans currently have a one-seat majority, the person Mr Ducey picks could have a significant impact on national legislative politics.
Already the rumour mill is swirling. One name that has repeatedly cropped up is the late senator's wife, Cindy McCain, who heads her family's beer distribution business and chairs several philanthropic organisations.
Mr Ducey could satisfy the Republican base by selecting someone to McCain's political right - such as former Senator Jon Kyl or former Congressman John Shadegg. Or he could opt for someone more in McCain's mould, like outgoing Senator Flake - a frequent Trump critic whose selection would surely anger the president.
On Monday long-time McCain aide Rick Davis read the senator's final message to the American people.
There were a few veiled parting shots at the president, including a saying that the nation's greatness is weakened "when we hide behind walls, rather than tear them down; when we doubt the power of our ideals, rather than trust them to be the great force for change they have always been."
He ended, however, on what he probably hoped was an optimistic note.
"We have always had so much more in common with each other than in disagreement," he said. "If only we remember that and give each other the benefit of the presumption that we all love our country, we will get through these challenging times. We will come through them stronger than before; we always do."
These days that can seem like a very big "if".