Reality Check: What are the rules on scallops?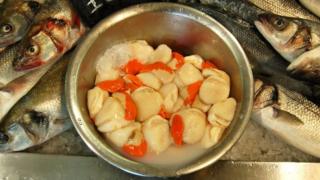 French fishermen have clashed with their British counterparts off the coast of Normandy in a dispute over scallops. But what are the relevant rules?
Scallops are among the more valuable shellfish, coveted for their delicate taste.
They're causing trouble in the Channel, where French fishermen say UK rivals are "pillaging" stocks off the coast of Normandy.
British fishermen say they are operating within the law and that French boats have no right to try to stop them dredging in the Baie de Seine area.
Under the European Union's Common Fisheries Policy registered fleets from any member state have equal access to EU waters.
But each country has powers to limit the access that fleets from other EU countries have to waters within 12 nautical miles of its own coastline.
This means France can impose restrictions on UK and other non-French EU boats operating within this zone, but not beyond.
But - amid stated concern over the level of scallop stocks - France operates an extra law that applies only to its own fleets.
This allows them to dredge the Baie de Seine (some of which is less than 12 nautical miles off the French coast, and some of which isn't) only during a "season" lasting from 1 October to 15 May.
So, UK fleets can dredge the area lying more than 12 miles off the coast at this time of year.
French fleets, because of their own country's law, can't do this until the season starts next month.
French fishermen say this is unfair, arguing that ships from other EU countries are getting an advantage over them.
But the UK's Department for the Environment, Food and Rural Affairs points out that, overall, French fleets make far more money from catches in UK waters than vice versa.
In the past, the UK and France have worked out what the European Commission called "common management measures" for harvesting scallops, but this has not been repeated this year, amid increasing acrimony.
The commission said it was "in the interest first and foremost of the fishermen" to come to a new agreement.