Don McGahn: Trump says White House counsel to depart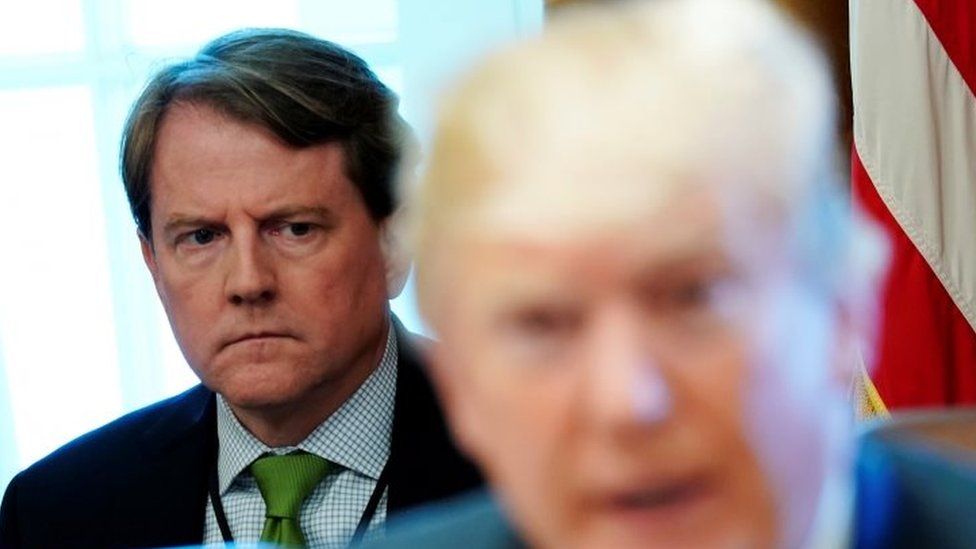 US President Donald Trump has said White House lawyer Don McGahn will leave his post in the coming months.
The president tweeted that Mr McGahn would depart after the confirmation of a Supreme Court nominee in the autumn.
His exit follows reports of White House unease at the extent of Mr McGahn's co-operation with an ongoing inquiry into alleged Russia election meddling.
It is not unusual for White House counsels to come and go during an administration.
But Mr McGahn - who served as a lawyer on the Trump election campaign - is the latest in a series of senior White House officials to leave the president's side.
White House Counsel Don McGahn will be leaving his position in the fall, shortly after the confirmation (hopefully) of Judge Brett Kavanaugh to the United States Supreme Court. I have worked with Don for a long time and truly appreciate his service!

— Donald J. Trump (@realDonaldTrump) August 29, 2018
However, Mr McGahn is said to have not discussed this plan with Mr Trump and was surprised by the president's tweet.
The lawyer has reportedly sat for three voluntary interviews totalling 30 hours with Department of Justice investigators.
Mr Mueller's probe into claims that Russia intervened in the 2016 US elections is dogging the Trump presidency.
Rumours of presidential dissatisfaction
By Anthony Zurcher, BBC News, Washington
Don McGahn has been the Washington-savvy lawyer by Donald Trump's side since the start of his presidential bid back in July 2015. He handled election law challenges, aided in the presidential transition and helped the White House navigate the seemingly interminable legal storms since the inauguration.
Now he's heading for the exits.
The job of White House counsel in this administration would take its toll on even the hardiest of people, and it could be that Mr McGahn has simply reached the end of his endurance.
But there are rumours swirling of presidential dissatisfaction with the way Mr McGahn has handled the special counsel's Russia investigation, including reported disputes over whether to fire Robert Mueller and when - or if - the president should pardon his former campaign chair, Paul Manafort.
One way or the other, however, another member of the old guard - one who has been portrayed as being a check on the president's riskier impulses - is departing, just as the legal heat on the administration could be going up.
In a sharply worded tweet earlier this month, Mr Trump said he had allowed Mr McGahn to give testimony to the special counsel.
The White House lawyer reportedly threatened to resign last year because Mr Trump was planning to remove Mr Mueller.
In remarks on Wednesday, Mr Trump called him "a really good guy" and said he was probably planning to work in the private sector.
He added that he has "a lot of affection for Don".
Mr McGahn served as a go-between with the White House and Department of Justice, and has helped implement the president's conservative reshaping of the judiciary.
He came under scrutiny for his handling of domestic abuse allegations against former White House staff secretary Rob Porter, who resigned in February.
In a statement, Republican congressional leader Mitch McConnell called his departure "sad news for our country".
"Don's significance to the judiciary, the White House and the nation cannot be overstated, and I look forward to his continued efforts on behalf of our country," he added.
In a tweet, Iowa Republican Senator Chuck Grassley wrote to Mr Trump: "I hope it's not true McGahn is leaving WhiteHouse Counsel. U can't let that happen."
Turnover in the White House counsel role is not uncommon: Barack Obama had four; George W Bush three; and Bill Clinton six.