Hurricane Maria: Puerto Rico mayor derides Trump actions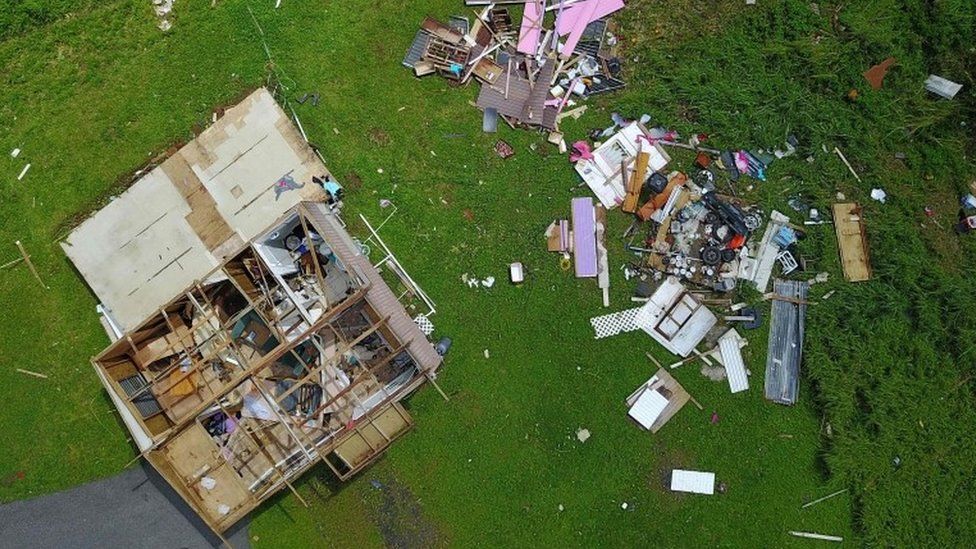 The mayor of the Puerto Rican capital San Juan says President Donald Trump's response to the hurricane that devastated the US territory last year is a "stain on his presidency".
Carmen Yulin Cruz's comments came a day after officials said 2,975 people had died in Puerto Rico following Hurricane Maria last September.
The revised death toll is nearly 50 times the previous estimate of 64.
"The Trump administration killed the Puerto Rican with neglect," she said.
Speaking to CNN, she added: "The Trump administration led us to believe that they were helping when they weren't really up to par."
The territory has struggled to repair its infrastructure and power grid since the storm, and is asking US Congress for $139bn (£108bn) in recovery funds.
On Wednesday Mr Trump defended his administration saying: "I think we did a fantastic job in Puerto Rico."
"We have put billions and billions of dollars into Puerto Rico and it was a very tough one," he continued, adding "I think most of the people in Puerto Rico really appreciate what we've done."
"I only hope they don't get hit again," said Mr Trump.
"Shame on President Trump for not even once - not even yesterday - just saying: 'Look, I grieve with the people of Puerto Rico.'" said Ms Cruz.
"This will be a stain on his presidency for as long as he lives. Because rather than come here to support us, he came here to throw paper towels at us, and we will never forget and we will always remember."
But on Wednesday Mr Trump contrasted the two responses, saying "Puerto Rico was actually more difficult because of the fact it was an island".
During a visit to Puerto Rico in October, Mr Trump suggested officials should be "proud" the death toll - at the time only 16 - was not as high as "a real catastrophe" like Hurricane Katrina in 2005.
Why the change in fatality numbers?
The authorities have faced criticism for underreporting the toll of Maria - the most powerful storm to hit the region in nearly 90 years.
Until Tuesday, the official figure was 64. It was limited to those killed directly by the hurricane, crushed by collapsing buildings, drowned or hit by flying debris.
This counted those who died in the six months following the storm as a result of poor health care and a lack of electricity and clean water. Repeated power cuts also led to an increased number of deaths from diabetes and sepsis.
Doctors are also said to have "lacked awareness" on how to appropriately certify deaths attributed to natural disasters.
What does the report say?
Researchers tracked the number of deaths using death certificates and other mortality data between mid-September 2017 to mid-February of this year.
The Caribbean island is home to 3.3 million people, some 8% of which have since left the island, the study said.
It also said that those from poorer backgrounds in Puerto Rico were 45% more likely to have been killed in the aftermath of the hurricane.
The governor of Puerto Rico said he would sign an executive order to create a committee to examine and put into practice the report's recommendations.