Sandy Hook families v Alex Jones: Defamation case explained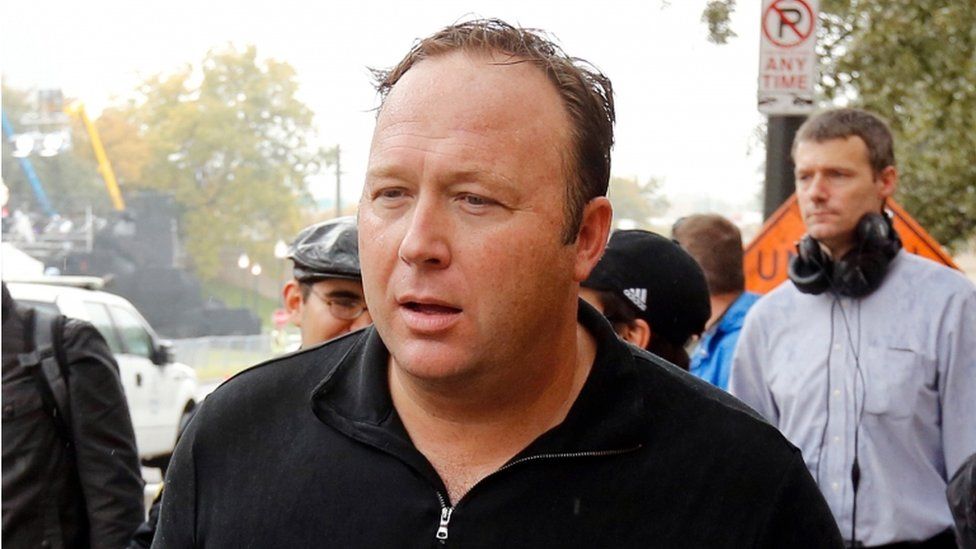 The parents of a 2012 mass shooting victim can sue Infowars host and conspiracy theorist Alex Jones for defamation, a Texas judge has ruled.
Mr Jones sought to dismiss the suit brought by the parents of a boy killed in the Sandy Hook school massacre.
Leonard Pozner and Veronique De La Rosa allege they were harassed and forced to move after Mr Jones decried the attack that left 26 dead as a left-wing hoax.
The case is one of five defamation lawsuits he is facing.
Mr Jones argued that he was protected from the lawsuit by his first amendment free speech rights under the US constitution. He also sought more than $100,000 (£77,000) in court costs from the couple.
But Judge Scott Jenkins of Travis County, Texas rejected Mr Jones' argument and his motion to dismiss the lawsuit, according to court papers.
Alex Jones is the founder and host of Infowars - a far-right radio and online show that is best known as a platform for Mr Jones' conspiracy theories.
After the Sandy Hook Elementary School shooting that left 20 young children and six adults dead in 2012, he repeatedly described the incident as a hoax on his show.
He alleged the massacre was "completely fake", using actors and staged by the government in order to promote its agenda for nationwide gun control.
Mr Jones has faced criticism before for similar claims, including his claim that the 9/11 attacks were also staged by the government.
Infowars touts millions of listeners and viewers. Mr Jones has also interviewed President Donald Trump, who has repeated Infowars claims on his Twitter feed and in speeches.
How did the defamation case come about?
More than five years after Sandy Hook, the parents of Noah Pozner - who was six years old when he was shot and killed - are suing Mr Jones for defamation.
Mr Pozner and Ms De La Rosa are suing Mr Jones in Travis County, where Mr Jones is based.
Last April, Mr Jones posted a video titled "Sandy Hook Vampires Exposed", which implied Ms De La Rosa was an actor.
This video is at the centre of the parents' case, as defamation claims in certain states have a one-year statute of limitations.
The family's legal action also followed an incident in which a Florida woman who believed Mr Jones' claims began making death threats against Mr Pozner.
Mark Bankston, the lawyer for the Pozner family, says his clients are suing Mr Jones because they believe he has no intention of leaving them alone.
The judge has yet to rule on a second defamation case against Mr Jones, brought by Neil Heslin, the father of slain Sandy Hook student Jesse Lewis.
Mr Heslin's complaint alleges that Mr Jones accused him of lying about holding his son's body with a bullet hole in his head.
Why did Alex Jones countersue?
On Infowars, Mr Jones has said the defamation case is "all out of context".
His defence argues first and second amendment rights as they ask for the lawsuit to be thrown out.
The first amendment in the US constitution guarantees free speech; the second affords the right to bear arms.
The media mogul's defence team claims that it is his constitutional right to invent stories and that no reasonable person would take Mr Jones' words as fact.
Mr Jones has also implied that the parents are actors seeking to undermine laws allowing private gun ownership.
He said the lawsuit was part of the parents' public campaign "to outlaw conspiracy theories, assault rifles, high-capacity clips and to increase firearm registration requirements".
As a part of his argument, Mr Enoch also says that the Pozners are operating as public figures, just as Mr Jones is, which means to prove defamation, they must also prove "actual malice".
How hard is it to win a defamation case in America?
To win, a plaintiff must prove that the defendant made a false statement of fact about them and that they suffered harm as a result.
In addition, most states have a statute of limitations of one to three years for bringing any defamation cases.
If the plaintiff is a public figure - a film star or politician - they must prove that the person making the false statement acted intentionally or with reckless disregard for the truth, known as "actual malice".
"What makes things trickier, however, is that the law has a concept of a 'limited-purpose public figure,'" litigator Devon Holstad told the BBC.
"This definition is hard to describe, but it pertains to people who are ordinary citizens but may be well known because of a specific issue or within a certain following of people.
"This is one of the arguments that Alex Jones is making - that the parents are public figures because they speak publicly on issues such as gun violence," Mr Holstad says.
Texas-based media lawyer Marc Fuller told the BBC that if the parents do have to prove actual malice, it can be difficult to win.
"Showing that a defendant either knowingly lied or was reckless about the truth of his or her statement is a high standard, particularly in cases involving mainstream news reporting," Mr Fuller says.
"In addition, the first amendment protects opinion and rhetorical hyperbole, both of which are commonly at issue where the alleged defamation was published in social media or non-traditional media."
In an era of fake news and social media, this suit may have an impact on future free speech claims, especially those concerning social media figures.
"Alex Jones is obviously an extreme case, but I do think that we are seeing an increase in politically-charged defamation cases," Mr Fuller told the BBC.
"These types of cases will continue to present interesting issues relating to the consequences of participating in public debate and how to draw the line between fact and opinion in those debates."
This case has already had an impact on various social platforms. Apple, YouTube, Facebook and Spotify all deleted Infowars content in recent weeks, citing hate speech.
Earlier this month, Twitter banned Mr Jones for a week, but has come under fire for refusing to close his account.
But technology companies continue to grapple with regulation and free speech in social media-driven cases.
"One thing social media has done is give more people the ability to make statements to a broader audience," Mr Holstad says.
"This will be one area of important development for first amendment law in the years to come."