Boston Globe death threats suspect extols Trump outside court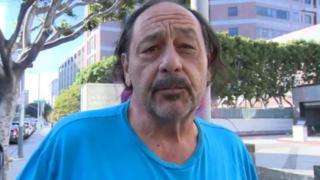 A California man accused of calling the Boston Globe to make death threats has praised US President Donald Trump outside court.
"I would like to make one statement. America was saved when Donald J Trump was elected president," Robert Chain, 68, told reporters in Los Angeles.
He is accused of telling journalists he would shoot them because they are "the enemy of the people".
That phrase has often been used by Mr Trump to denounce reporters.
Mr Chain was arrested by a Swat team at his Encino, California, home on Thursday morning.
Authorities charged him with making 14 menacing and threatening calls to the newspaper.
Prosecutors say he targeted the Boston Globe after they pledged to write an editorial "on the dangers of the administration's assault on the press" on 16 August, and asked other media outlets to do the same.
On Thursday afternoon he made his first appearance at a federal courthouse in Los Angeles, where he was released after posting $50,000 (£38,000) bail.
Wearing a bright blue T-shirt, and his hair in a pink-dyed pony tail, as he walked out of the courthouse he was asked by journalists whether he had a problem with the free press.
"There is no free press in America," he responded, before stopping and turning to the cameras.
"Yeah, I would like to make one statement. America was saved when Donald J Trump was elected president."
"Had Hillary Clinton, the criminal Hillary Clinton, who by the way, whose emails were just hacked by the Chinese, now..."
A woman accompanying Mr Chain interrupted to say: "Let's get out of here!"
Prosecutor Matt Rosenbaum had argued for Mr Chain to remain in custody, pending a trial in Boston.
He told the court the accused was a danger to the community, and that 20 guns were found during a search of his home.
Hundreds of rounds of ammunition were also found in his home.
But Mr Rosenbaum acknowledged they found no evidence he planned to travel to Boston, or that any of the weapons were illegally owned.
Mr Chain's lawyers argued that he has no criminal record, and is not a flight risk, CBS Los Angeles reported.
If found guilty, he could face up to five years in prison.
On 16 August, when nearly 350 newspapers answered the Globe's call and published editorials denouncing Mr Trump's attacks on the free press, Mr Chain allegedly called the newspaper again, this time to say he would shoot employees in the head, "later today, at four o'clock", according to court documents.
The threat resulted in a police presence outside the newsroom, in order to protect employees.
Mr Chain allegedly continued to harass the paper's staff, and on 22 August explained his reason for calling.
"Because you are the enemy of the people, and I want you to go [expletive] yourself," he is alleged to have said.
"As long as you keep attacking the president, the duly elected president of the United States, in the continuation of your treasonous and seditious acts, I will continue to threats, harass and annoy the Boston Globe."
Mr Trump frequently attacks "the fake news media" as the "opposition party", and repeated his "enemy of the people" attack in a tweet on Thursday.