Greyhound bus crash: Eight killed in New Mexico collision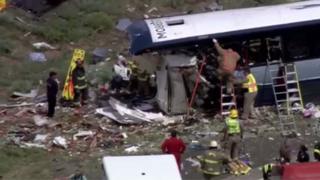 Eight people have been killed and dozens injured as a lorry crashed head-on into a Greyhound bus in the US.
Forty-nine people were on the bus at the time of the collision on Thursday afternoon on a highway near the town of Thoreau, New Mexico.
New Mexico State Police said a tyre on the lorry apparently blew out, making it swerve into oncoming traffic.
The tragedy came as millions of Americans prepare to celebrate the three-day holiday weekend of Labor Day.
Rachel Cunningham told CBS News she was asleep on the Greyhound at the moment of impact.
"It was horrifying," she said. "Like, I've never actually seen in my life a bus look like a ripped-open sardine can."
The truck driver sustained non-life-threatening injuries, according to local media.
The Greyhound bus had departed from St Louis bound for Los Angeles, via Phoenix, Arizona.
It had stopped in Albuquerque just before the collision, the company said.
"Our first priority is taking care of our passengers and their families as this incident has deeply impacted all involved," the company said.
"Our thoughts and prayers are with everyone as we continue to give our support to all affected."
Passing motorists on Interstate 40 described coming upon the harrowing scene, with victims struggling to pull themselves from the mangled bus.
The lorry was overturned with debris scattered across the grassy median.
Rescuers and witnesses used ladders to get passengers out of broken windows. Nearly every person on board was transported to hospital, CBS reported.
Eric Huff was driving to the Grand Canyon with his girlfriend when he came upon the crash.
He said the truck was "shredded to pieces".
"It was an awe-inspiring, terrible scene," he said.
Chris Jones - a Navy veteran and volunteer firefighter - described coming across the wreckage seconds after the crash.
"It was a lot of screaming and yelling and a lot of people in need," he told CBS from his home in southern California.
"There was people stuck inside the bus, screams from in there wanting to get out.
"It was non-stop, there wasn't enough ambulances there to get everybody out. It was just a struggle."
Greyhound's intercity buses have provided budget travellers an affordable way to see America for nearly a century.
The American Automobile Association (AAA) estimates up to 35 million Americans will travel this holiday weekend, which traditionally marks the end of summer.