Homeless man row: US couple ordered to hand over Johnny Bobbitt money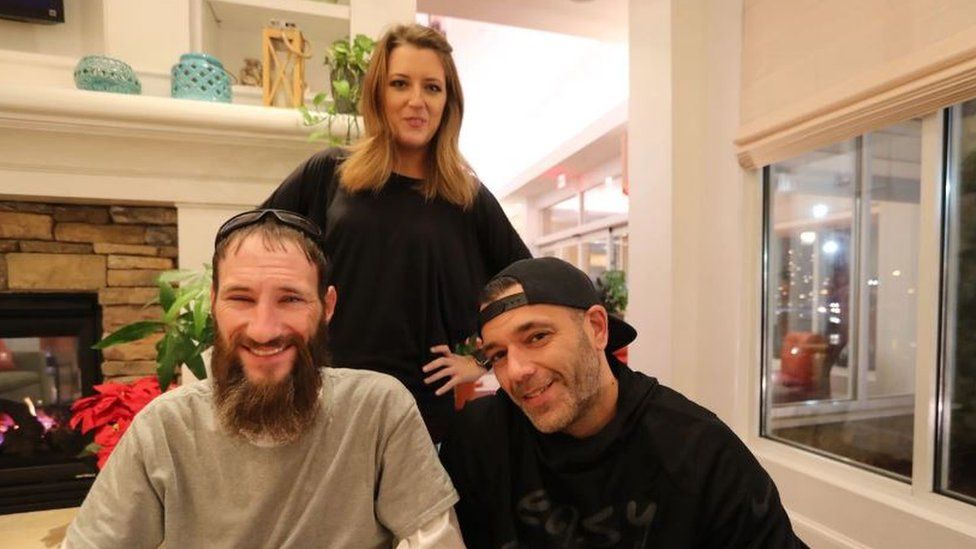 A New Jersey judge has ordered a couple to turn over the money they raised for a homeless man after he helped one of them out in an emergency.
The judge gave Kate McClure and her boyfriend Mark D'Amico until Friday afternoon to transfer what remains of more than $400,000 (£307,000).
It is to be placed in an account controlled by Johnny Bobbitt's lawyers and frozen pending a new court ruling.
The couple deny Mr Bobbitt's claim they helped themselves to the money.
The Philadelphia man filed a lawsuit for fraud and conspiracy on Tuesday, saying the couple had used the funds as their own "piggy bank".
Mr Bobbitt's original Good Samaritan deed went viral last year when he gave his last $20 to Ms McClure after her car ran out of petrol.
The couple responded by starting an online appeal on GoFundMe, drawing contributions from more than 14,000 donors, but their relationship with Mr Bobbitt eventually soured as they accused him of using the money to feed a drug habit.
GoFundMe is investigating allegations that its service was misused.
The court would decide how the money would eventually be managed, she ruled on Thursday.
Neither the couple, who are New Jersey residents, nor Mr Bobbitt were in court for the hearing which took place in Mount Holly, close to the state border with Philadelphia.
About $150,000, Mr D'Amico told NBC on Monday.
Jacqueline Promislo, a lawyer for Mr Bobbitt, told the BBC her client estimates the couple spent about $75,000 on his care.
So where did the other $175,000 go?
Lawyers for Mr Bobbitt, 35, allege in the lawsuit that the couple used it to "fund a lifestyle that they could not otherwise afford".
In interviews, Mr Bobbitt said Ms McClure, 28, and Mr D'Amico, 39, had recently paid for trips to Las Vegas and Florida, and a new BMW.
Mr D'Amico works as a carpenter and Ms McClure is a receptionist for the New Jersey Department of Transportation, according to local media.
The couple had promised their online supporters the money would go to two financial trusts for Mr Bobbitt, as well as a lawyer and a financial adviser to help him manage all the money.
They gave him clothing, allowed him to park his new camper outside their home, but reportedly later asked him to leave.
Mr Bobbitt alleges that the couple sold his camper, gambled away some of his money and declined to provide him with any financial records.
What do the couple say in their defence?
Mr D'Amico told NBC that "every dollar" Mr Bobbitt "ever touched was used for drugs".
The couple's lawyer, Ernest E Badway, told the court on Thursday that the idea his clients were "the bad guys … is completely not true".
"They took time out of their own schedules, their own jobs, brought him to rehab centers… gave him cash on a daily basis," he said.
"My clients tried to help [Mr Bobbitt]," he said. "It's going to come down to an accounting. It's going to come down to a demonstration of all the money and where the money went."
Towards the end of the hearing, Mr Badway told the judge that meeting the Friday deadline for handing over the money would be difficult.
Judge Dow responded: "The banks are open Friday, most banks are open Saturday. And if the monies aren't in the bank, they can pull their money out of their pillowcases and have them delivered to you, to be handed over and placed in a trust account."
What is Mr Bobbitt doing now?
The US Marine veteran is back living on the streets of Philadelphia with his younger brother.
He told the Inquirer that begging for change to buy drugs was better than trying to get money from Mr D'Amico and Ms McClure.