Over $400,000 raised online for US homeless man 'gone'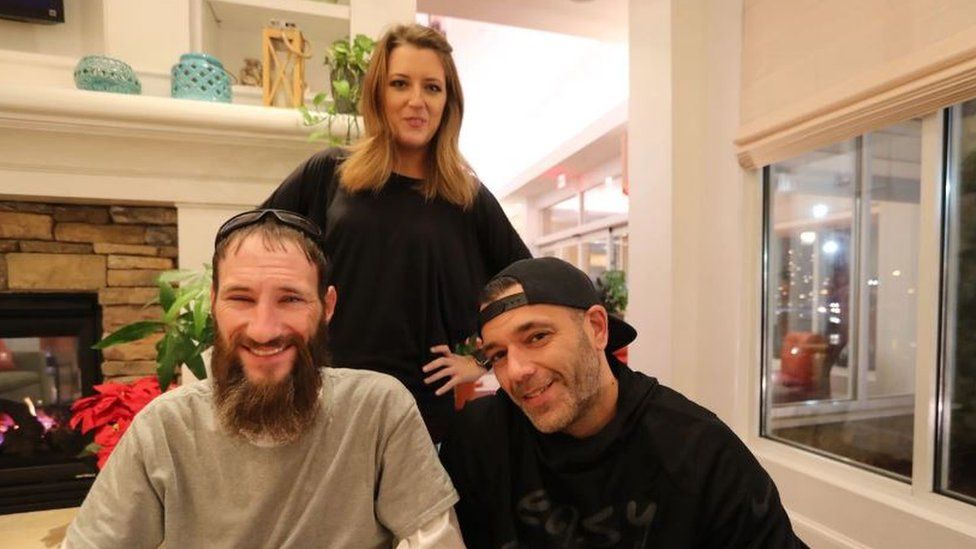 More than $400,000 (£307,000) that was raised for a homeless man with the help of two strangers is gone, his lawyers have told the BBC.
The story of Johnny Bobbitt led to over 14,000 people to contribute to a GoFundMe campaign. He sued the couple who started it for mismanagement.
A judge ordered the couple to testify about what happened to the money after the court heard the funds were gone.
GoFundMe says they have established a $20,000 fund for Mr Bobbitt's care.
Jacqueline Promislo, a lawyer representing the homeless US veteran in his case against Mark D'Amico and Kate McClure, confirmed in an email to the BBC that they were told "the money is all gone" in a conference call on Tuesday.
She added that lawyers will now begin "expedited discovery" to see if any of the funds can be recovered.
During a hearing in New Jersey on Wednesday, Superior Court Judge Paula Dow ordered the couple to appear in court to testify about what happened to the money.
Mr D'Amico and Ms McClure's lawyer, Ernest Badway, reportedly told the court about $200,000 went to Mr Bobbitt but later said he was "misadvised" by the couple. He then said there was no money left.
Mr Badway told the BBC on Wednesday that he had no comment.
Mr Bobbitt's original Good Samaritan deed went viral last year when he gave his last $20 to Ms McClure after her car ran out of petrol.
The couple responded by starting an online appeal which drew global attention, but their relationship with Mr Bobbitt eventually soured as they accused him of using the money to feed a drug habit.
Mr Bobbitt, originally from North Carolina, filed a lawsuit for fraud and conspiracy last week, saying that the New Jersey couple had used the GoFundMe donations as their own "piggy bank".
GoFundMe spokesman Bobby Withorne told the Inquirer that the company had depositing $20,000 into Mr Bobbitt's escrow account as the legal case proceeds.
"We are working with law enforcement officials to ensure Johnny receives all of the funds raised on his behalf," Mr Withorne said.
"While we assist law enforcement with their ongoing investigation, GoFundMe is also working with Johnny's legal team to ensure he's receiving support while the remaining funds are being recovered."
If GoFundMe determines that funds were misused, donors will be reimbursed up to $1,000, according to company policy.
Last week, Mr D'Amico told NBC that about $150,000 remained. He said only a week earlier that $200,000 of Mr Bobbitt's money had not yet been spent.
Mr Bobbitt's lawyers told the BBC last week that he estimates that the couple spent about $75,000 of the money to buy him a trailer, a pickup truck and clothing.
The homeless veteran is reportedly back on the streets, where he and his brother are panhandling for money to buy food and drugs.
"Johnny is homeless," said Ms Promislo, "which is not a safe environment for anyone."