Amazon's Jeff Bezos donates $10m to back military veterans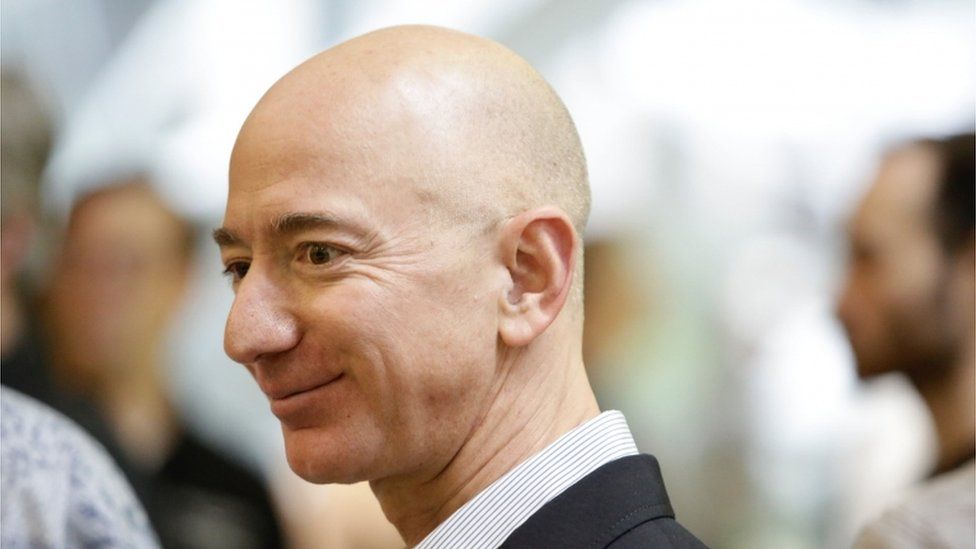 Amazon founder Jeff Bezos has donated $10m (£7.8m) to an independent political action group (super PAC) focused on electing military veterans.
Mr Bezos and his wife contributed to With Honor, a fund promoting veterans in Congress instead of a specific political party, the group confirmed.
Ranked the world's richest man, Mr Bezos has not been an active political campaign donor thus far, US media say.
He has said his main focus has been on long-term investments over charity.
The donation was the largest the group has received this year, according to Ellen Zeng, political director for the With Honor fund.
She told Reuters the group wants to equally split its spending between Democrat and Republican candidates.
Mr Bezos, who also owns the Washington Post and and aerospace company Blue Origin, last made a sizeable donation in 2012, when he donated $2.5m to support same-sex marriage in Washington state.
According to Forbes, Mr Bezos is worth around $112bn.
With Honor is considered a super PAC, or a category of independent political action group that is allowed to accept and spend unlimited amounts of corporate, individual or union cash on behalf of a candidate.
MJ Hegar, Texas, Democrat, Air Force veteran
Eddie Edwards, New Hampshire, Republican, Navy veteran
Brian Mast, Florida, Republican, Army veteran
Max Rose, New York, Democrat, Army veteran
Amy McGrath, Kentucky, Democrat, Marine Corps veteran
Nearly 200 veterans are running for seats in the US House of Representatives this year, according to the fund.
In total, the fund has endorsed 33 candidates running for congressional seats - 14 Republicans and 19 Democrats.
The group's founder, Rye Barcott, told the Wall Street Journal that Mr Bezos and his wife "perceive themselves to be pretty nonpartisan".
"The idea of doing something different and disruptive appealed to them, along with our focus on values and integrity in our national discourse," Mr Barcott said.
According to federal election data viewed by the Journal, the Bezos family has given $31,000 to Democratic candidates and $21,600 to Republican candidates since 2007.
Other billionaires in US politics
Mr Bezos joins fellow billionaires Sheldon Adelson, a casino magnate, and Tom Steyer, a philanthropist, in spending millions to back super PACs and candidates.
Mr Adelson has been a notable contributor to the Republican party - this May, he gave $30m to a super PAC aiming to keep the Republican majority in the House.
Just behind the casino magnate in donations, is Mr Steyer, a hedge fund manager worth around $1.6b, who has contributed $29.5m to pro-Democrat PACs as well as his own super PAC against President Donald Trump, Need to Impeach.
Hedge fund founder George Soros has donated over $10m to super PACs promoting Democratic candidates.
Conservative billionaire Robert Mercer gave millions to Mr Trump' campaign in 2016, and according to the Center for Responsive Politics, spent $2m funding a far-right nonprofit targeting voters via social media.
Over 60% of all PAC contributions come from donors giving more than $500,000, the Washington Post reported, which means a handful of the wealthiest Americans have a large impact on political campaigns.
In the 2016 election, mega donors led super PACs to raise over $1bn for candidates.