Dancer sues New York City Ballet over nude photos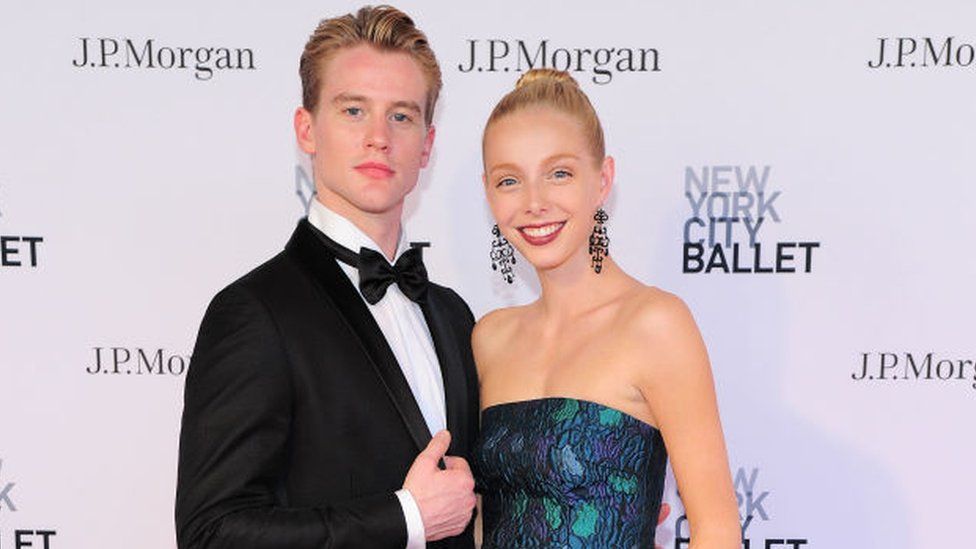 A 19-year-old ballerina is suing the New York City Ballet (NYCB) and a former principal dancer for sexually exploiting female dancers.
Alexandra Waterbury alleges that Chase Finlay, who resigned last month, shared explicit photos and videos of her with other dancers, without her consent.
She claims the "fraternity culture" allowed male dancers to exploit women.
NYCB has denied the allegations. A lawyer for Mr Finlay said the complaint consisted of allegations, not facts.
Ms Waterbury, who dated Mr Finlay for a year, says he took photos and videos of her without her knowledge while they were in a relationship, according to the lawsuit, filed Wednesday in Manhattan.
ADVISORY STRONG LANGUAGE BELOW
According to the lawsuit, Mr Finlay shared this content with two other dancers and personnel at NYC Ballet - in text threads allegedly full of misogynistic language.
Ms Waterbury's lawsuit claims that though the photos were not taken at NYCB, the company's culture "emboldens [male dancers] to disregard the law and violate the basic rights of women".
She alleges these men "could do whatever they wanted to women, whenever they wanted to do so" as long as it happened in New York City, "where it could be controlled by executives and management".
The lawsuit claims that two principals from the ballet, Amar Ramasar and Zachary Catazaro, were sent and received photos from Chase Finlay and were suspended from the ballet.
Mr Finlay's lawyer told PIX 11 News that Ms Waterbury's "complaint is nothing more than a mass of allegations that ought not to be taken as fact".
In a statement, NYCB said it "vehemently denies the allegations that the Company has condoned, encouraged, or fostered the kind of activity that Mr Finlay and the others named have participated in".
Mr Ramasar and Mr Catazaro did not immediately respond to a request for comment.
The statement added that NYCB has taken the "appropriate disciplinary actions for the dancers involved" and refused to negotiate a payment with Ms Waterbury's lawyer as they have "no liability" in the case.
Ms Waterbury says she informed NYCB in June about the issue after discovering the explicit photos - including pictures of other female dancers - and texts on Mr Finlay's laptop.
In one text cited in the lawsuit, Mr Finlay reportedly shared a nude photo of Ms Waterbury with other male dancers, asking for other nude photos of women and saying: "I'll send you some ballerina girls I've made scream".
Mr Ramasar and Mr Catazaro were both suspended last month without pay for violating "norms of conduct", US media reported.
The lawsuit also alleges that Mr Finlay spoke to a donor about violating female dancers.
The donor reportedly said, "I bet we could tie some of them up and abuse them like farm animals", to which Mr Finlay allegedly responded with, "or like the sluts they are."
Ms Waterbury's suit is not the first time accusations of sexual harassment have been levied at the renowned ballet company.
In January, the longtime head of NYCB, Peter Martins, announced his retirement amid an investigation into his alleged sexual misconduct.
He denied the claims that he was violent and abusive towards dancers. The company did not corroborate the allegations.
According to Ms Waterbury's lawsuit, this response showed Mr Finlay and other male dancers that they could "abuse substances and degrade, demean, dehumanise and sexually abuse women".
In an Instagram post on Wednesday, Ms Waterbury said the #MeToo movement helped her find the courage to speak up.
"To any women or victims out there just know, you are not alone," she wrote. "Their time is up."
Ms Waterbury studied at NYCB's affiliate school, the School of American Ballet, from 2013-2016. She is currently a model and a student at Columbia University.