Serena Williams row: #MeToo or #MeMeMe?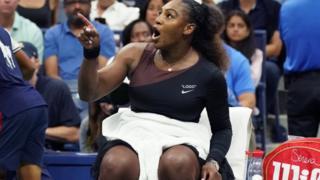 As the Serena Williams "sexism" row continues following her US Open final defeat, questions are still being asked about her behaviour.
She was fined $17,000 (£13,100) for code violations and docked a game for the angry scenes that unfolded at Flushing Meadows on Saturday.
Some are saying it was more a case of #MeMeMe than #MeToo, while others are defending the tennis player's behaviour.
Was she right to bring gender into the row or was she simply being a "diva" - something many are suggesting on social media.
Opinion is certainly split, with people on Twitter still debating the issue.
It comes as the Women's Tennis Association has backed Williams's sexism claims, but not everyone agrees.
The conversation is showing no signs of slowing down either.
Several people have branded the scenes "disgusting", "unsporting" and "thuggish" and commented on the American's "appalling" behaviour.
This was echoed by @AlayeniEQ, who slammed the tennis player for bringing motherhood into the row.
Meanwhile, some Williams supporters have thanked her for highlighting the "unequal playing field" in sports for women.
One Tweet said: "It was straight up racism and sexism. It was appalling and infuriating."
In another show of support, @Nicolejean questioned if the tennis player had been fined for "standing up for herself as a woman?"
Many were also quick to point out the gender split of those commenting.