Row over yoga pants ban continues in Wisconsin school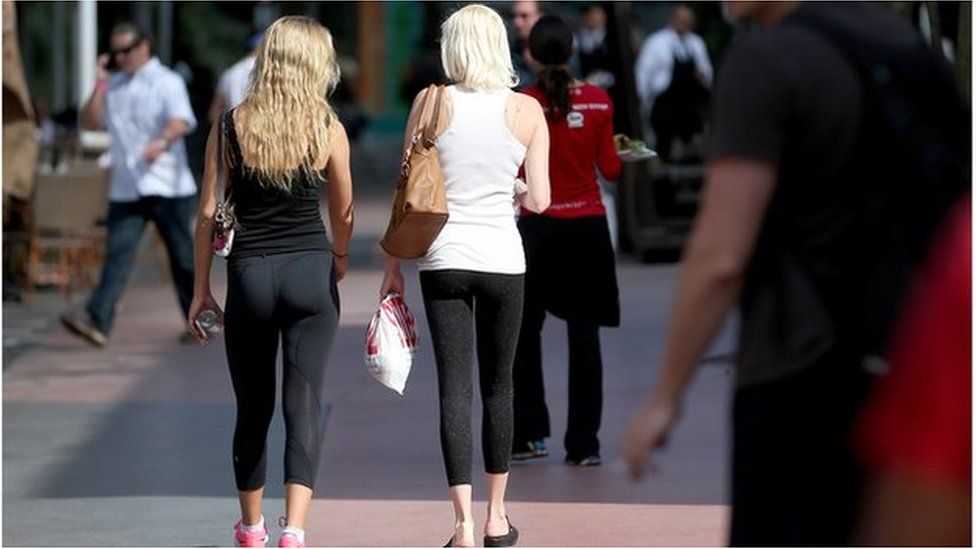 A school in the Midwestern state of Wisconsin is under fire for reportedly enforcing a sexist dress code despite promising changes last spring.
After outcry from students and parents last year, the Kenosha School District agreed to let girls wear leggings.
But the American Civil Liberties Union (ACLU) claims that the ban is still being enforced, resulting in one girl being sent home twice this summer.
The school told local media the new policy "has been going well".
Tank tops are also allowed, as long as they have a strap at least one inch (2.5cm) wide.
But ACLU Wisconsin lawyer Asma Kadri Keeler told local media that some school staffers are still carrying out the old ban - and it apparently resulted in one girl being sent home from summer school twice for wearing leggings.
Ms Keeler told WISN-TV: "We can talk about items of clothing and we can talk about decency and all that, but the bigger picture is that girls are being pulled out of class and losing access to education at a rate that boys aren't."
She said under the policy of barring leggings and bare shoulders, some girls were missing full days of class just because of their clothing.
"In spring 2018, the policy was reviewed and approved for rollout to students and staff at the start of the 2018-19 school year and has been going very well since the opening of school."
The school has not responded to the ACLU.
During the last school year, the district's policy banning form-fitting leggings and tank tops had been called sexist by the ACLU and a group of students and parents.
They pointed out that the equivalent athletic looks for boys - sweatpants and basketball shorts - were allowed.
One high school student told TMJ4 News earlier this year: "It's not a comfort issue, or a 'not-formal-enough clothing' issue. It's a form-fitting/body issue, and that's not fair to girls. It's sexist."
Local media report that parents remain divided on the issue, with some saying public schools should not dictate what students wear, while others say the rules are just to ensure children wear appropriate attire.