CBS's Jeff Fager: 60 Minutes producer out amid #MeToo claims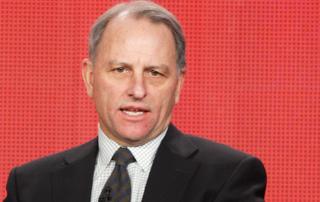 The long-time producer of the CBS News show 60 minutes, Jeff Fager, is leaving his job "immediately" amid claims that he sexually harassed colleagues.
In an internal memo, CBS News president David Rhodes said the departure was "not directly related to the allegations surfaced in press reports".
He said Mr Fager had "violated company policy", without elaborating on how.
Mr Fager himself denies harassment, and told reporters he had been fired over a "harsh" text he sent to a colleague.
On Wednesday's CBS News evening broadcast, reporter Jericka Duncan read the texts that Mr Fager sent to her after she had asked for his response to allegations of inappropriate touching at company parties.
"If you repeat these false accusations without any of your own reporting to back them up you will be held responsible for harming me," Mr Fager replied.
"Be careful. There are people who lost their jobs trying to harm me and if you pass on these damaging claims without your own reporting to back them up that will become a serious problem."
The news of his exit comes just three days after top CBS executive Les Moonves resigned with immediate effect after being accused of sexual misconduct, which he denies.
CBS had been investigating Mr Moonves, 68, since he was accused of harassment in a New Yorker article in July - and fresh accusations from six more women appeared last week.
In the first New Yorker report, former colleagues also accused Mr Fager of inappropriate touching, and of protecting men accused of sexual misconduct.
Mr Fager, 63, called the claims "false", and said they "do not stand up to editorial scrutiny".
In a statement on Wednesday, he said CBS had terminated his contract early "because I sent a text message to one of our own CBS reporters demanding that she be fair in covering the story".
"My language was harsh and, despite the fact that journalists receive harsh demands for fairness all the time, CBS did not like it. One such note should not result in termination after 36 years, but it did," he said.
CBS is currently the most-watched network in the US. The programme 60 Minutes, which airs on Sunday evenings, was first broadcast in 1968.
Earlier this year, CBS fired veteran presenter Charlie Rose, who was accused of sexual harassment by a number of women, including several CBS employees.