Trump disputes Puerto Rico hurricane death toll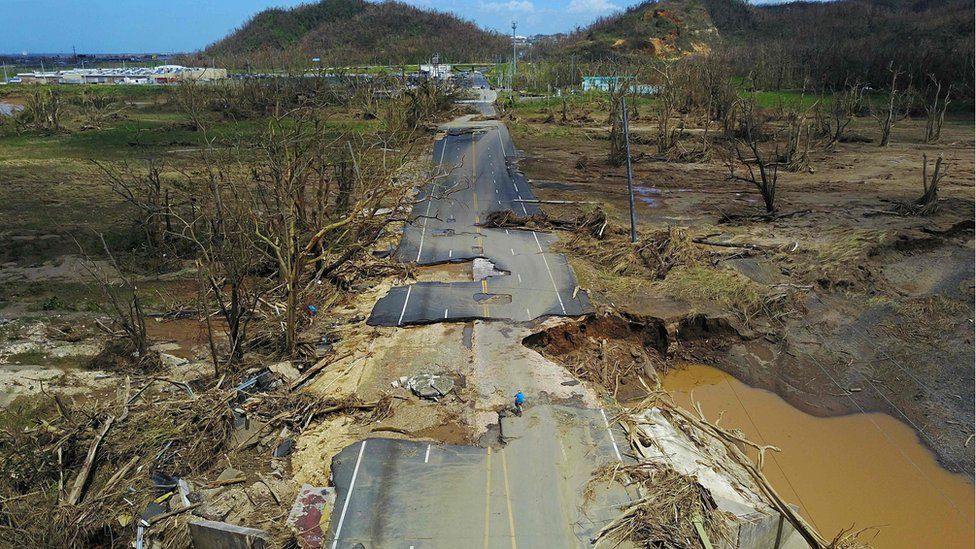 US President Donald Trump is disputing official findings that nearly 3,000 people died in Puerto Rico as a result of last year's storms.
"3000 people did not die in the two hurricanes that hit Puerto Rico," Mr Trump wrote on Twitter, without offering evidence for the claim.
He accused Democrats of inflating the official death toll to "make me look as bad as possible".
The official figure was released last month after an independent study.
On Thursday, Mr Trump tweeted that Democrats were attacking him "when I was successfully raising Billions of Dollars to help rebuild Puerto Rico".
The Republican president suggested the hurricane death toll was artificially boosted by adding those who had passed away from natural causes such as old age.
"Bad politics. I love Puerto Rico!" he tweeted.
Mr Trump's tweets came as Hurricane Florence - a category two storm projected to bring catastrophic flooding - bore down on the US East Coast.
3000 people did not die in the two hurricanes that hit Puerto Rico. When I left the Island, AFTER the storm had hit, they had anywhere from 6 to 18 deaths. As time went by it did not go up by much. Then, a long time later, they started to report really large numbers, like 3000...

— Donald J. Trump (@realDonaldTrump) September 13, 2018
.....This was done by the Democrats in order to make me look as bad as possible when I was successfully raising Billions of Dollars to help rebuild Puerto Rico. If a person died for any reason, like old age, just add them onto the list. Bad politics. I love Puerto Rico!

— Donald J. Trump (@realDonaldTrump) September 13, 2018
Where does the official death toll come from?
The governor of Puerto Rico, who commissioned that research, said he accepted the estimate as official.
The study concluded the initial death toll of 64 only included those killed directly by hurricanes Maria and Irma - either by drowning, flying debris or building collapse.
George Washington University also counted those who died in the six months following the storm as a result of poor healthcare provision and a lack of electricity and clean water.
Repeated power cuts also led to an increased number of deaths from diabetes and sepsis.
Last May, Harvard University public health researchers published a study that estimated the death toll was even higher.
They said about 4,600 people died in Puerto Rico in the aftermath of the hurricane from delayed medical care.
Analysis by Anthony Zurcher, BBC Washington
Donald Trump simply can't abide criticism of his performance as president. How else to explain his decision, as a hurricane looms off the US coast, to call adjusted Puerto Rican death-toll figures from Hurricane Maria a Democratic-inspired plot against him?
The politics of the Thursday-morning tweets are rough. The president has guaranteed coverage of the government response to Florence will be intermixed with talk of his feud with Puerto Rico officials and questions about the veracity of his assertions.
Mr Trump's dismissive attitude toward the loss of life also risks the ire of the tens of thousands of Puerto Ricans who have relocated to Florida and can cast ballots in that state's key races in November's mid-term elections.
The president, with some justification, has said the situation in Puerto Rico after Maria was exacerbated by the island's remote location and pre-existing infrastructure issues, such as an antiquated power grid.
That could have been a reason to do more to help these American citizens. Instead, the recovery effort has devolved into a political tug-of-war that now includes debate over "legitimate" deaths from this tragedy.
What have Puerto Rican officials said?
In response, the Mayor of Puerto Rico's capital San Juan, Carmen Yulin Cruz, tweeted: "Mr Trump you can try and bully us with your tweets BUT WE KNOW OUR LIVES MATTER."
"You will never take away our self respect. Shame on you!"
Earlier this week, Mr Trump hailed the US response in Puerto Rico as "an incredible, unsung success".
Ms Cruz then shot back: "If he thinks the death of 3,000 people is a success God help us all."
Last month she described Mr Trump's handling of Maria as a "stain on his presidency".
Puerto Rico Governor Ricardo Rosello said in a statement this week that Maria was "the worst natural disaster in our modern history".
Puerto Rico, an unincorporated territory of the US, is home to some 3.3 million people.
What's the US political reaction?
Even a few of Mr Trump's fellow Republicans have spoken out against him.
Florida Republican Congresswoman Ileana Ros-Lehtinen, who is retiring from Congress, called the president's tweets "mind-boggling".
She said it is a "warped-mind that would turn this statistic into 'fake news'", and it "may be a new low" for the president.
Florida Governor Rick Scott, who is currently running for the US Senate, tweeted: "I've been to Puerto Rico 7 times & saw devastation firsthand. The loss of any life is tragic."
Republican Speaker of the House Paul Ryan, who is also retiring, said: "There is no reason to dispute these numbers.
"This is a devastating storm that hit an isolated island. And that's really no one's fault. It's just what happened."
Democratic lawmakers were scathing.
Only Donald Trump could see the tragedy in Puerto Rico and conclude that he is the victim. May God bless the souls of the nearly 3,000 Americans that died in Puerto Rico and may he take pity on your soul Mr. President.

— Ed Markey (@SenMarkey) September 13, 2018
Why were 20,000 pallets of water left on a runway?
The US federal government's response to Hurricane Maria has come under fresh scrutiny this week.
Photos have emerged showing 20,000 pallets of bottled water meant for victims still sitting on a runway in Ceiba, Puerto Rico, a year after the storm.
The Federal Emergency Management Agency (Fema) said it was investigating whether or not it placed the water bottles on the runway and if so it would "fess up".
Ottmar Chavez, head of the General Services Administration (GSA) in Puerto Rico, said he only became aware of the water bottles on Tuesday.
Mr Chavez said his agency had received complaints about the taste and smell of the water, and that Fema should accept responsibility.
Puerto Rican officials have previously blamed mismanagement on Fema, whereas President Trump has said authorities on the island are incompetent.