Uranus Examiner: Local newspaper stirs controversy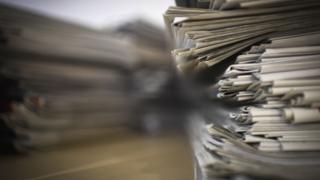 A small town in the US state of Missouri is stirring controversy after announcing the title of its new local newspaper, the Uranus Examiner.
The newspaper, which was "launched" in the town of Uranus on Wednesday, was threatened with a boycott by the mayor of nearby Waynesville, Luge Hardman.
"No. I'm sorry. But the innuendo of that title puts the city up for public ridicule," Ms Hardman said.
The people of Uranus, in Pulaski County, are divided on the issue.
Natalie Sanders, who has been named as the newspaper's managing editor, told local news channel KY3 that the title was carefully considered before a decision was made.
"We had thought about 'constitution', but most of the people who love us, and who were part of coming up with the name, liked the examiner better," Ms Sanders reportedly said.
It comes just a week after another Missouri newspaper, the Waynseville Daily Guide, ceased publication. The Uranus Examiner publishers said this left a hole in the market.
"People who wanted an actual newspaper were not going to get one anymore, so we decided to turn a fun newspaper into a real one," Ms Sanders told the Wichita Eagle, a newspaper in neighbouring Kansas.
---
You might also like:
---
Mayor Hardman, however, reportedly said the name was used as an innuendo simply to make the publication "fly".
"I think that the Pulaski County Examiner would have been a real hit, and I don't believe it would've been a problem for the cities," Ms Hardman told local TV station KY3.
Many have mocked the title, saying it was bound to become the "butt" of jokes, while others have expressed concern about the "seriousness of this paper".
The Uranus Examiner is planning its first publication by late October. In a statement posted on Facebook, the publication said it would be available for free to residents of Pulaski County.
The small town of Uranus is located on the famous Route 66 highway. It has become a tourist attraction that has, until now, fully embraced and celebrated its name - and the implications of it.