Bill Cosby faces sentencing over sex assault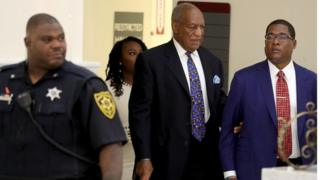 The sentencing hearing for Bill Cosby, the comedian once known as "America's Dad", began with a debate of whether he is a "sexually violent predator".
The official label would put Cosby on the sex offender registry and require him to undergo counseling for life.
Cosby's defence said this predator law was unconstitutional and too severe.
At a retrial in April, the 81-year-old actor was found guilty of three counts of sexual assault against ex-basketball player Andrea Constand in 2004.
Ms Constand said she had viewed him as a "mentor" before he abused her.
In June 2017, she described being given pills that left her "frozen" and unable to stop Cosby from assaulting her.
A state board has recommended that Cosby be labelled as a sexually violent predator.
The two-day hearing at Montgomery County Courthouse in Pennsylvania began on Monday with testimony from psychologist Kristen Dudley.
Ms Dudley testified that Cosby's behaviour showed a dangerous pattern of predation due to a mental disorder.
"The behaviors are beyond their controls, so they are urged to act on it. He is likely to reoffend," Ms Dudley said, according to CNN.
Cosby's defence team, however, said that given his age and the fact that he is legally blind, the designation was too severe a punishment and that the classification process was unconstitutional.
Judge Steven O'Neill has not ruled whether Cosby will receive the predator designation, but he did state that the law was constitutional.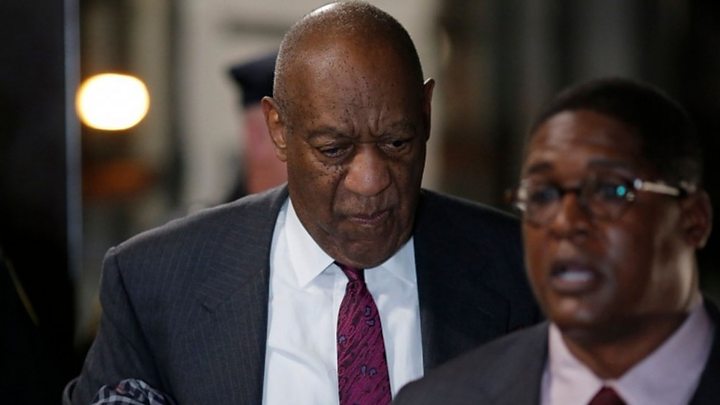 The 81-year-old also faces the prospect of spending the rest of his life in prison over the sexual assault charges, but at the hearing, his spokesman insisted he was "still America's dad".
"You can't take away the legacy," spokesman Andrew Wyatt told reporters.
Cosby himself will not be taking the stand during the sentencing.
On Monday, Ms Constand tweeted a passage on containing anger from the New Testament.
"I wasn't able to fight it in any way," she had told the court during her testimony. "I wanted it to stop."
Lise-Lotte Lublin and former model Janice Dickinson - both Cosby accusers - were also present in the courtroom on Monday.
What could he be sentenced with?
There is a wide range of possibilities for Cosby's sentence.
He could receive a prison term of up to 10 years for each count - which legal commentators have said is unlikely to happen.
Alternatively, all three counts may be merged into a single term of up to 10 years.
There is no mandatory minimum for the convictions. That means Cosby could be sentenced to probation, or to continued house arrest.
If the judge rules he is a sexually violent predator, he will need to register with state police and notify any community he lives in of his status, as well as undergo mandatory sex offender counselling for life.
The 81-year-old has been free on $1 million bail, but has to wear a GPS monitoring device. He can only leave his home with prior permission, to meet his lawyers or get medical treatment.
Whatever the outcome, the sentencing marks an astonishing fall from grace for the comedian - the culmination of decades of sexual assault accusations from more than 60 women across the US.
#MeToo legacy
Many see his arrest and subsequent conviction earlier this year as a high-profile legacy of the #MeToo movement - which has seen people across the world come forward to share their stories of sexual harassment and sexual assault.
The comedian's arrest in 2015 predated #MeToo but after a deadlocked jury resulted in a mistrial in June 2017, the subsequent 2018 retrial may have been influenced by the social movement.
The judge allowed five other women to testify in the trial under a "prior bad acts" rule in the state of Pennsylvania, which allows testimony if it reveals a defendant's pattern of behaviour.
Law professor Aviva Orenstein told Reuters news agency that #MeToo "may have influenced the judge's willingness to allow more witnesses".
However, the New York Times reports that the judge has denied a prosecution request to allow women to testify at the sentencing hearing whose allegations of molestation did not lead to criminal charges.
This avoids a repeat of the trial of ex-Team USA gymnastics doctor Larry Nassar, who faced testimony from more than 100 women during his sentencing hearing.
Nassar was given at least 300 years in jail for his crimes.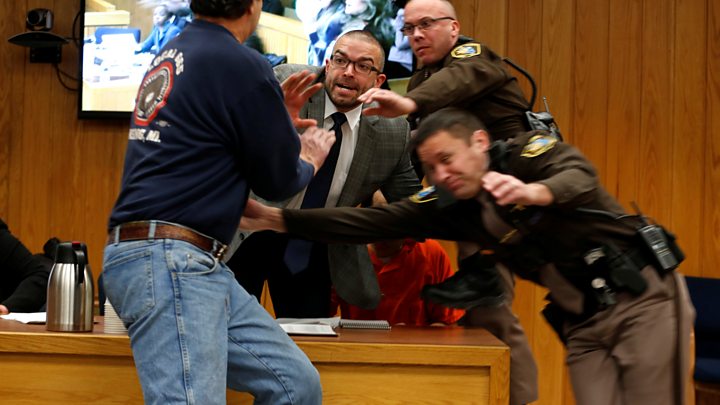 While some will be disappointed not to voice their accusations in court, experts say it could remove a lengthy part of the trial and speed up the hearing.
Cosby could then be sentenced late on Monday, rather than on Tuesday.
Allegations against the comedian date back to the 1960s. That was the decade Cosby began his career, debuting on NBC's The Tonight Show in 1963 as a stand-up comic.
He then rose to fame starring on numerous television shows before establishing himself as a household name with eight seasons of The Cosby Show, beginning in 1984.