Storm Florence: 'Epic' amounts of rain unloaded on Carolinas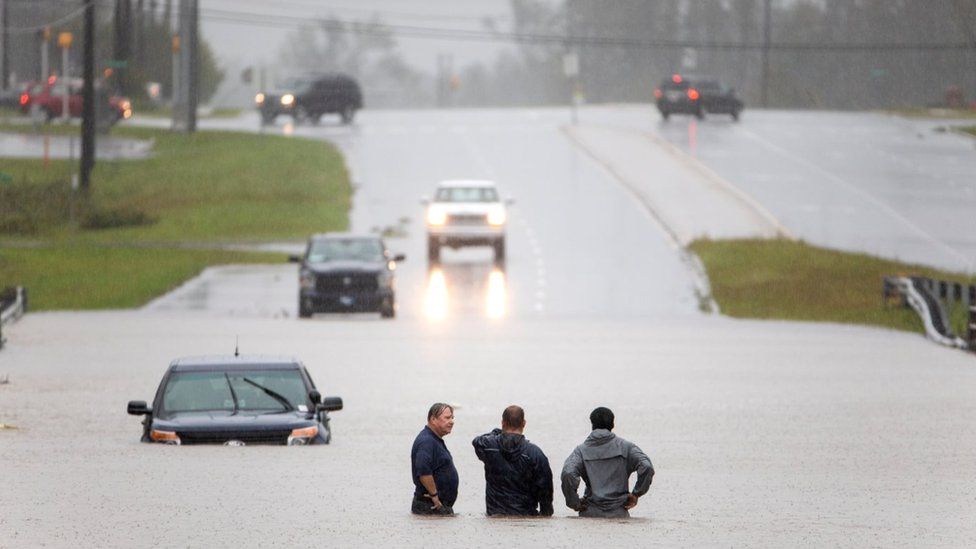 US east coast communities face "epic amounts of rainfall" from storm Florence, which has been linked to at least 12 deaths.
It has caused catastrophic flooding since arriving as a category one hurricane on Friday.
Some towns have already seen 2ft (60cm) of rain in two days, with totals forecast to top 3.5ft (1m) in places.
It is feared that more communities could become deluged as the storm crawls west at only 2mph (3km/h).
Florence, which started out as a hurricane, has now weakened to a depression, the National Hurricane Center (NHC) said on Sunday, but flash flooding and river floods will continue over a significant portion of the Carolinas.
"This system is unloading epic amounts of rainfall, in some places measured in feet and not inches," North Carolina Governor Roy Cooper said on Saturday.
He urged against residents attempting to return home, warning that "all roads in the state are at risk of floods".
US President Donald Trump has declared a disaster in eight counties in North Carolina - a move that will help free up federal funding for recovery efforts.
The president may travel to the region next week, the White House says.
What do we know of the victims?
US media say 12 people have died as a result of the storm.
Among the fatalities in North Carolina:
A mother and her seven-month baby were killed when a tree fell on their home in Wilmington on Friday, also injuring the infant's father
A 78-year-old man was electrocuted in Lenoir County while attempting to connect extension cords
A 77-year-old man in the same county died when he was blown down by high winds while checking on his hunting dogs
A woman died from cardiac arrest in the town of Hampstead after emergency responders had their route to her blocked by downed trees
In South Carolina, a 62-year-old woman died when her car hit a tree that had fallen across a road in the town of Union.
Two others died in the state from carbon monoxide poisoning caused by a generator inside their home, according to a local coroner.
Florence is 350 miles (560 km) wide and has travelled 4,000 miles across the ocean from west Africa
It was packing 120mph winds (193km/h) on Thursday but weakened from a Category 3 hurricane to Category 1 before it hit the coastline on Friday
Duke Energy, the area's biggest utility company, warned that three million people could end up without power and restoration could take weeks
About 10 million people could be affected by the storm as it moves further inland in the days ahead
The storm is still leaving a path of destruction across the two states, despite its top sustained wind speeds weakening to 45mph.
A spokesman for the South Carolina Highway Patrol warned on Saturday that conditions remained treacherous on roads.
"You know the areas that don't have power, it's hard to see the power lines in the road way," said Trooper Bob Bers.
In Fayetteville in North Carolina, officials warned people living by swollen rivers that the worst was yet to come.
"If you are refusing to leave during this mandatory evacuation, you need to do things like notify your legal next of kin because the loss of life is very, very possible," Mayor Mitch Colvin said.
Scores of residents had to be rescued from flooding by emergency responders and volunteers in New Bern, North Carolina, on Saturday.
Colleen Roberts, city public information officer for the area, told BBC World News more than 4,000 homes had been "destroyed or completely damaged" there, based on calls they had received for emergency services.
"That's preliminary at this point. And we have 300 businesses that are damaged or destroyed."
Where is the storm heading now?
The centre of the storm moved slowly westward on Saturday across the Carolinas, bringing further heavy rain and flooding, the NHC says.
It is weakening as it moves inland, heading northwards through the Ohio valley by Monday.
The Federal Emergency Management Authority (Fema) has said motorists should not attempt to drive through floodwaters.
"Just turn around and don't drown," officials said.