Brett Kavanaugh 'sexual assault victim' speaks out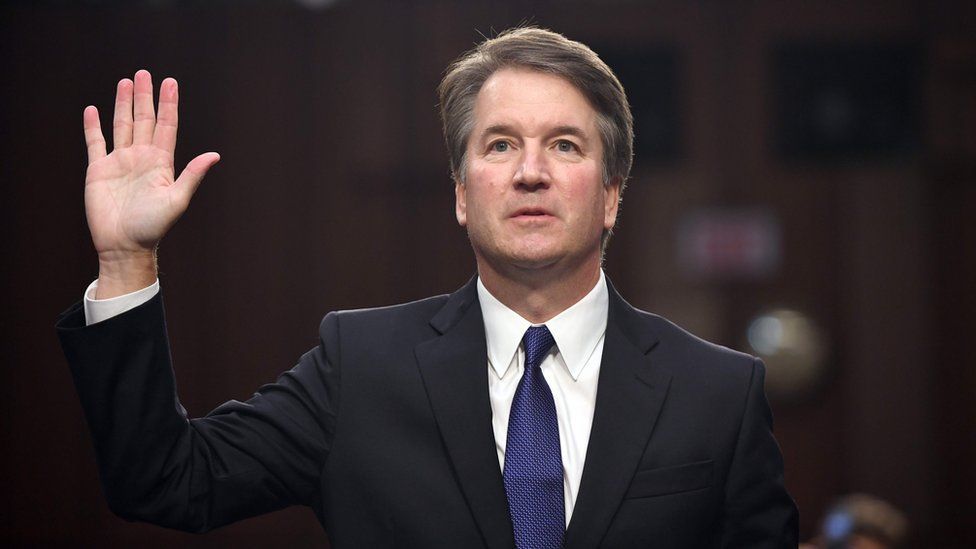 A woman who alleged she was sexually assaulted by US President Donald Trump's Supreme Court nominee, Brett Kavanaugh, has identified herself.
Christine Blasey Ford told the Washington Post Mr Kavanaugh had pinned her to a bed and tried to undress her when they were both teenagers.
Mr Kavanaugh denied the allegations when they first surfaced last week.
The top members of the Senate Judiciary Committee are now expected to speak to both Mr Kavanaugh and Mrs Ford.
She said she first approached Democratic lawmakers with her allegations in July, shortly after Mr Trump's nomination of Mr Kavanaugh revived the pain of the memory.
If chosen for the lifetime appointment, Mr Kavanaugh would be expected to tilt the Supreme Court's balance to the right.
When did the alleged assault take place?
Mrs Ford said she believed the incident happened in 1982, when she was 15 and Mr Kavanaugh was 17.
He was a student at Georgetown Preparatory School in Bethesda, Maryland, and she was studying at a nearby high school.
The incident allegedly happened at a gathering of teenagers at a house, when Mr Kavanaugh and a friend allegedly "corralled" her into a bedroom. Mr Kavanaugh and his friend were both drunk, she says.
In the words of the Washington Post, "While his friend watched, she said, Kavanaugh pinned her to a bed on her back and groped her over her clothes, grinding his body against hers and clumsily attempting to pull off her one-piece bathing suit and the clothing she wore over it.
"When she tried to scream, she said, he put his hand over her mouth."
Mrs Ford, 51, is further quoted as saying that she managed to break free.
"I thought he [Mr Kavanaugh] might inadvertently kill me," she told the Post.
Mr Kavanaugh issued his denial last week: "I categorically and unequivocally deny this allegation. I did not do this back in high school or at any time".
Where does the selection process stand?
Mr Kavanaugh, 53, was questioned during four days of hearings at the Senate Judiciary Committee last week, which are now complete.
The committee is due to vote on Thursday on whether his nomination should go forward to a full vote in the Senate.
But Senate Democratic leader Chuck Schumer said to push through a vote then would be an "insult" to American women.
Republican Senator Jeff Flake, who sits on the committee, has also said he is "not comfortable voting yes" should no attempt be made to hear Mrs Ford's story. Republicans have a single-vote majority on the committee, 11 to 10.
Neither sit on the committee, but Republicans can ill afford any defections in the full Senate if they want Mr Kavanaugh confirmed, as they hold a slim 51-49 majority.
Meanwhile, a spokesperson for Senator Chuck Grassley, the committee's Republican chairman, said he was "actively working" to set up bipartisan calls to both people as a result of the revelations.
The stakes couldn't be higher
By Anthony Zurcher, BBC North America reporter
Brett Kavanaugh's glide path to the Supreme Court has been interrupted. That doesn't mean, however, his nomination is destined to crash and burn.
The allegations about an incident that happened when the judge was a teenager, more than 30 years ago, will be difficult to prove with any degree of certainty. While Christine Blasey Ford offers corroborating evidence for her claims, the accusations won't be adjudicated in a court of law or even the court of public opinion.
The only thing that matters when it comes to Mr Kavanaugh's professional fate is whether there are at least two Republicans in the Senate willing to side with Democrats and block the judge's confirmation.
All eyes will be on Senators Susan Collins and Lisa Murkowski, the two considered most likely to break ranks.
This episode recalls another high-stakes confirmation battle more than 25 years ago, when then-judge Clarence Thomas faced sexual harassment allegations during his Supreme Court hearings. Mr Thomas prevailed, but the ordeal left both sides bruised and bitter, and may have contributed to the surge in women elected to Congress in 1992.
Now history seemingly repeats itself, this time in the shadow of the #MeToo movement. With the disposition of the Supreme Court for a generation in the balance, and mid-term congressional elections less than two months away, the stakes couldn't be higher.
How did Mrs Ford's account first emerge?
Mrs Ford says she sent a letter to her local congresswoman, Democrat Anna Eshoo, and Senator Dianne Feinstein, the Senate Judiciary Committee's senior Democrat.
Mrs Ford says she believes Ms Feinstein honoured her request to keep the letter confidential, but "others did not".
Ms Feinstein said in a statement after seeing the Washington Post article: "I support Mrs Ford's decision to share her story, and now that she has, it is in the hands of the FBI to conduct an investigation. This should happen before the Senate moves forward on this nominee."
Senator Grassley issued a statement defending Mr Kavanaugh.
"Judge Kavanaugh has undergone six FBI full-field investigations from 1993 to 2018," he said. "No such allegation resembling the anonymous claims ever surfaced."