Brett Kavanaugh: Calls mount for Supreme Court vote delay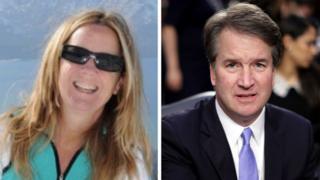 Lawmakers from both sides of the US political divide have called for a delay in the vote on the nominee for the powerful Supreme Court.
It follows an allegation of sexual assault in the 1980s against President Donald Trump's pick, Brett Kavanaugh.
Mr Kavanaugh denies the allegations made by Christine Blasey Ford. Both say they are willing to testify before the Senate Judiciary Committee.
The panel's vote on Mr Kavanaugh is at present scheduled for Thursday.
The Supreme Court often gives the final word on highly contentious laws and its nine judges have an immense impact on US political life.
If chosen for the lifetime appointment, Mr Kavanaugh would be expected to tilt the court's balance to the right.
Mr Kavanaugh was seen arriving at the White House on Monday morning, although the reason for the visit was unclear.
Could there be a delay?
President Trump told reporters at the White House on Monday: "If it takes a little delay, it takes a little delay."
He added of Mr Kavanaugh: "He is one of the great intellects and one of the finest people that anybody has known."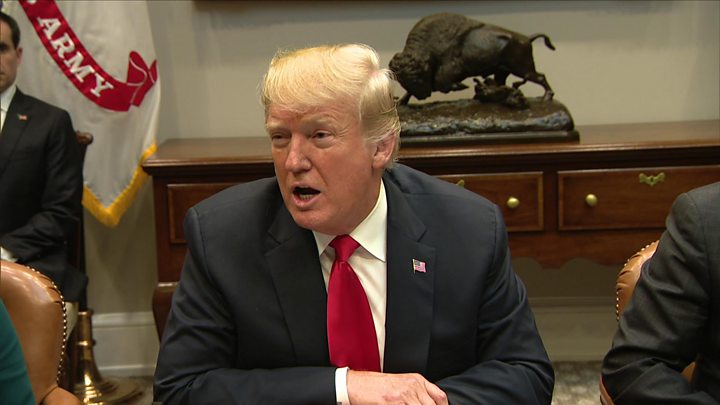 When asked whether the judge might withdraw from the confirmation process, the Republican president said: "What a ridiculous question that is."
Calls have mounted for senators to postpone a vote on the nomination.
Arizona Republican Senator Jeff Flake, who sits on the Senate Judiciary Committee, said Prof Ford's testimony should be heard.
"We need to hear from her," he told news website Politico. "And I don't think I'm alone in this."
Bob Corker, a Tennessee Republican, also said the vote should be delayed until Prof Ford was heard, while Lisa Murkowski told CNN a delay was something "they might have to consider".
Without saying whether or not she would support a delay, Republican Susan Collins tweeted on Monday: "Professor Ford and Judge Kavanaugh should both testify under oath before the Judiciary Committee."
The Republican chairman of the committee, Chuck Grassley, issued a statement without addressing any delay in the vote or testimony.
He said Prof Ford "deserves to be heard" and that the matter should be covered in follow-up calls to both her and Mr Kavanaugh, which he said he was trying to set up.
Mr Grassley criticised both the Democrats and Prof Ford's lawyer for not bringing the allegations to the committee earlier.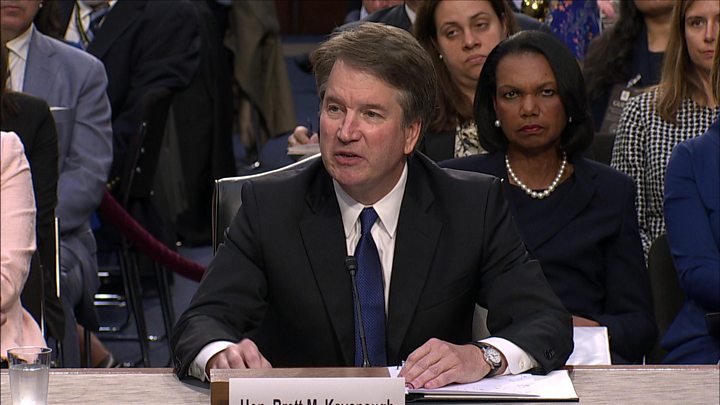 The Democrats have demanded a delay.
Senate Democratic leader Chuck Schumer said: "Trying to rush this through on Thursday is an insult to the women of America and an insult to the majesty of the Supreme Court."
Democratic Party Senator Dick Durbin, who serves on the judiciary committee, said the burden had been put on the panel to "get to the bottom" of the matter.
Senior Republican Senator John Cornyn called on lawmakers to treat the process "with bipartisan participation in a spirit of collaboration and concern for all involved".
So will the panel hear testimony?
Both Prof Ford and Mr Kavanaugh said on Monday they would be willing to appear.
Prof Ford's lawyer, Debra Katz, said: "She's willing to do what she needs to do."
Ms Katz said Prof Ford had "decided to take control of this and tell this in her own voice".
In a statement on Monday, Mr Kavanaugh again said the accusations against him were "completely false" and that he would "refute" them before the panel.
He said: "I have never done anything like what the accuser describes - to her or to anyone."
White House adviser Kellyanne Conway said Prof Ford should "not be insulted or ignored" and should testify under oath, although that would be up to the committee to decide.
What has been alleged?
Christine Blasey Ford, a professor of psychology at Palo Alto University, detailed her allegations in the Washington Post at the weekend.
She told the newspaper she believed the incident happened in 1982, when she was 15 and Mr Kavanaugh was 17.
She said Mr Kavanaugh and a friend had allegedly "corralled" her into a bedroom at a gathering. Mr Kavanaugh and his friend were both drunk, she says.
The Washington Post reported her account as follows: "While his friend watched, she said, Kavanaugh pinned her to a bed on her back and groped her over her clothes, grinding his body against hers and clumsily attempting to pull off her one-piece bathing suit and the clothing she wore over it.
"When she tried to scream, she said, he put his hand over her mouth."
Mr Kavanaugh "categorically and unequivocally" denied the allegation last week.
Mark Judge, who has been named as the third person in the room, told The Weekly Standard the allegations were "absolutely nuts".
Prof Ford spoke of the alleged attack a couple of times over the subsequent decades, including during therapy.
Mr Trump's nomination of Mr Kavanaugh revived the pain of the memory, she said, prompting her to approach Democratic lawmakers with her allegations in July.
What could happen with the vote?
Mr Kavanaugh, 53, was questioned during four days of hearings at the Senate Judiciary Committee last week, which are now complete.
The committee is due to vote on Thursday on whether his nomination should go forward to a full vote in the Senate.
The Republicans only have a single-vote majority on the committee, which they control 11 to 10, while they hold the Senate by just 51-49.
Mr Kavanaugh is strongly opposed by some Democrats for his views on issues such as abortion, and it seems unlikely any of them will cross the aisle to vote with their Republican colleagues.
This means it would take just Mr Flake to potentially derail Thursday's committee vote, while only two Republican defections would swing the outcome away from Mr Kavanaugh in the Senate.
Echo from history
By Anthony Zurcher, BBC North America reporter
This episode recalls another high-stakes confirmation battle more than 25 years ago, when then-judge Clarence Thomas faced sexual harassment allegations during his Supreme Court hearings.
Mr Thomas prevailed, but the ordeal left both sides bruised and bitter, and may have contributed to the surge in women elected to Congress in 1992.
Now history seemingly repeats itself, this time in the shadow of the #MeToo movement.
With the disposition of the Supreme Court for a generation in the balance, and mid-term congressional elections less than two months away, the stakes couldn't be higher.