Wilmington: A community cut off after 'terrifying' storm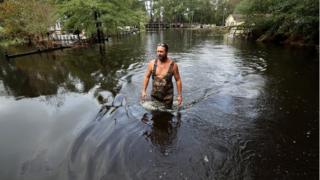 Slowly, parts of North Carolina are starting to emerge from under the cloak of Florence.
Towns like Wilmington have experienced the practical reality of the sprawling size and slow-moving speed of this huge storm.
The grey clouds have simply hung around, depositing months of rainfall in days.
The winds have died down but it was terrifying for people here when the hurricane-speed gusts first arrived.
"When the electricity went out we heard weird noises and crashing… and their chimney going down," said Paige Tootoo, pointing to a house across the street.
She and her husband Larry had decided to ride the storm out, having been through quite a few before.
"Every news channel and weather person I listened to would say dire things about the storm coming," admitted Larry.
"Next time they say something I'm going to believe them."
Their neighbourhood is gradually being cleaned up but it will take a lot of chainsaws to remove the large number of trees that still litter streets and driveways.
Some of them had stood in people's gardens for decades.
"I only just had the roof repaired from (Hurricane) Matthew two years ago," another resident told me.
"It survived this time."
That is the way they talk about the storms that have been and gone, like old house guests.
Florence has already joined the likes of Matthew, Hugo and Hazel in the pages of North Carolina's visitors' book.
Each of the storms are treated almost like members of an extended family who arrived unexpectedly from far-flung parts of the world.
They weren't invited, they cause quite a lot of trouble but ultimately you know they'll be gone in a few days.
Nonetheless, you can't help but remember the ones that left the biggest mess when they finally went.
For that reason, Florence will stick in people's memories.
Pavements have been destroyed by uprooted trees, homes have been badly flooded and families have been warned it could potentially be weeks before all their homes have electricity again.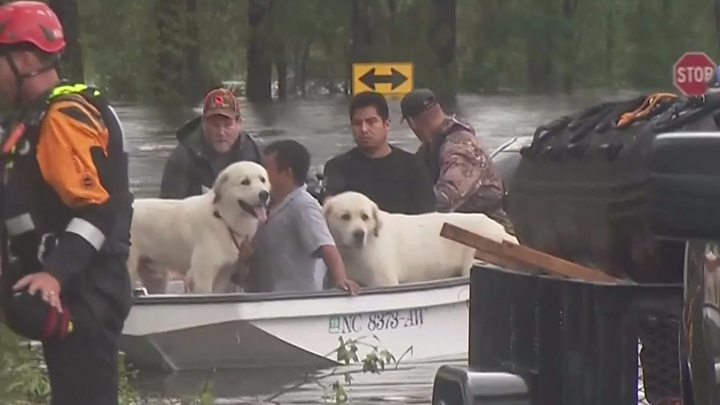 Many people were prepared and have been using generators, but they rely on petrol and after what has felt like a very long weekend, supplies are running low.
The queues for the few filling stations that have reopened are huge. I was in one in Wilmington yesterday that had something like 400 cars waiting in line to fill their tanks and their canisters.
It took three hours to get fuel and among the people waiting there were fights and frustration. One women broke down in tears in the panic that she wouldn't get petrol.
She eventually did, but others were not so lucky as supplies inevitably ran out.
The queues are just as long today because the vast majority of shops, stores and gas stations are still closed. They don't have electricity themselves and many of their windows are still boarded up.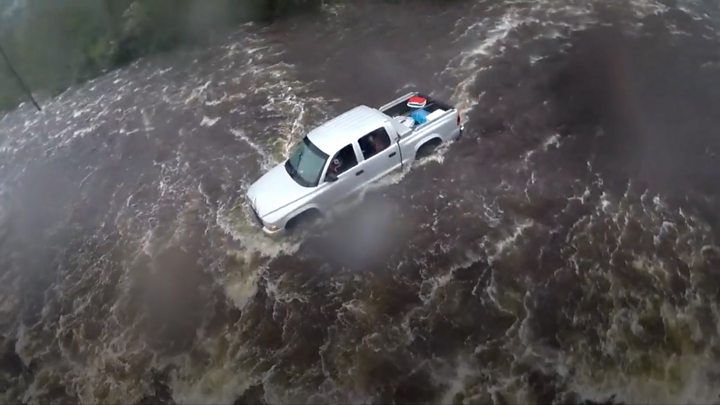 There are communities still cut off because of severe flooding and it will take time to repair all of the roads and bridges that have been damaged.
Yet you can't help but feel that there is something approaching a sense of relief.
At one stage, in the middle of the Atlantic, Florence was a category four hurricane.
Her winds had weakened considerably by the time she reached land.
Other storms were not so considerate and in this area they know there is always the chance of having to accommodate a much more difficult visitor.