Man killed in electric scooter crash in Washington DC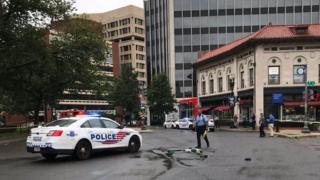 A man in Washington DC has died after the electric rental scooter he was riding collided with a car, in what may be the second such death in the nation.
The victim became trapped under an SUV in the tragedy during rainy weather at the trendy Dupont Circle area.
Rescue workers were able to free the man from under the vehicle, but he later died of his injuries.
This month, a scooter rider was killed in Texas. The electric scooter craze has taken the US by storm.
A police official confirmed to BBC News that Friday morning's accident was "fatal", but said other details were still under investigation.
One cyclist tweeted that she arrived after the crash and saw "the scooter, a headphone and one brown shoe" at the scene.
In a follow up post, the witness said that "though this is beyond a simple injury that could be prevented by protective gear, be extra careful on scooters, helmets must be mandatory".
It is unclear whether the victim was wearing a helmet or any safety gear as he rode the Lime brand scooter.
A spokesman for Lime told BBC News that the San Francisco-based company is "deeply saddened" by the death and that "our thoughts and sympathies are with the family and loved ones".
"We have offered our full support to local authorities in connection with the investigation."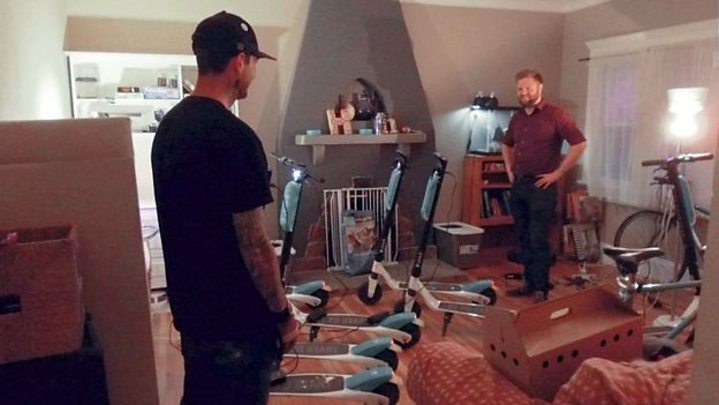 Earlier this month, a 24-year-old man died while riding an electric scooter home from work in Dallas, Texas, in what is reported to be the nation's first death from an electric scooter crash.
The Dallas County Medical Examiner's Office told the Washington Post that Jacoby Stoneking's death has been ruled an accident.
His family believe he died after being struck by a car in a hit-and-run, and are calling for further investigation.
According to the victim's brother, he was not wearing a helmet when he died.
In a statement on Thursday, Lime said it had found no evidence that Mr Stoneking's scooter had malfunctioned.
Scooter companies such as Lime, Bird and Skip have been rolling out their dock-free rental vehicles in the past year.
More than 65,000 are thought to be currently on US streets, and medical officials have reported an increase in accidents since the vehicles arrived.
"An electric scooter is pretty much a moped, just a little slower," Dr Sam Torbati, the medical director of a hospital emergency room in Los Angeles, told the Post.
"It makes me real anxious when I see someone with ear buds and a cup of coffee riding without a helmet on the sidewalk," he added.
An official with the US Department of Transportation told the BBC on Friday that because the use of electric scooters is so new, the agency does not track deaths or injuries at this time.
Electric scooter users are considered a "person on a personal conveyance", the official said, adding that he was unaware if any organisation is currently tracking scooter fatalities.