The places America's rich and poor call home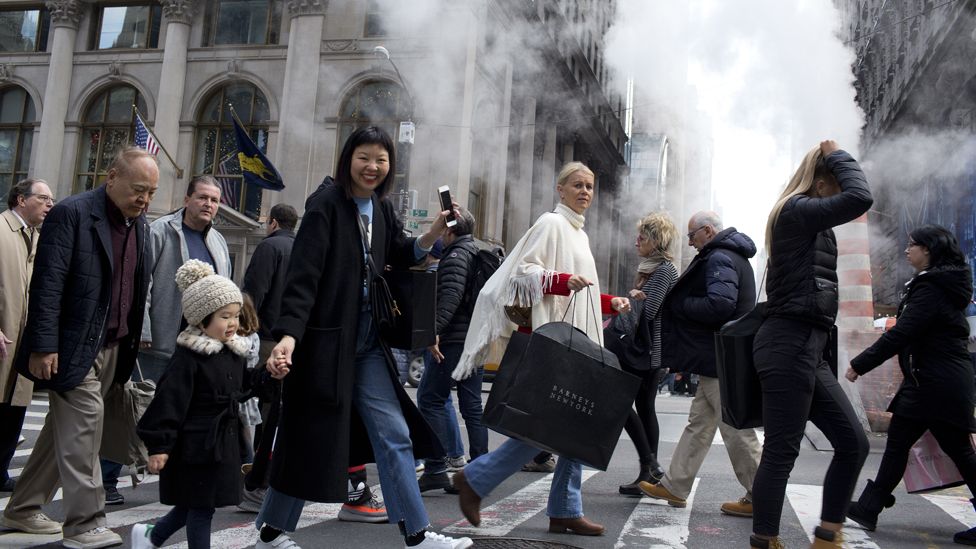 Where people live in the US makes a big difference to their chances of enjoying a long and prosperous life.
In fact, the communities and places in which Americans live can have as big an impact on the opportunities available to them as educational achievement, or family background.
This becomes clear when you look at some key differences between cities at the extremes of this divide - places like San Francisco County, California, and Wayne County in Michigan, which includes Detroit:
In San Francisco 82% of workers aged 25 to 54 are employed, compared to 68% in Detroit
The poverty rate in San Francisco is 12.5% - half that of Detroit
Residents of San Francisco enjoy a life expectancy of 82, compared with 75 in Detroit
Since the 1980s, the thriving north-eastern US - the region stretching from Maryland to Maine and including the cities of New York and Boston - has extended its lead over the rest of the country. The Pacific coast, especially around San Francisco, is also flourishing.
Residents of Orange County, a prosperous area of California, can expect a median household income of $78,150 (£59,935), a poverty rate of 8% and a life expectancy of more than 83 years.
By contrast, low-income regions of the US - including the south and south-west - have fallen behind.
In New Orleans, residents have a median household income of $37,500 (£28,510), a poverty rate of 26% and life expectancy of just below 76 years.
These differences have persisted over the decades. Counties that struggled in 1980 generally continue to struggle and most counties that were thriving in 1980 still do well.
This contrasts sharply with earlier periods of US history, when struggling places tended to catch up with more successful places, and income gaps narrowed.
It is also the case that some places which were previously doing well have lost out. The relative prosperity of the Rust Belt - the industrial Midwestern region of the country - fell away as industrial jobs declined, although it has since seen some recovery.
So, what accounts for these differences?
Educational achievement is one of the most important indicators of the vitality of an area. Places with low high school and college completion rates tend to struggle.
For example, in Detroit only 30% of residents have a university education, compared with 55% in San Francisco.
Rural communities also tend to score notably lower, with the exception of areas that are involved in oil and gas production, such as Williams County, North Dakota.
Other patterns in vitality include:
Coastal cities like New York and Seattle have seen improvements, while much of the Midwest and southern US have struggled
Counties with employment concentrated in one industry in 1980 did particularly badly, as it may have left them vulnerable to shocks
Counties with high manufacturing employment in 1980 - such as Cleveland - experienced sharp declines
Many of the most disadvantaged areas are also those where black people are more likely to live.
A long history of racial segregation, educational inequalities and disproportionately high imprisonment rates have all played a role in reinforcing these geographic differences, research by The Hamilton Project suggests.
Places in the south-east of the US have some of the highest poverty rates in the country. For example, in Jackson, Mississippi, there is a poverty rate of 25%.
The lack of access to high-performing schools may have limited opportunities for educational achievement. In turn, this can diminish job and career opportunities.
While there are some places in the US - mostly in the north and west - which have successfully offered greater economic opportunities to black children, these are typically the exception rather than the rule.
These economic and geographic disparities are not limited to black Americans. In neighbourhoods with more than 40% poverty rates, 29% of residents are Hispanic, compared with 17% of residents across the nation as a whole.
Supporting the millions of black, white and other Americans living in struggling places is a challenge facing US policymakers.
Residents of these areas face a host of challenges - weak job markets, limited investment and few entrepreneurs - which are inextricably linked.
Options for tackling these challenges might include improving access to higher education, targeted job subsidies and financial support for struggling states.
Unless these problems are addressed, struggling areas may continue to lag behind more prosperous communities.
The results could be limiting opportunities for their residents and making the US an increasingly fractured society.
The Brookings Institution is a not-for-profit public policy organisation, conducting research that leads to new ideas for solving problems facing society.