First soldiers identified from remains returned by North Korea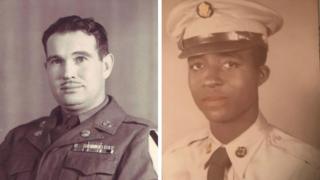 The US Army has identified the first of the remains believed to be US troops killed during the Korean War and returned by Pyongyang, officials say.
Army officials say the remains belong to Army Master Sgt Charles H McDaniel of Indiana and Army Pfc William H Jones of North Carolina.
Sgt McDaniel's dog tag was the only one sent with the remains and was presented to his sons in August.
The remains were repatriated in July at President Donald Trump's request.
"These heroes are home," President Trump tweeted in announcing the two men's identities on Thursday.
"Hopefully their families can have closure."
These identifications are the first to come from the remains believed to be of 55 US troops Vice-President Mike Pence received at Pearl Harbour this summer.
At a Korean War Veterans Memorial Foundation speech on Thursday, the vice-president said: "We will pray that the remains that came to Hawaii on August 1st will simply be a vanguard of what's to come."
"We will continue to work diligently to achieve peace and security on the Korean Peninsula. And we will never relent in our effort to bring our missing fallen home."
Sgt McDaniel's sons, retired Army Chaplain Col Charles McDaniel Jr, 71, and Larry McDaniel, 70, received their father's dog tag in August during a briefing on the war remains in Arlington, Virginia.
The Department of Defense's laboratory in Hawaii continues to work on analysing DNA extracted from the bones.
Experts say identifying all the remains could take months or years.
The two soldiers' remains are currently in Hawaii at the laboratory.
Who were Sgt McDaniel and Pfc Jones?
Sgt McDaniel, of Vernon, Indiana, was deployed to Korea in August 1950 to serve as a medic. He was 32 years old.
His battalion and the South Korean forces they were sent to support were overrun by Chinese forces in October near Unsan, 60 miles (96km) north of Pyongyang.
Pfc Jones, of Nash County, North Carolina, was a member of the 25th Infantry Division, sent to battle Chinese forces in November 1950.
He was 19 years old at the time.
On 26 November of that year, he was declared missing after his battalion made a fighting withdrawal.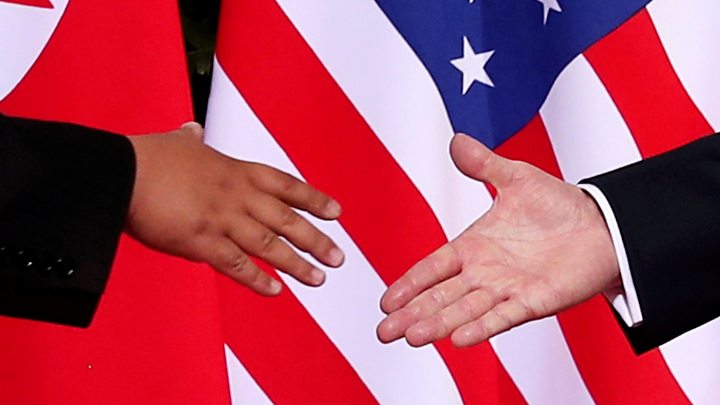 The repatriation of US remains was agreed by Mr Trump and Mr Kim after their June summit in Singapore.
The president has cited the repatriation as a key success of his summit.
Approximately 36,000 American soldiers died during the Korean War, from 1950-1953.
According to the Defense POW/MIA Accounting Agency, more than 7,800 Americans remain unaccounted for from the Korean War.
Around 5,300 of those soldiers were lost in North Korea.