Afghan military officers 'go missing after training in US'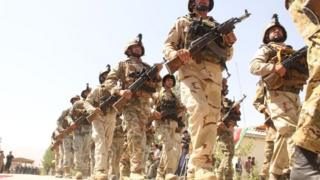 Two Afghan military officers who were in the US on a training mission reportedly went missing after they failed to board their flight home.
The two were attending training at Camp Edwards in Massachusetts last week. More than 200 soldiers from five nations attended the joint exercises.
The Afghans' absence was noticed after their flight out of Boston's Logan airport left without them on Saturday.
In 2014, three Afghan officers also left the same training programme.
Those three had vanished from a group outing at the Cape Cod Mall, and were later captured at the US-Canada border crossing in Niagara Falls.
According to Boston 25 News, the two Afghan officers were transported to the airport on Saturday to catch their flight.
The names of the two men have not been released.
A Pentagon spokesperson confirmed the report.
Lt Col Kone Faulkner wrote in an email: "We are aware of reports two Afghan soldiers are in the US for training were reported missing.
"Both Afghan soldiers have since been detained by local police while attempting to enter Canada from the United States."
A BBC News email to the Massachusetts National Guard was not immediately returned on Tuesday.
They had been attending "regional co-operation" training hosted by the US Department of Defense and the Massachusetts Army National Guard.
Forces from Afghanistan, Mongolia, Tajikistan, and Uzbekistan were "afforded an opportunity to develop a combined military response to several scripted exercise scenarios," the US military said in a statement.
Last year's training was hosted in Dushanbe, Tajikistan.
According to a 2017 report by the US Special Inspector General for Afghanistan Reconstruction, 13% of Afghan soldiers who trained in the US that year went absent without leave (Awol).
"Given the deteriorating security situation in Afghanistan and the fact that Afghan trainees who violate the terms of their visas suffer virtually no consequences for going Awol (except for the possible return to Afghanistan)... the Awol rate is likely to either remain steady or increase," the inspector general wrote in the report, released in October 2017.