Brett Kavanaugh: Who are Supreme Court nominee's accusers?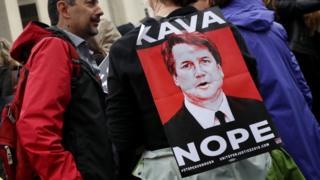 US Supreme Court nominee Brett Kavanaugh is now facing several allegations of sexual misconduct from the 1980s - all of which he denies.
Here are the women and what they have alleged about the nominee.
Christine Blasey Ford
The first woman to come forward with allegations against Mr Kavanaugh was psychology professor Christine Blasey Ford.
Originally intending to be anonymous, she came forward as his accuser last week. She is due to outline her allegations of sexual assault by Judge Kavanaugh at a high school party more than 30 years ago at a Senate hearing on Thursday.
She alleges Mr Kavanaugh assaulted her when she was 15, and he was 17.
She says he tried to remove her clothing, pinned her to a bed and covered her mouth at a house party in 1982.
Now 51, she is a professor at Palo Alto University in California and teaches students clinical psychology.
Her husband since 2002, Russell Ford, has signed one of four sworn declarations supporting her allegation.
Debbie Ramirez
On Sunday a second woman, Mr Kavanaugh's Yale classmate Deborah Ramirez, went public with allegations of misconduct against the judge.
She alleges he exposed his genitals in her face during a drinking game at a college dormitory party - causing her to make contact with them as she tried to push him away.
She spoke about the alleged incident in New Yorker magazine and has said she is willing to co-operate with any investigation.
She was originally raised in Connecticut, and now lives with her family in Boulder, Colorado, working as a volunteer coordinator in financial aid.
Julie Swetnick
On Wednesday Julie Swetnick became the third woman to make public allegations against Mr Kavanaugh.
The 55-year-old lives in Washington DC and works for the US Department of Treasury US Mint and Internal Revenue Service - having previously worked in other US government offices.
She alleges that between 1981 and 1983 she attended various house parties where Mr Kavanaugh was present and that him and his friends tried to "spike" girls' drinks with drugs and alcohol to cause girls to lose their inhibitions.
She says she was the victim of a gang rape in 1982 at a party attended by the judge.