Elton John and 'Mr Kurd': Five Trump briefing highlights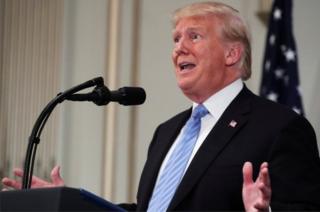 After an eventful Wednesday at the UN General Assembly in New York, Donald Trump spoke to reporters for over an hour.
The lively press conference had no shortage of colour, with topics ranging from trade policy to the size of the president's cerebral cortex - and, unexpectedly, Elton John.
We've pulled together some of the highlights...
'Very large brain'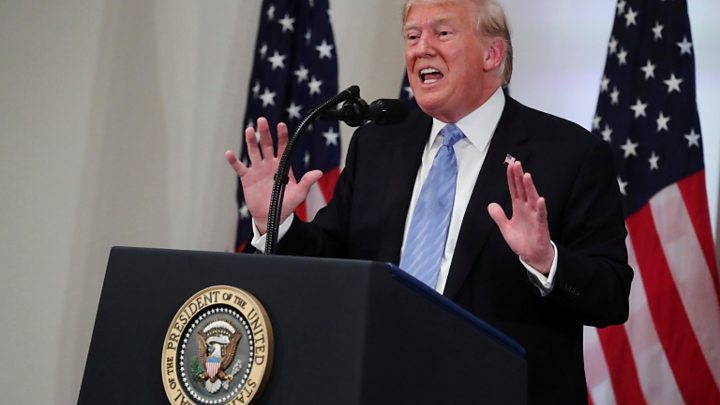 President Trump told a meeting of world leaders on Tuesday that China is trying to "meddle" in the forthcoming US mid-term elections, though he didn't offer specific details.
He repeated the allegation during his press conference, adding that Beijing is concerned about the size of his brain.
Referencing a TV interview with Michael Pillsbury, a China strategist at a conservative think tank, he said:
"If you look at Mr Pillsbury, the leading authority on China. He was on a good show - I won't mention the name of the show - recently. And he was saying that China has total respect for Donald Trump and Donald Trump's very, very large brain. He said - Donald, Donald Trump... they don't know what to do."
Beijing has denied interfering, and is yet to comment on Mr Trump's brainpower.
'Open' to withdrawing Kavanaugh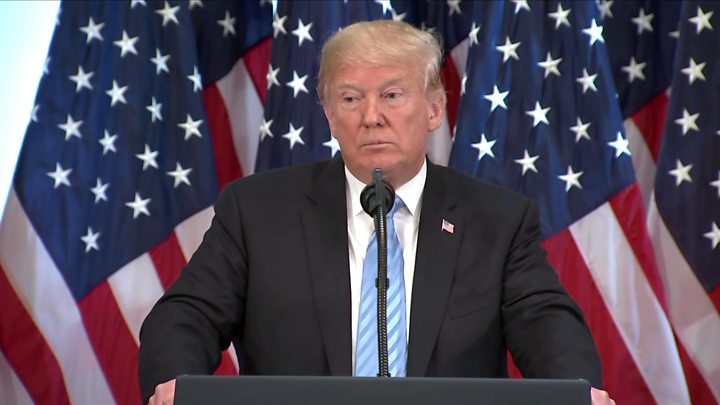 Mr Trump told reporters he would be prepared to withdraw Supreme Court nominee Brett Kavanaugh, who has been accused of sexual misconduct, "if I thought he was guilty of something like this, yeah sure".
When asked whether he believed the allegations, he said he had not made up his mind because he had not heard the judge's accusers testify.
"I can't tell you. I have to watch tomorrow. They could be convincing," he said.
But he also insisted Mr Kavanaugh was one of the "highest quality" people he had ever met.
Mr Trump said his attitude towards the allegations against Mr Kavanaugh had "absolutely" been influenced by the fact he himself had been accused of sexual assault by numerous women.
George Washington's 'bad past'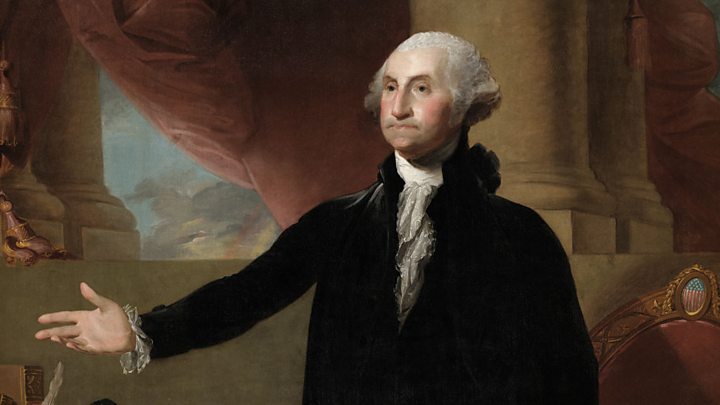 The president didn't provide many definitive answers to reporters' questions. But he did somehow manage to bring up one of the most revered presidents in US history, George Washington - and claim he may have had a bad past.
The subject arose as he discussed the allegations against his Supreme Court nominee.
"He may have had some - I think, accusations - made," said the president. George Washington owned slaves, but it was unclear which specific allegations the president might have been thinking of.
'Mr Kurd'
"Yes, please, Mr Kurd, go ahead", Mr Trump told a Kurdish journalist who wanted to ask a question.
The journalist concerned was in fact Rahim Rashidi, who works for Kurdistan TV.
The Kurds are the fourth-largest ethnic group in the Middle East, but they have never obtained a permanent nation state.
Some felt the president's choice of words was inappropriate.
But Mr Rashidi and others were pleased with the reference, as were many Kurdish social media users.
Did he quote Elton John?
Wrapping up the press conference, the president wanted to end on a high. So he decided to draw inspiration from one of the giants of pop music, Elton John.
"Elton John said, 'When you hit that last tune and it's good, don't go back,'" said Mr Trump, suggesting that a bad encore can ruin a show.
But social media users were quick to point out that, in fact, Elton John enjoys an encore and probably never said that.
A bum note to end on, you might say.