Kavanaugh hearing: A moment of reckoning for American women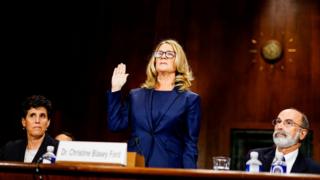 Even before Christine Blasey Ford accused Supreme Court choice Brett Kavanaugh of sexual assault, the nomination was said to be about women.
Appointing Mr Kavanaugh would tip the court's balance in favour of Republicans. This sparked real fear amongst progressive women that landmark Roe v Wade decision that granted the right to abortion could be overturned.
In 2016 the potential for the first majority conservative line-up on the court in decades brought reluctant Trump voters to the ballot box.
Once Mr Kavanaugh denied Ms Ford's allegations, the hearings became a test of how far the Me Too movement has changed America.
The BBC spoke to women before and after the extraordinary hearing to find out whether this is really about women's rights. Did listening to Dr Ford and Mr Kavanaugh change their minds about who and what to believe?
Pivotal moment
Already suspicious of Mr Kavanaugh's social values, progressive women's opposition escalated when sexual assault claims emerged.
Julia Peters, 33, has been attending protests in Washington DC for a week.
"This isn't someone we can elect out. He will be in there for a lifetime, and we know he doesn't stand for our values," she said at Capitol Hill before the hearings began.
Grace Perret, a college junior, is from New Orleans, Louisiana, one of the four US states with a "trigger law" that mean abortion would be banned automatically if Roe v Wade was overturned.
"This would have devastating implications for poor women especially, who likely cannot afford to travel" to other states to seek abortions, she explained.
The promise "we believe women" is core for Julia: "We are here to let Christine Blasey Ford know we believe her."
There is anger at how quickly some on the right dismissed Dr Ford's allegations, which have caused great distress to her family.
"The attempts by so many on the right to paint this as a co-ordinated political smear campaign is incredibly damaging to the anti-rape culture movement and to survivors everywhere," commented Ms Perret.
A circus
But conservative women are deeply concerned about what they see as an abuse of the confirmation process.
Rachel Gill, 22, went to Capitol Hill on Thursday to show her support for Mr Kavanaugh because she believes in the "principle of innocent until proven guilty".
"I absolutely do support women who have come forward to talk about these experiences, but I also think there needs to be proof if you're going to take someone to court.
"I'm here because I want to hear the truth, and if there is any truth to these accusations," she explained.
Talk of a smear campaign against Mr Kavanaugh is common as some conservative women fear the assault allegations are being weaponised by Democrats who want to prevent Mr Kavanaugh's confirmation.
Nancy Wilson, a grandmother of 11, travelled to Washington from Fairfax County, Virginia, with two friends. Wearing "I Stand With Brett" T-shirts, they explained they believe women are being misused. They want Mr Kavanaugh on the court because he's a "constitutionalist judge".
"The process is being abused. It's become a circus. Sex should not be inserted into politics like this. Someone came along at the 11th hour with an accusation about something that happened 35 years ago," Nancy explained.
Pure and clear
On Thursday the world finally heard from Dr Ford and Mr Kavanaugh, in tearful testimonies that took strikingly different tones.
#KavanaughHearings trended all day on social media, prompting survivors of sexual violence to tell their own stories, including a 76-year-old woman who called the TV network C-Span about her experience of rape.
After protesting outside the Senate, Chicago-born Lucy Melchor, 36, watched the hearings.
"I thought Ms Ford's testimony was heartbreaking and compelling. It just reinforced that I believe her," she said.
"When asked who committed the assault, she replied without skipping a beat. And I thought, she is there under oath, with her family life having been destroyed. What has she got to gain from this? Her motive seemed pure and clear."
In contrast, she felt Mr Kavanaugh's testimony turned the attention away from a woman's claims of sexual assault to his anger about the political process.
"I was really upset by the level of vitriol that he brought to this. It took the focus away from her and put it on politics. That was so difficult to see," she said.
Increased confidence
But where progressives found Ms Ford powerfully believable, conservative women felt exactly the same about Mr Kavanaugh.
"I think they both believe what they are saying. I believe that Ms Ford probably was assaulted but not by Mr Kavanaugh. My heart really does go out to Dr Ford," Rachel Gill explained.
Kay Lucien, one of the grandmothers who joined rallies on Capitol Hill, called Mr Kavanaugh's comments "compelling" and "passionate." Like the judge, Mrs Lucien has a strong religious faith.
"I found it so moving that Mr Kavanaugh's child would offer to pray for a woman who has brought so much pain to her family," she explained after the hearing.
While she feels sympathy for Dr Ford, she says her confidence in Mr Kavanaugh's suitability for the court increased.
"I would be pleased if the balance of the Supreme Court court changed in favour of conservatives - we've seen our country slide in the other direction and we would like to move it back a little bit.
"I would worry less about losing some rights, such as religious rights and gun rights and a lot of things that seem to be attacked constantly in recent years," she added.
The hearings are also a moment of reckoning for women's rights in America.
Democrat Ms Melchor commented, "It's now almost a year since the Me Too movement, and if the cards fall onto the side of not believing her story, it's really detrimental for the women who have been assaulted and will be assaulted in the future. It creates fear for them that they won't be believed in the future and that's what upset them the most."