What did the FBI inquiry into Kavanaugh result in?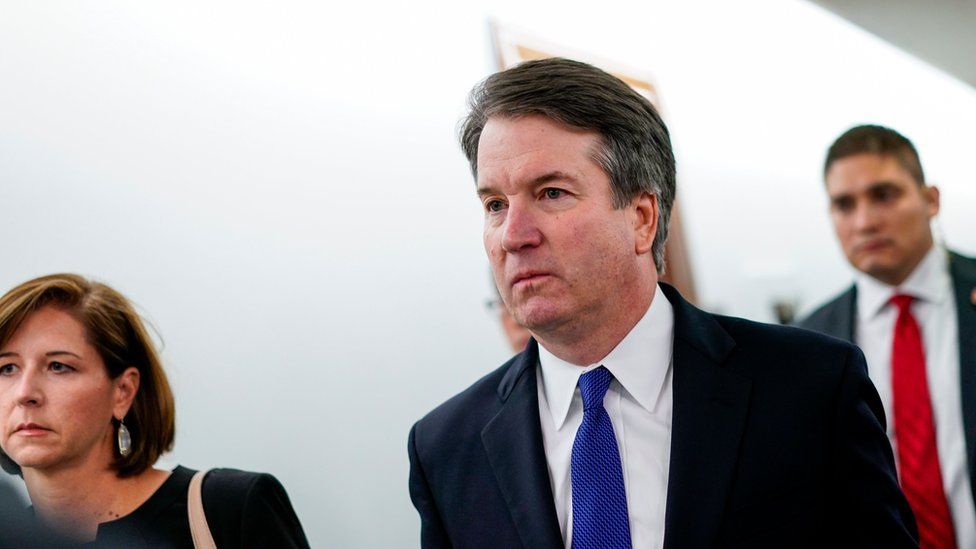 On 4 October, the FBI handed over its report on sexual misconduct allegations against Supreme Court nominee Brett Kavanaugh. The findings are not for public eyes - but here's what we do know about it.
Senators are taking turns reading the single copy of the report - which exists only on paper to prevent any leaks - in a secure room in the Capitol.
The full Senate vote on whether Judge Kavanaugh gets a seat on America's top court was delayed while the FBI worked, and is now expected on Saturday.
Who did the FBI interview?
White House spokesman Raj Shah told CNN the FBI contacted 10 people and "comprehensively interviewed" nine of them.
Official sources told US media the review focused on the alleged incidents involving Prof Ford and second accuser Deborah Ramirez.
Here's who the FBI has interviewed, according to statements from their lawyers:
Deborah Ramirez, a Yale classmate who alleges Judge Kavanaugh exposed his genitals to her during a college party
Mark Judge, a childhood friend of Judge Kavanaugh, who Prof Ford testified was in the room during the alleged assault
Leland Keyser, Prof Ford's high school friend who was reportedly at the summer of 1982 party where the alleged assault occurred
PJ Smyth, another high school friend of Judge Kavanaugh, who says Prof Ford was at the July party
Timothy Gaudette, another high school friend of the judge's at whose house the party reportedly occurred
Christopher "Squi" Garrett, a close friend of Judge Kavanaugh, Prof Ford says she dated him for a few months in high school
Republican Senator Bob Corker said the report is 46 pages long, with nine pages focusing on Mark Judge.
But Democrats have criticised the narrow scope and time limitation of the FBI's inquiry - especially as neither the judge nor Prof Ford spoke with the FBI.
Senator Dianne Feinstein said what she saw of the report, it appeared to be "the product of an incomplete investigation".
And who didn't they speak to?
A number of Judge Kavanaugh's former classmates have come forward since the hearings, willing to speak with the FBI about his behaviour, but it appears they have not been interviewed.
Here are the people who have submitted statements or otherwise tried to contact the FBI:
Kenneth Appold, who was Judge Kavanaugh's suitemate at Yale, told the New Yorker he was "100% certain" he could corroborate Ms Ramirez's story
Two anonymous Georgetown Prep classmates who detailed the judge's drinking habits and questionable behaviour during high school
James Roche, another Yale roommate, who wrote in a piece for Slate that Judge Kavanaugh lied under oath about drinking
Kerry Berchem, a Yale classmate, who says she has text messages that suggest Judge Kavanaugh knew of Ms Ramirez's allegation before it was published
In addition, Ms Ramirez's lawyers say they provided a list of 20 individuals with relevant information who have not been contacted by the FBI.
The BBC is not responsible for the content of external sites.
Skip twitter post by Greg Sargent
Allow Twitter content?
This article contains content provided by Twitter. We ask for your permission before anything is loaded, as they may be using cookies and other technologies. You may want to read Twitter's cookie policy, external and privacy policy, external before accepting. To view this content choose 'accept and continue'.
The BBC is not responsible for the content of external sites.
End of twitter post by Greg Sargent
Judge Kavanaugh and Prof Ford were not interviewed.
Has the FBI has reached a definitive conclusion?
As many have pointed out, the FBI files a report but does not reach any conclusion regarding the credibility or significance of allegations.
"They report any corroborating information that they obtain, or any contradicting information," former FBI Assistant Director Chris Swecker told CNN, but added that "they do not make conclusions" in their reports.
Former FBI Assistant Director Steve Pomerantz told Fox News: "Hopefully they provide enough information within their reports that allow a reasonable person to reach a conclusion based on the work that they've done."
Because it is not a criminal inquiry, witnesses were not compelled to co-operate with the investigation, but lying to an FBI agent does carry the threat of federal charges.
Hasn't the FBI checked out Kavanaugh already?
Yes. The FBI has completed a traditional background check - provided to any federal appointee - on Judge Kavanaugh, who is currently a District of Columbia appeals court judge.
In his confirmation hearing, the judicial nominee himself said he had been through "six separate FBI background investigations over 26 years". This was the seventh.
But typical FBI background checks never look back as far as 36 years ago, when Prof Ford says the assault took place.
Why did Trump order this FBI investigation?
Mr Trump gave the order at the request of the Senate Judiciary Committee, after Arizona Republican Jeff Flake made such an inquiry his condition for backing the judge.
The president's party has only a razor-thin 51-49 Senate majority.
That means that if all Democrats vote against confirming Judge Kavanaugh, he can only afford for one Republican to join them - since in a tie, Vice-President Mike Pence would get the casting vote.
One last thing... Why did this take under a week?
The timing matters because Republicans are keen to get their Supreme Court nominee - who would serve for life - confirmed before the US mid-term elections on 6 November.
And Democrats would profit from seeing that process delayed - or blocked altogether.
The FBI's 1991 investigation into then-Supreme Court nominee Clarence Thomas over sexual harassment allegations was open and shut in three days. He was subsequently confirmed by the Senate.