Osaka cuts San Francisco ties over 'comfort women' statue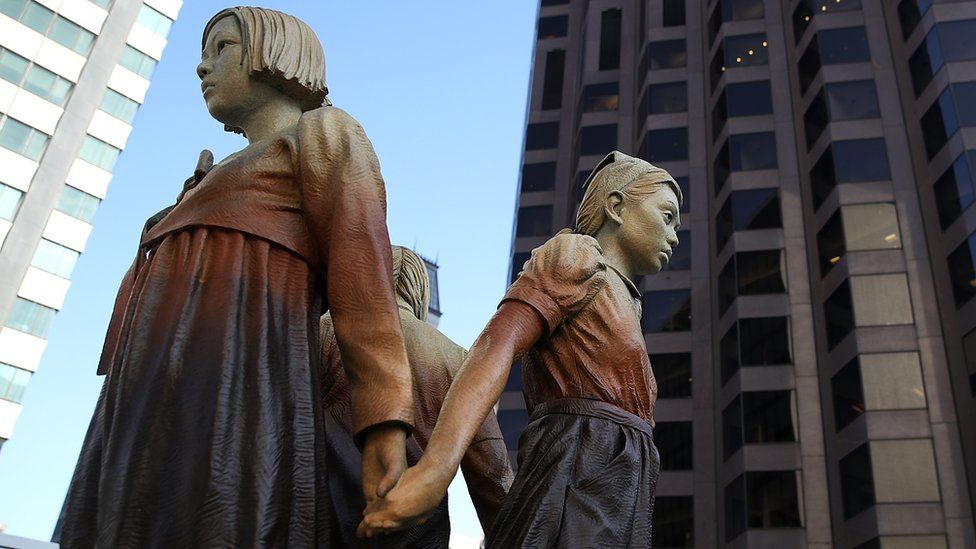 Japan's Osaka city has ended its "sister city" ties with San Francisco over the display of a statue depicting women forced to work as sex slaves for Japanese soldiers during World War Two.
Osaka mayor Hirofumi Yoshimura said the "comfort women" monument "destroyed the two sides' relationship of trust".
The work depicts three young women - from Korea, China and the Philippines - standing in a circle holding hands.
It is estimated that some 200,000 women were kept in these military brothels.
The statue on display in San Francisco, which was initially set up privately but officially accepted by the US city last November, is entitled the "Women's Column of Strength".
Mr Yoshimura's decision to end Osaka's sisterhood with the city, which dates back to 1957, was first announced in November, but the move was delayed following the death of San Francisco Mayor Ed Lee in December.
Lee was later replaced by London Breed, the city's first female black mayor.
"There is also disagreement among historians when regarding the historical facts such as the number of 'comfort women', the degree to which the former Japanese army was involved, and the extent of the wartime harm", his letter adds.
In a statement, Mayor Breed said it was impossible to cut the ties between the two cities, which have enjoyed a relationship "for over 60 years".
"One mayor cannot unilaterally end a relationship that exists between the people of our two cities," she said.
The full inscription on the side of the statue reads: "This monument bears witness to the suffering of hundreds of thousands of women and girls euphemistically called 'comfort women', who were sexually enslaved by the Japanese Imperial armed forces in 13 Asian-Pacific countries from 1931 to 1945."
The monument also includes a fourth figure who stands nearby, depicting an elderly woman meant to be Kim Hak-sun, the first woman to speak out about her experience during the Japanese occupation of Korea during the war.
The San Francisco mayor's statement went on to say the memorial is "a symbol of the struggle faced by all women who have been, and are currently, forced to endure the horrors of enslavement and sex trafficking.
"These victims deserve our respect and this memorial reminds us all of events and lessons we must never forget."